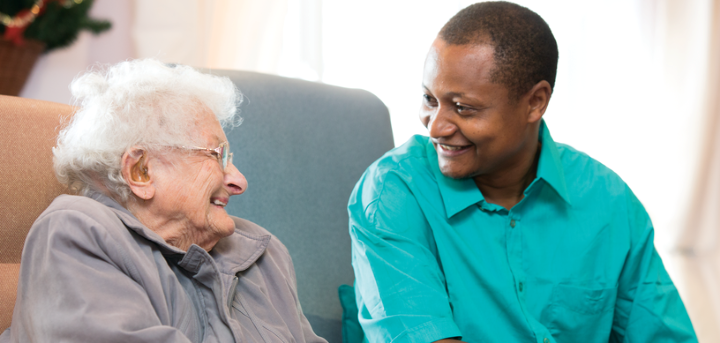 We have a wide range of volunteer roles available at Age UK Wakefield District.
Home Visiting Befrienders
Befrienders offer companionship and friendship to an isolated older person living in their own home, by providing regular weekly visits – for this role we ask volunteers to commit to visiting once a week for a minimum of six months. Home Visit Befrienders must be aged 18 or over.
Reception and Administration
Volunteers with Reception or Administration experience can offer their skills in our office on Bank Street in Castleford, we have a number of roles based in our office for people who have experience dealing with a busy switchboard, and who have office and reception skills. It is a busy and varied role, and our office hours are Monday to Friday 09:30 – 16:30, volunteers can offer any time between these hours, and should be committed to offering at least six months to the role due to the amount of training that will be offered. Volunteers in this role must be aged 18 or over.
Befriending in Residential Care Homes and Supported Living Schemes
Volunteers support older people living in residential care and supported living settings to live fulfilled lives, through befriending, sharing a skill or hobby, or assisting with social activities. Volunteers in this role must be aged 18 or over.
Telephone Befrienders
Telephone Befrienders offer friendship and conversation by telephoning an isolated older person living alone. Telephone befrienders spend around 30 minutes chatting with the client and sometimes have two or three different clients to call. Telephone Befrienders must be aged 18 or over.
Cuppa Club
Age UK Wakefield District is working in partnership with The Ridings Centre to develop an exciting new way to encourage older isolated and lonely people to gather together for a period of time and enjoy some company with an opportunity to be entertained and educated. Volunteers will help engage members of public into the events and socialise with participants and help serve tea and coffee. The Cuppa club is a monthly event and runs on the first Thursday of every month between 11:00 – 14:00. Volunteers in this role must be aged 17 or over.
Pinderfields Hospital Information Point
Launched in March 2018 our Information Point at Pinderfields Hospital offers support, and information for patients, family members, carers and Healthcare Professionals. This role involves visiting the Elderly Care Wards to chat with patients and assure them that help and support is available once discharged if needed, the role may include using the computer system to make referrals into our office, handing out relevant information leaflets and offer signposting to relevant services. This is a hands on customer facing role and will involve lots of role based training. Volunteers in this role must be 18 or over, the Information Point is open Monday to Friday from 10:00 – 16:00 and volunteers can offer any available time in this role.
Bereavement Advice and Support Volunteers
Volunteers can assist at coffee mornings and group support sessions for people who have been recently bereaved; supporting and/or leading activities and also help to support the forming of friendships within the group. Volunteers in this role must be aged 18 or over.
Board of Trustees
The Board of Trustees provide the overall management and financial scrutiny of the Organisation.
Retail Assistants
Volunteers can assist in our shops in Horbury or Wakefield - greeting and serving customers, preparing goods for sale, assisting with shop displays and handling cash transactions on the till. Retail Assistant volunteers must be aged 16 or over. Our shops are open Monday-Tuesday and Thursday – Saturday.
Fundraising
If you have the skills for raising money, and are full of creative ideas to get people donating, then help us to raise money for the services which we provide throughout the Wakefield District. You may have an idea for a one off event, or maybe you have time to raise money on a more regular basis. We are on the lookout for a team of Fundraising Volunteers; it doesn't matter if you only have 1 hour to spare or 1 day a week. Volunteers in this role must be 16 or over.
Group Support Volunteers
Group support volunteers contribute to the smooth running of our health and well-being groups. Volunteers can organise refreshments, support and/or lead activities and support the forming of friendships within the group. Volunteers in this role must be 18 or over.
Admin Support in our Hubs
Based in one of our Hubs either Waterton in Wakefield or Bullenshaw in Hemsworth, the Admin Support Volunteer will provide our team of case workers with administration tasks, which would include computer work, logging referrals onto the system, logging referrals into the team diary, photocopying and general office tasks. Volunteers considering this role would need to be confident using a computer and have excellent telephone skills to speak with clients over the telephone. Volunteers in this role must be 18 or over.
Reading Friends in Schools
Volunteers can support young people, building their confidence with reading and sharing an enjoyment of books. The role involves a weekly school visit to sit with pupils; reading, listening, helping to build a childs imagination skills and building friendships. Volunteers in this role should be aged over 50 years.
Volunteer Ambassador
Our volunteer ambassadors represent the face of our organisation – attending events such as recruitment fairs or annual events around the district; or manning a stand in a surgery or supermarket, informing people of our services, recruiting new volunteers and ensuring the public know what we do out in the community. Our Volunteer Ambassadors will receive excellent training to ensure they feel confident talking about everything our organisation can offer. Volunteers in this role must be aged 18 or over.
Drivers and Escorts
Volunteer Drivers use their own vehicle to support older people to get out and about and keep active in their community. Drivers may have regular appointments or one-off trips. Volunteer Escorts travel with older people on the transport bus and escort older people from their house, to the bus, and back again. Volunteers in this role must be aged 21 years or over.
Contact us
If you would like to talk to a member of our team about any of our services, activities or volunteering
Other information you may find helpful
Related pages on our website