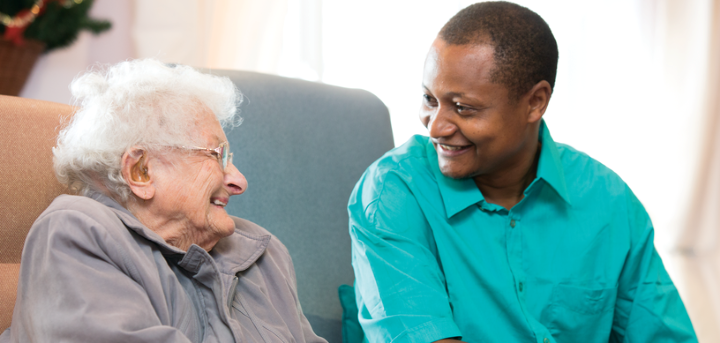 We have a wide range of volunteer roles available at Age UK Wakefield District.
Telephone Ordering Shopping Service
Enabling older people to access shopping from home by taking an order over the phone at a pre-arranged time, and placing the order online with the client's preferred supermarket. A relationship is formed through weekly contact whilst providing an essential service.
Befriending
Offering companionship and support through visiting an isolated older person in their own home, providing support and friendship, or befriending over the phone providing a low-key social support service to older people living alone.
Social Contact Scheme
Helping to provide a pathway back into the community for isolated older people by offering encouragement and building self confidence. Volunteers support older people to participate in social activities.
Information and Advice Service
Providing information and advice to older people and their carers from our office in Castleford. The information is provided by interview, telephone, outreach sessions and home visits. A receptionist role involves assisting the staff and volunteers ensuring the smooth running of the Information Centre.
Reception Duties
Providing first point of contact for members of the public, either on the telephone or meeting and greeting customers at our office on Carlton Street, Castleford.
Fundraising
Helping to raise money for the services we provide through events both locally and nationally.
'Big Knit' Knitters
Raise money for Age UK Wakefield District by getting involved with Age UK and Innocent's Big Knit Campaign. You can make a difference by knitting some mini hats to help us keep older people warm and well in winter. For every hat sold 25p will go straight to Age UK Wakefield District. Last year we raised £4,700.
More information on the Big Knit
Retail Assistant
Help in the smooth running of the Age UK Wakefield District retail shops in Castleford, Horbury and Wakefield. The role involves greeting and serving customers in the shop, and helping maintain a friendly, successful environment. You may be required to prepare goods for sale, assist with shop displays, handle cash transactions on the till, and help maintain order in the shop.
The Bereavement Advice and Support
Assisting in the delivery of advice surgeries, coffee mornings and group support sessions in a service provided for those people who have been recently bereaved.
Social Groups
Our social group volunteers ensure the smooth running of our groups. They are required to organise refreshments, run activities and support the forming of friendships among the group memebers. Sometimes our social group volunteers are responsible for opening and locking up the venues we use.
Drivers/Escorts
Supporting older people to get out and about, keeping them active and involved in their community. Volunteer drivers use their own vehicle to take older people to groups, appointments or visits. Volunteer escorts travel with older people on the transport bus and escort older people from their home, to the bus, and back again.
Reading Friends
Supporting young people in school to build their confidence with reading and share enjoyment of books. The role involves a weekly visit to school to sit with young people; reading, listening and building intergenerational friendships.
Residential Care Homes
Supporting older people in residential care and supported living settings to live fulfilled lives, by offering befriending, escorting and social activities.
Information Pod at Pinderfields Hospital, Wakefield
Providing information to patients, families and carers about a range of Voluntary Sector Organisations, Services and support older people. We are working in partnership with The Alzheimer's Society, Carers Wakefield.
Advisory Forum
The Age UK Wakefield District Advisory Forum supports the activities of the Organisation and provides a sounding board for staff and offer advice on new projects and services.
Board of Trustees
The Board of Trustees provide the overall management and financial scrutiny of the Organisation. We are looking for passionate individuals who are able to drive forward strategic direction of the Organisation and support staff to deliver the highest standard of service to older people in the Wakefield District.
Contact us
If you would like to talk to a member of our team about any of our services, activities or volunteering
Other information you may find helpful
Related pages on our website