2018 Annual General Meeting
Published on 28 September 2018 01:51 PM

The Mayor of Milton Keynes Keynes and Dr Maria Panourgias addressed our 40th AGM
We were delighted to welcome the Mayor of Milton Keynes Cllr Martin Petchey and hospital geriatrician Dr Maria Panourgia to our 2018 annual general meeting on Thurday 27th September. In his short speech the Mayor said that, like Age Concern Milton Keynes, he had arrived in Milton Keynes in 1978. He said he shared our concern at the lack of care provision for many older people in Milton Keynes and mentioned that English local authorities were finding adult social care was becoming an increasingly large part of their budget. He re-iterated his comments from last year that charities and other voluntary sector organisations play a huge role in making Milton Keynes such a wonderful place to live.
The audience was treated to a special performance of a song written to commemorate the charity's 40th anniversary by our longstanding supporter and volunteer Dick Evans. Dick was accompanied on the drums by his daughter Catherine and revealed that he had raised an amazing £1,225.92 by performing 40 fundraising gigs in the past year. As a regular volunteer (and huge supporter of) the Peartree Memory Club Dick asked that a third of the money be earmarked for the club.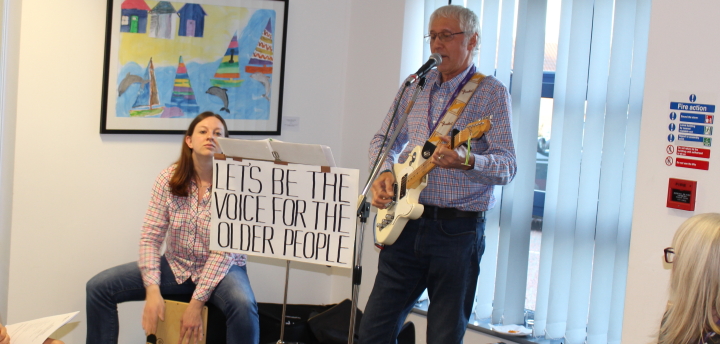 After the minutes of the last meeting, the audited accounts and the election of trustees the audience was given an informative update on the LiveLife service by Social Prescribing Co-ordinator Tony Villiers. This was followed by a fascinating presentation on "Frailty" by Dr Panourgia who is a consultant geriatrician at Milton Keynes University Hospital. Age UK Milton Keynes' Hospital Aftercare Service works closely with Dr Panourgia and her colleagues to prevent unnecessary admissions of, and overnights stays by, older people in Milton Keynes. If we take away one message from Dr Panourgia's presentation it is that "taking exercise throughout your life" is the single most effective factor in ensuring a healthy old age.