1,000th hot dinnner delivered
Published on 09 June 2020 01:59 PM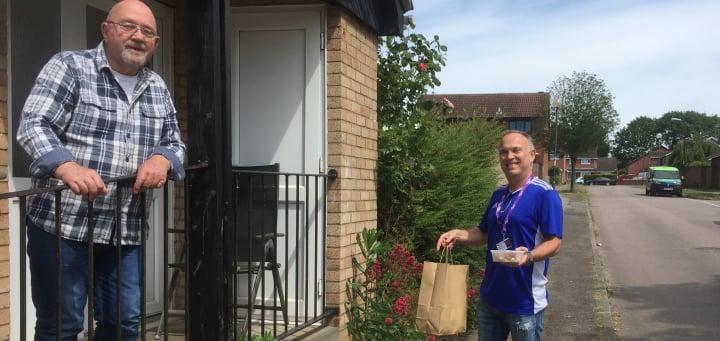 Ian receives a very special dinner
As part of our Covid-19 Emergency Response Service we have been delivering packs twice a week to older people in Milton Keynes who have been identified as needing our support in these difficult times. These meal packs consist of a three-course dinner which can be turned into three separate meals if required. The meal packs sent out on Tuesday 2nd June consisted of tuna salad, roast turkey with all the trimmings and fruit salad, along with an innocent fruit smoothie and sweet treat.
There will always be small element of cooking involved as we try to keep people active in their homes. The meals are put together from donated food and groceries and prepared and delivered by our helpful volunteers. Our volunteers always take the time to stop for chat and make sure everything is ok; they are often the only person the older person has seen that week so it is important for us to let them know we care about their welfare.
The 1000th dinner was delivered by our lovely volunteer John who has been volunteering with us since being furloughed in March. The 1000th meal was delivered to Ian who contacted us as he was getting very lonely and depressed and was desperate for help. As result of his call to us we now deliver dinners to Ian on a weekly basis, he has a new telephone befriender and we help him with a little shopping. Ian is in his 70s and has health problems. He said that because of the coronavirus pandemic he is too scared to go out, even to walk to the local shop. He has seen all his family die through illness, with his wife dying two years ago. He does not have access to the internet as he says he cannot afford it.
For Ian "every day was the same with nothing to look forward to." Thanks to the intervention of Age UK Milton Keynes Ian now says he is feeling much better in himself and looks forward to seeing his volunteer when he brings his meal. He also enjoys the regular telephone call from our volunteer befriender.
Age UK Milton Keynes is a local independent charity supporting older people in Milton Keynes. Although many for many people life is starting to return to a semblance of normality, we are continuing to run our Emergency Response Service for those who need it. Some of our normal services have restarted so please contact us on 01908 550700 to find out how we can help.
We badly need your support. Please make a donation and help us carry on making a difference in Milton Keynes.