John Lewis donates £2,000
Published on 13 August 2020 12:33 PM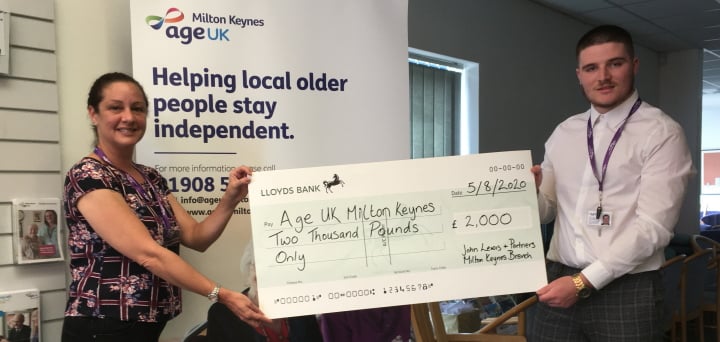 Thank you for your support
We were delighted to receive a donation from the John Lewis Partnership's Community Fund. Partners in the retailer's shops have been nominating local charities to receive a donation from the Fund. The money will be used to provide extra support to vulnerable older people living in Milton Keynes.
Paula Ayers, Development Manager at Age UK Milton Keynes, said: "This money will make a huge difference in enabling us to support the older residents of Milton Keynes in these uncertain times. We are still supporting a large number of residents who are housebound with little or no support locally. Whilst much of the country is returning to some modicum of normality there are still a large number of older people who remain housebound and need our help. We are grateful to John Lewis Milton Keynes for their support so that we can continue to assist these residents."
Kate Broadhurst, Branch Manager of John Lewis Milton Keynes, said: "It's really important to us that we support the communities we operate in and contribute to the causes which matter most locally, and never more so than now. We are very pleased to support the fantastic work of Age UK Milton Keynes."
You can also help make a difference by donating to our Covid-19 Emergency Appeal. Thank you.