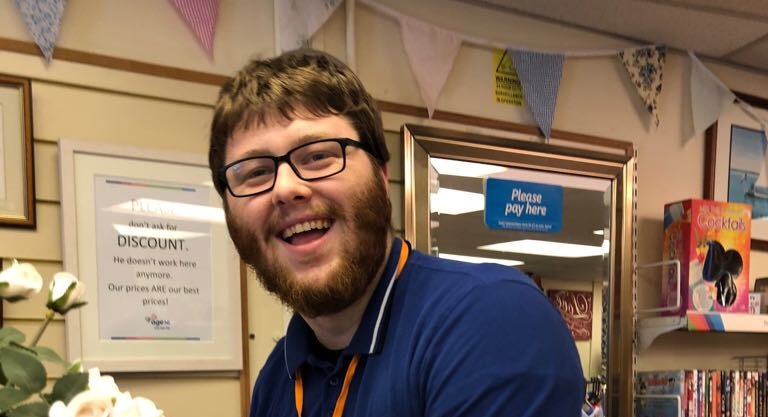 What is the overall purpose of the volunteer role?
Retail volunteers provide support to the shop manager and assist in the smooth running of the shop
What will you be doing?
Providing excellent customer service/interacting with the general public
Handling cash
Working the tills
Dressing window and shop displays
Sorting through donated items and stock – finding hidden gems!
Processing stock – steaming, hanging and ticketing
Keeping the shop tidy, organised and well stocked
What skills/qualities do you need?
Friendly, reliable and approachable
Good communication skills
Ability to work as part of a team
Trustworthy
Like to find out more?
If you would like to volunteer with Age NI, please complete this form. Once submitted we will review it and contact you with more information.
When?
The role is very flexible and any time you can give will be appreciated. Our shops are open Monday-Saturday from 9am-4:45pm
Where?
Belfast, Ballymena, Bangor, Carrickfergus, Coleraine, Newtownards
What support will you get?
An initial trial session before you register
A thorough induction
Full training
A central point of contact (shop manager)
Support from other volunteers
Out of pocket expenses reimbursed
What will you gain?
Fulfilment – feel good about making a positive, life changing difference
Retail and merchandising experience
Learn new skills
Have fun!
Meet new people and make friends
Boost your CV and increase your employability
What our volunteers say:
"I've made firm friends, met lots of lovely people and gained self confidence. Try volunteering; it's a wonderful feeling to help improve later life for another person."
96% of our volunteers enjoy their role!
Why do we need you?
Age NI is the leading charity for older people in Northern Ireland. Our vision is a world where everyone can love later life. Our mission is to help people enjoy a better later life. Our society is ageing. More than 350,000 older people live in Northern Ireland, and there are more people over the age of 50 than under the age of 19. In the next twenty years, the number of people over 50 will increase by more than 30%. We believe that people should be supported to love later life.
Additional Information:
This role is only suitable for those 16 and over
We will offer you a trial session before you complete a registration form