Age Friendly Awards Sheffield 2019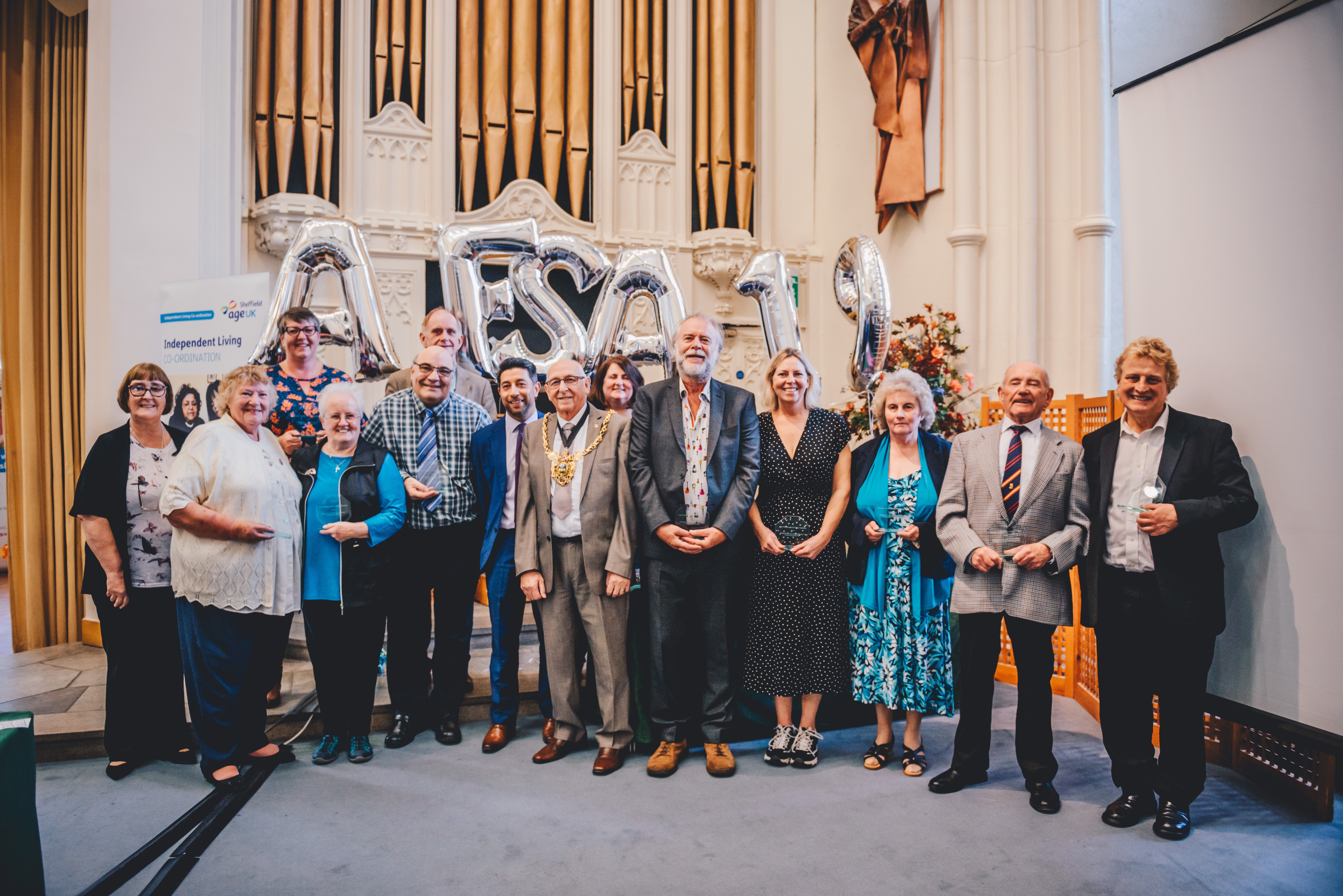 Published on 25 October 2019 02:09 PM
Last Friday on the 18th of October, we were lucky enough to host a truly unique and memorable event, it was the first ever Age Friendly Sheffield awards ceremony, an event that will become an annual date in the Sheffield diary! The event was hosted as part of our Age Friendly Sheffield Programme, which is part of the wider Age Better Sheffield programme. You can find out more about this below.

We welcomed lots of incredible people from across Sheffield to the ceremony. Every single person who was nominated for an award was invited to attend with a guest so that we could celebrate their dedication and commitment to the work they do. Everybody was treated to a delicious afternoon tea and some bubbly before the award winners were announced! Take a look at the lovely photos below of each of our winners receiving their awards along with a short and sweet description of why they were nominated!


Award: Age Friendly Sheffield Champion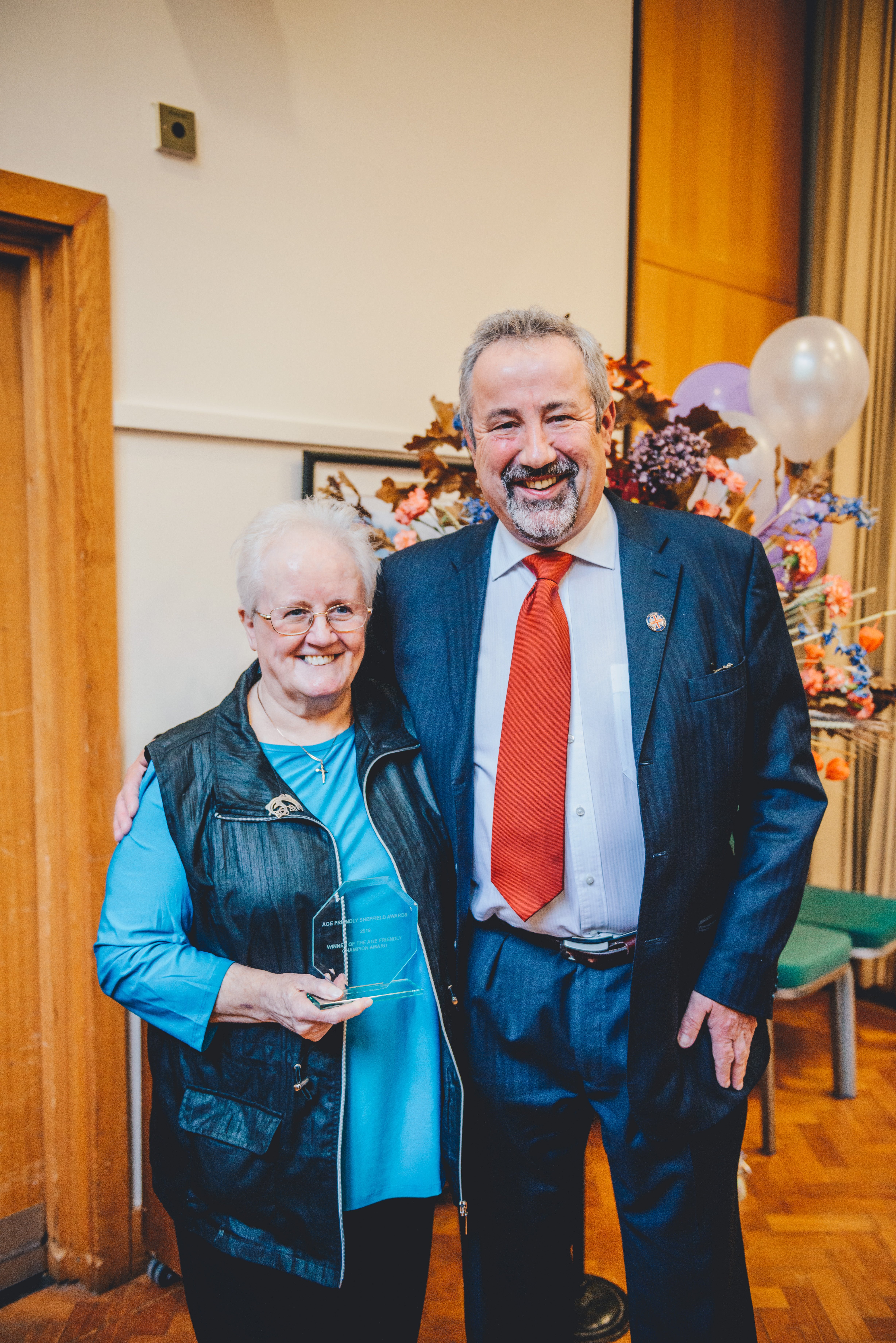 Betty Tyan won the Age Friendly Champion Award, she was presented the award by David Cambell, Chair of age Uk Sheffield. Betty was nominated because of her dedication to helping to organise varied activities for the older people who live at Guildford View assisted living complex in Norfolk Park as well as managing the weekly Irish Elders Club which many residents attend along with many others from all over Sheffield.
Award: Age Friendly Sheffield Volunteer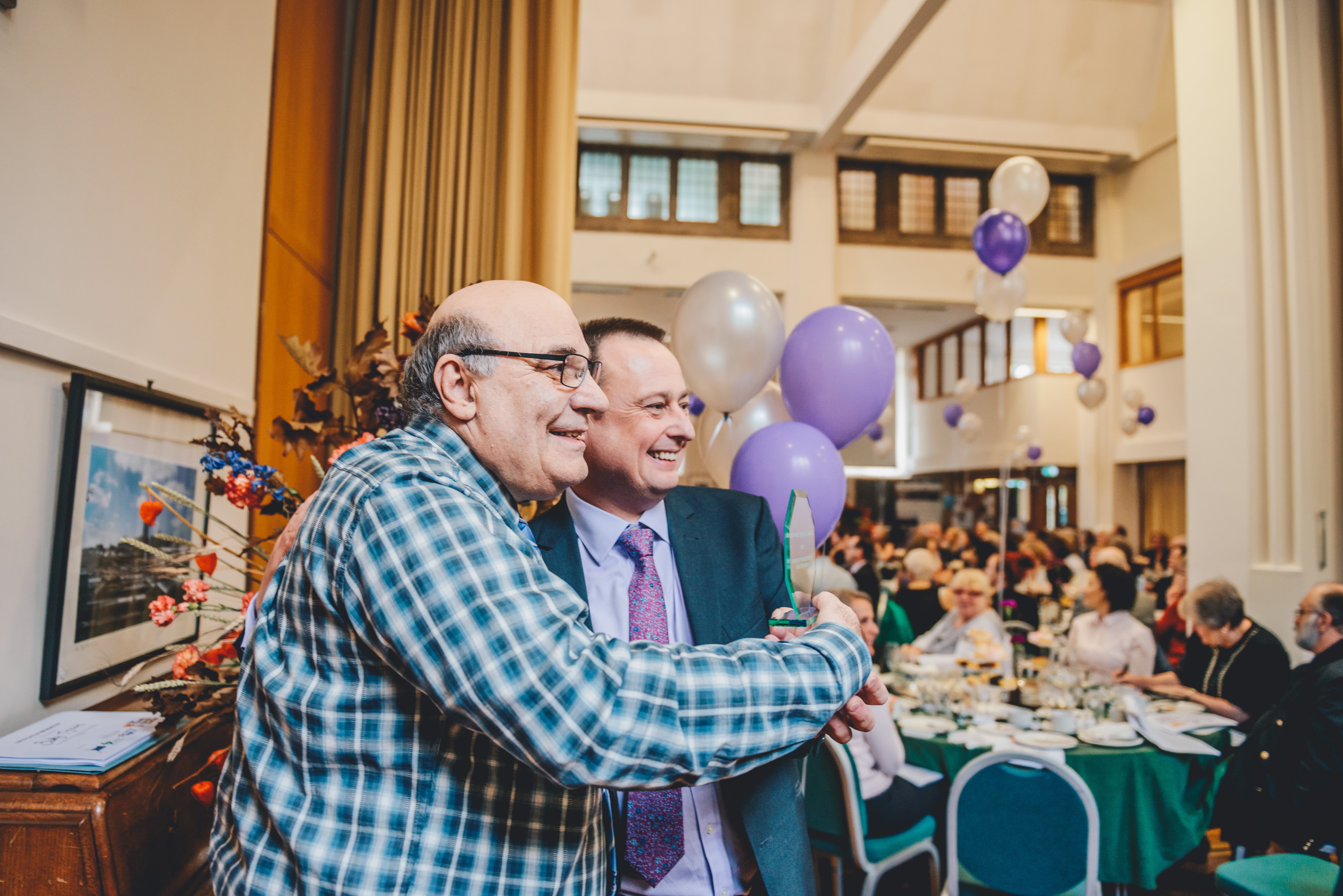 Steve Howard won the Age Friendly Volunteer Award, he was presented the award by Darren Littlewood from Henry Boot who kindly sponsored the award.

Steve is a former porter of Weston Park Hospital. Since retiring however, he hasn't stopped. Steve volunteers his time for Weston Park Cancer Charity and can often be seen in the hospital coordinating the snack trolley - so that patients who are too poorly to leave the wards can enjoy their favourite treats at their bedside. During this time, he also provides entertainment to patients and staff at a time when it is often needed the most.

Award: Age Friendly Sheffield Fundraising Award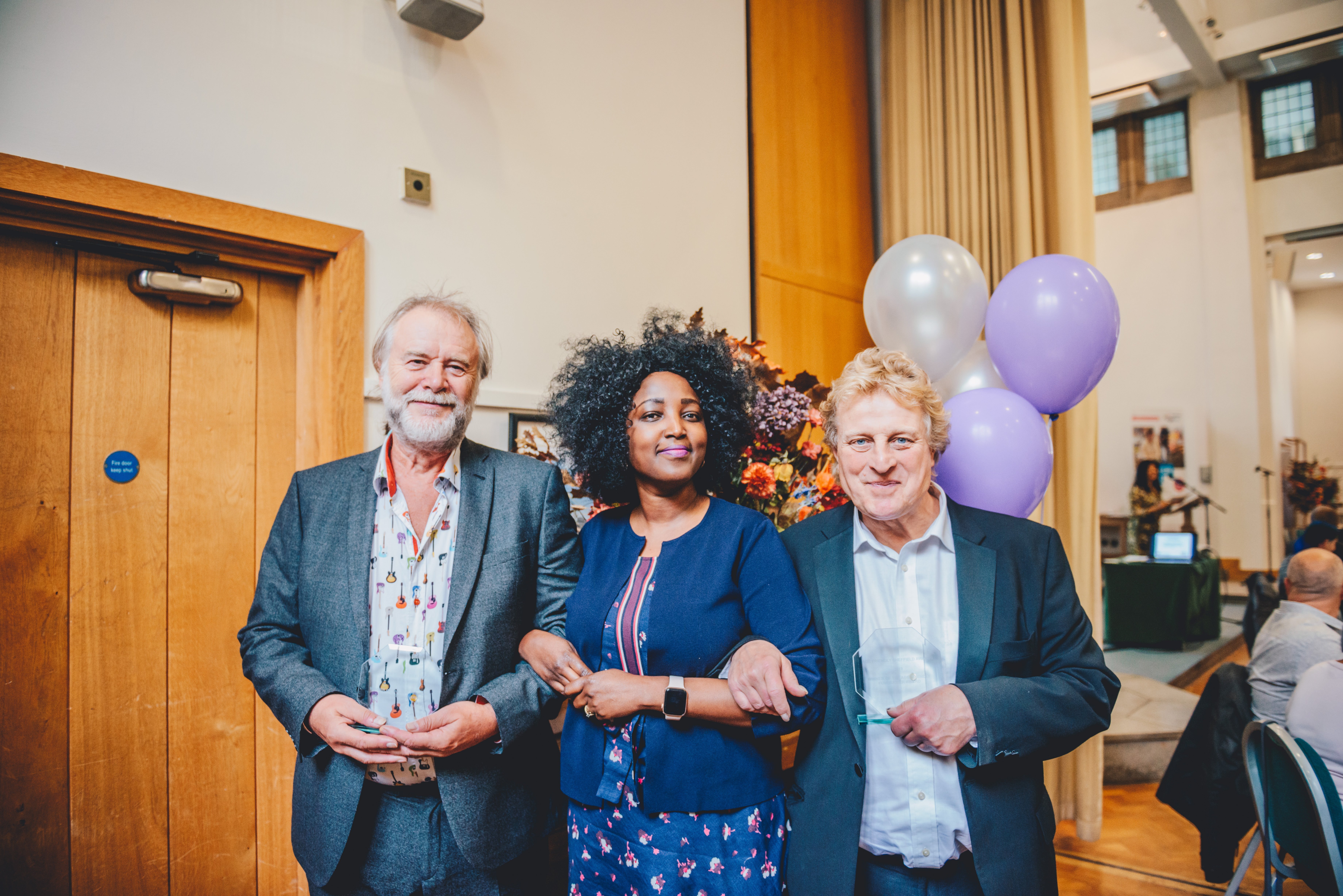 Toffee Music aka Dave Markham & Mike Lydiat won the award for Age Friendly Fundrasier, they were presented their award by Mercy Nguru from Harvey Pharma who kindly sponsored this award.

Toffee Music started when two friends decided to team up and combine their love of music with educating youngsters and entertaining older people by performing their favourite music. In doing so, they've visited hundreds of schools, care homes and pubs performing thousands of songs from their repertoire. Since 2012, this musical duo have together raised thousands of pounds to create a better life for cancer patients and their families, through their music.

Award: Age Friendly Sheffield Organisation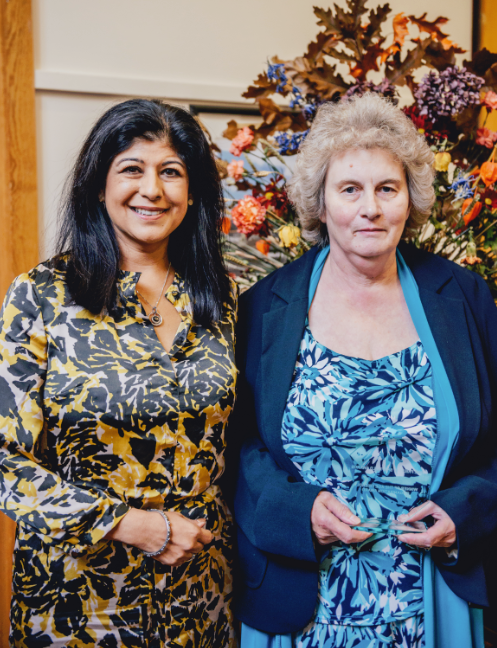 The Wincobank Undenominational Church won the award for Age Friendly organisation. Rosemary Francis collected the award on behalf of all of the volunteers who help run the organisation, and this was presented by Jay Bhayani from Bhayani Law who kindly sponsored this award.

The church is run entirely by volunteers. There are many social activities such as singing, gentle exercise classes, coffee mornings and craft clubs. The organisation has formed an important part of the community and it is very empowering the way that people offer help and friendship to the older people in the community through is organisation.

Award: Age Friendly Sheffield Business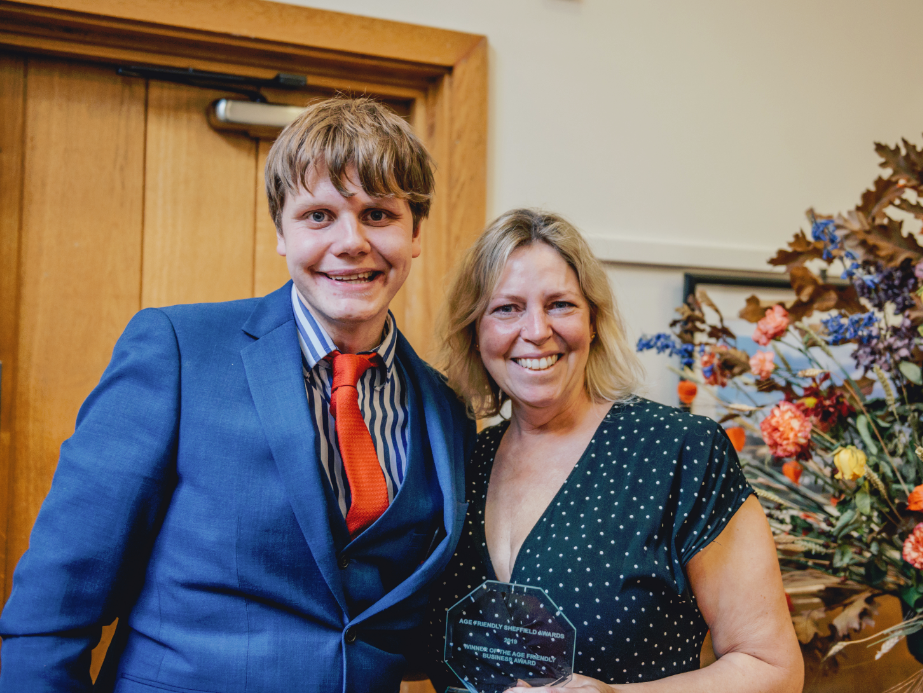 The Remember When Cafe, run by Ruth Bartles won the award for Age Friendly Business, which was presented by Cllr George Lindars-Hammond.

This cafe is a lovely place that caters well for everyone but is especially welcoming to older people and people with dementia. They organise regular singing sessions with a paid singer for people to attend and participate in. Someone who nominated the business explained that 'every time I visit with my mother who has Alzheimer's, she is made to feel welcome, treated as an individual and treated with dignity and respect."

Award: Age Friendly Sheffield Group or Project Award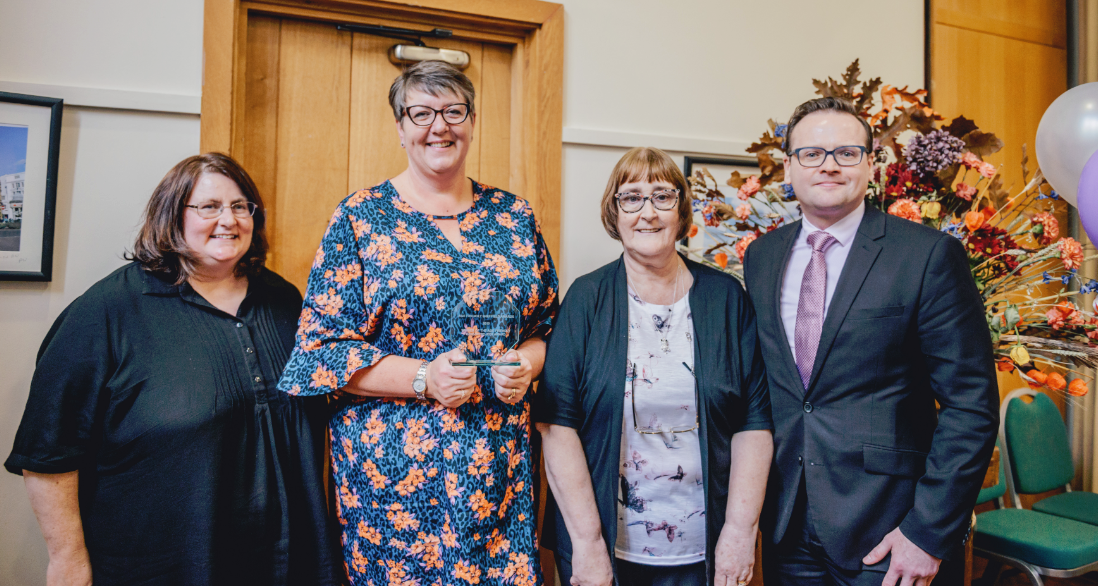 The Sheffield Mencap and Gateway Sunday Lunch Club won the Award for Age Friendly Group/Project and the award was presented to the three volunteers who organise the club, by Ben Smalley from Belmayne Independent Chartered Financial Planners who kindly sponsored this award.

The Sunday Lunch Club is a long-standing project which offers a vital social opportunity for people at risk of social isolation and loneliness in Sheffield. The service that this project provides is for older family carers aged 70+ of people with learning disabilities, the person they care for and for older people with learning disabilities who live independently, although some of these members also care for elderly parents. It plays an important role in reducing social isolation for these people.

Award: Age Friendly Sheffield Lifetime Achievement Award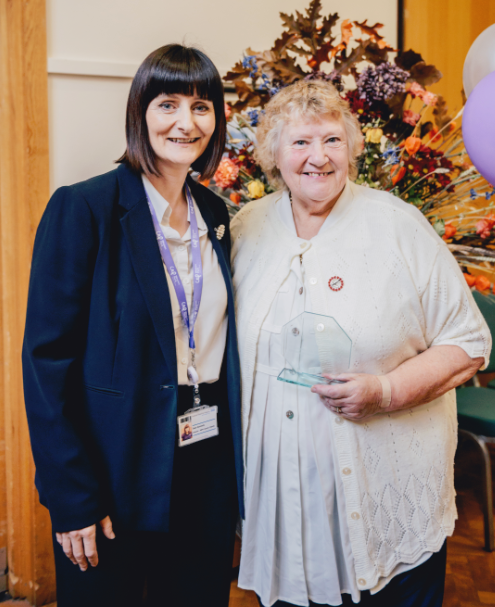 Diana booth won the Age Friendly Lifetime Achievement Award and was presented the award by Samantha Dixon, CEO of Weston Park Cancer Charity.

Diana was nominated for this award because 15 years ago Age Concern set up two activity/social groups for older people in the Arbourthourne area of Sheffield. After a few years, the funding ended but Diana continued to run the groups. Diana, who is now aged in their 70s, has been tirelessly organising and running the two groups ever since.

Award: Age Friendly Special Recognition Award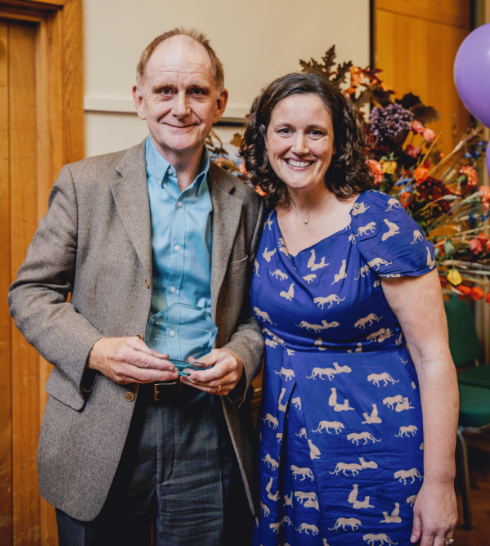 Tony Maltby won one of two Age Friendly Special Recognition Awards and was presented his award by Vic Stirling.
Tony Maltby is a passionate advocate for making Sheffield an ageing friendly city. He has spent much of his life's work researching the benefits of active ageing across the life course and since retirement, he has become a tireless campaigner to see Sheffield achieve this through Age Friendly status.

Award: Age Friendly Special Recognition Award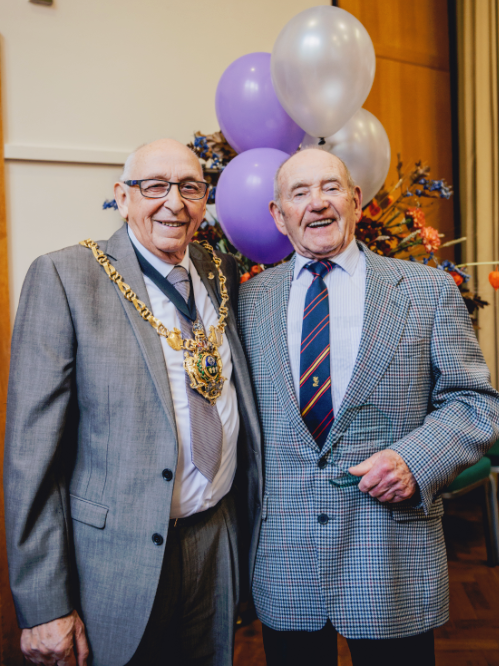 Tony Foulds was awarded an Age Friendly Special Recognition Award and was presented this award by Lord Mayor of Sheffield Tony Downing.

This Award was given to Tony to thank him for being an incredible member of our community, for the role he has played in encouraging and inspiring people of all ages to reflect upon the history of Sheffield, for bringing the city together and for evoking so many to feel passionate about Sheffield and everything that makes it a great city.

Nominees

We gave each of the nominees a certificate in recognition of their amazing work! You can find a list of all of the nominees and the reasons they were nominated in the Event Guide below. Simply click the link to download the guide!

Download our Event Guide
Simply click to download the Event Guide which includes a list of all nominees
We would like to extend a huge thank you to all of the guests who attended the event, we'd also like to thank the generous award sponsors who helped to make the awards ceremony possible. A big thank you also goes out to the wonderful volunteers and staff who helped with everything from blowing up balloons and arranging flowers, to helping people to find their seats, you helped the event to not only feel wonderful but to look wonderful too, as well as helping to ensure that everyone was comfortable and enjoyed themselves.

We had an absolutely incredible day celebrating some of the amazing people that help to make Sheffield an Age Friendly City! Thank you to everyone who nominated and got involved, we couldn't have done it without you!
Why did we host this event?
As Steve Chu, our charity's CEO explained, "Firstly, and most importantly, it was to recognise the amazing work that so many people, including all of the nominees, do to make Sheffield a great place in which to grow older. There are thousands of older people who give so much to our city, showing that age is no barrier to being active, engaged, and contributing to society.
And there are just as many younger people who are totally committed to voluntary work to support older people in our community, who we also wanted to recognise.

Secondly, earlier this year, we put together Sheffield's successful application to join the World Health Organisation's Global Network of Age Friendly Cities and Communities. In doing this, we thought about what is great about ageing well in Sheffield, we realised there a literally thousands of activities going on all over the city that we don't know about.
We felt it was vitally important to know more about the diverse range of things going on, so we can better tell the story of our city."
To find out more about the Age Better Sheffield programme, please click here.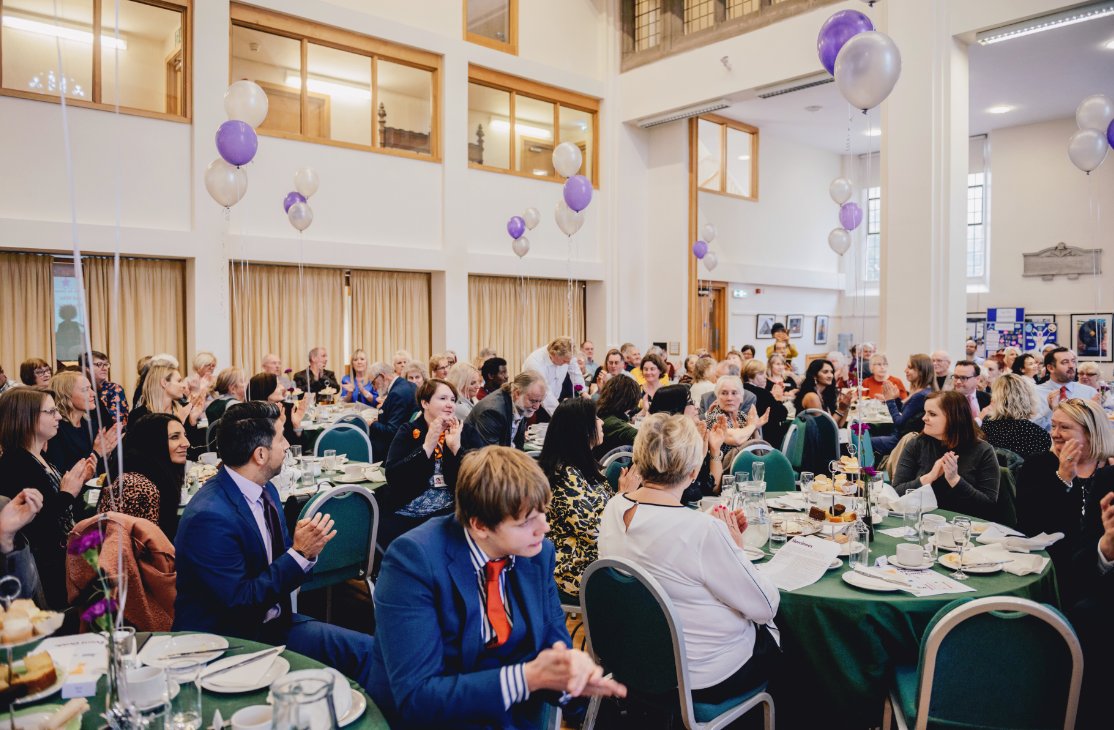 To view all of the other lovely photos from the event, please visit our Facebook page by searching for Age UK Sheffield.