Dementia Advice for Professionals

Dementia Advice Sheffield
Welcome to the central service page for our brand new service, Dementia Advice Sheffield. This service offers specialist dementia guidance, support & training to professionals and volunteers working with people who have dementia & their families and carers. It's purpose is to support professionals and volunteers across the city to be dementia friendly.
We are delighted to be working in partnership with Enrichment for the Elderly who will be developing training and workshops which will be open to local professionals such as voluntary sector staff, libraries, and housing officers, to increase their knowledge of dementia, with the aim of making Sheffield a truly dementia-friendly city.
This non-clinical service isn't a public-facing helpline, as it is being created specifically for professionals, by which we mean any staff, workers and volunteers working with people living with dementia and their families, even though they may not actually see themselves as being professionals within dementia care and support.
We do however still offer many services for people living with dementia and their families, such as our Wellbeing Centre, Dementia cafes and Independent Living Coordination services.
Contact the Service
You can Contact the Dementia Advice Sheffield Service via:

Call: 0114 250 2875
Email: dementiaadvice@ageuksheffield.org.uk
Website: ageuk.org.uk/sheffield/our-services/dementia-advice-sheffield/
Facebook: facebook.com/DementiaAdviceSheffield

And you can follow us for updates on:
Instagram:@dementiaadvicesheffield

Twitter: @dementiaadshef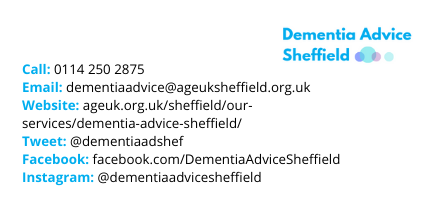 Upcoming Training & People Keeping Well Partner Resources
We host a range of free training sessions. Click through to Eventbrite to see our upcoming training sessions.

Our People Keeping well Partners provide a huge variety of services across communities in Sheffield. You may wish to refer people to these services as many have been created for people with dementia.
Previous Training Sessions, Their Summaries & Resources
Find out which training sessions we have ran in the past, read summaries about them and access resources from them.

Our blog, written by and for people who work with and support people living with dementia and their families.
Dementia Day Service Provision Sheffield
Click to view the list of Dementia Day Service provisions across Sheffield.

This is where we include all the infromation about dementia services, cafes, groups and everything inbetween that isn't run by a PKW provider such as dementia cafes run by Museums Sheffield.
Recent news relating to the service, updates in the Sheffield area, things that may be of interest and opportunities

Coming soon.....Dementia Friendly Star of the Month is where we share some of the great things that people across Sheffield are doing to provide amazing and innovative service, support and care to people living with dementia and their carers.
Keep up to date by signing up to our Newsletter
If you sign up to receive our Dementia Advice Sheffield newsletter, we'll keep you in the loop and send you information about new dementia services, referral options and training sessions in Sheffield as well as updated guidance, support, tips and blogs. We promise we won't bombard you with information and you will always have the ability to unsubscribe.
This information produced and sent is designed specifically for people who work or volunteer with people living with dementia and their carers in the Sheffield area.