Dementia Advice for Professionals

Dementia Advice Sheffield
Welcome to the central service page for our brand new service, Dementia Advice Sheffield. From October 1st 2019, this service will offer specialist dementia guidance, support & training to professionals and volunteers working with people who have dementia & their families and carers. It's purpose is to support professionals and volunteers across the city to be dementia friendly.
We are delighted to be working in partnership with Enrichment for the Elderly who will be developing training and workshops which will be open to local professionals such as voluntary sector staff, libraries, and housing officers, to increase their knowledge of dementia, with the aim of making Sheffield a truly dementia-friendly city.
This non-clinical service isn't a public-facing helpline, as it is being created specifically for professionals, by which we mean any staff, workers and volunteers working with people living with dementia and their families, even though they may not actually see themselves as being professionals within dementia care and support.
We do however still offer many services for people living with dementia and their families, such as our Wellbeing Centre, Dementia cafes and Independent Living Coordination services.
Contact the Service

You can Contact the Dementia Advice Sheffield Service via:

Call: 0114 250 2875
Email: dementiaadvice@ageuksheffield.org.uk
Website: ageuk.org.uk/sheffield/our-services/dementia-advice-sheffield/
Facebook: facebook.com/DementiaAdviceSheffield

And you can follow us for updates on:
Instagram:@dementiaadvicesheffield

Twitter: @dementiaadshef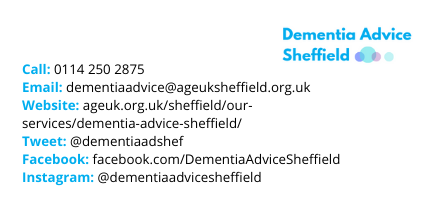 Upcoming Training & People Keeping Well Partner Resources
We host a range of free training sessions. Click through to Eventbrite to see our upcoming training sessions.

Our next training session is called: Helping people with dementia navigate the system.

Description: Helping link workers to navigate the system for people living with dementia and their carers. Who should you be referring in to and when?
Date: Monday December 9th
Where: Room 7, The Centre In The Park, Guildford Avenue, Sheffield, S2 2PL

Click the link to sign up to attend the training session on via Eventbrite

Our People Keeping well Partners provide a huge variety of services across communities in Sheffield. You may wish to refer people to these services as many have been created for people with dementia.
Previous Training Sessions, Their Summaries & Resources
Find out which training sessions we have ran in the past, read summaries about them and access resources from them.

Our blog, written by and for people who work with and support people living with dementia and their families.
Recent News
Recent news relating to the service, updates in the Sheffieldd area, things that may be of interest and opportunities.