Dementia Advice for Professionals

Corona Virus Outbreak Resources and Support
We have created and sourced a variety of helpful resources for professionals supporting people living with dementia and their carers during the Corona Virus outbreak. Click below to view this web page.
Contact the Service
You can Contact the Dementia Advice Sheffield Service via:

Call: 0114 250 2875
Email: dementiaadvice@ageuksheffield.org.uk
Website: ageuk.org.uk/sheffield/our-services/dementia-advice-sheffield/
Facebook: facebook.com/DementiaAdviceSheffield

And you can follow us for updates on:
Instagram:@dementiaadvicesheffield

Twitter: @dementiaadshef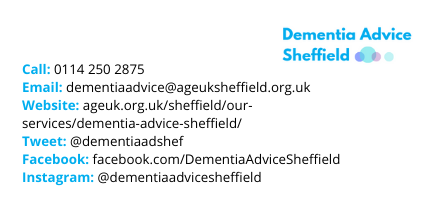 Upcoming Training & People Keeping Well Partner Resources
We host a range of free training sessions created specifically for people who work with people living with dementia. Click through to Eventbrite to see our upcoming training sessions.

There's a wide range of services across Sheffield created for people living with dementia, their carers and friends or family. From memory cafes to carer support groups, find links to updated lists of services that you can access for information and making referrals.
Information about Previous Training Sessions and Previous Blog posts
Find out which training sessions we have ran in the past, read summaries about them and access resources from them.

Our blog, written by and for people who work with and support people living with dementia and their families.
Click to view information and resources for emergency services
Useful Contacts
Click to view our regularly updated list of useful contacts, that you may wish to contact yourself (e.g. to send a referral/to ask for advice) or that you may wish to signpost someone that you are supporting to.