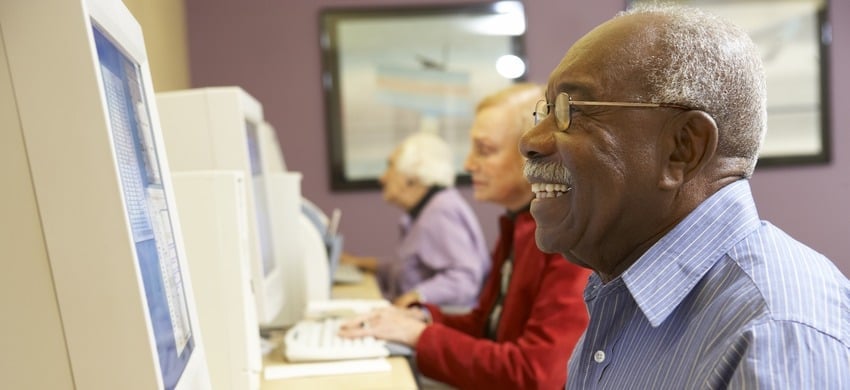 We're a local charity working in the community to support older people, their families and carers. We want everyone to be able to love later life.
Who we are
Age UK Hammersmith and Fulham is an independent local charity supporting older people across the borough. We provide a wide range of practical services and activities that promote wellbeing and independence.
We aim to promote the wellbeing of older people and to help make their life fulfilling and enjoyable experience.

We are committed to reducing poverty and fighting disadvantage, defeating ageism and recognising diversity, addressing social exclusion and promoting more effective and responsive public services for older people.
Where you can find us
Our main office and activity centre is based in Greyhound Road and we have a charity shop in the West 12 Centre in Shepherd's Bush.
How we are funded
We rely on your support to keep serving the community. We are partly funded by the London Borough of Hammersmith & Fulham and are supported by donations from the public, income from our charity shops, and some charitable grants.
Diversity
We value diversity in all that we do. We recognise and welcome the diversity of older adults and their different needs, choices, cultures and values and the diversity of our volunteers, supporters and staff. We believe that it is only through working together that we can use our local, regional and national presence to the greatest effect.
Our Vision and Mission Statement
Our Vision:
To make a positive difference in the lives of older people in our community.
Our Mission Statement:
We will work with older residents to deliver effective services and work collaboratively to achieve our vision.
Our Values:

Accessible
Supportive
Empowering
Inclusive
Age UK Hammersmith & Fulham's Big 5:
Encourage healthy ageing and enable social interaction
Be a trusted advisor to older people
Proactively identify and prioritise the needs of older people
Influence the local older people's agenda and improve lives and communication with other services
Generate secure and diverse funding
What we do
We offer lots of services for older people and their carers:

Information and advice
Practical help and gardening
Befriending
Shopping service
Footcare

Visit our activities and events page for details about:

Social lunch clubs
Talks and special events
Computer classes
Exercise groups
Days out and trips

Volunteering is a fantastic way of meeting new people, developing new skills and doing something worthwhile within your community. We rely on volunteers to help us offer vital services in the local community.

Would you like to lend a hand?