Get Online Week
As part of Get Online Week we are running 2 events at the centre. You can access the Vegetarian For Life event from home via Zoom or at the Centre. Make sure to book in advance if you choose the latter. Check out our Talks and Special Events Page for more info.
October 20th Vegetarian For Life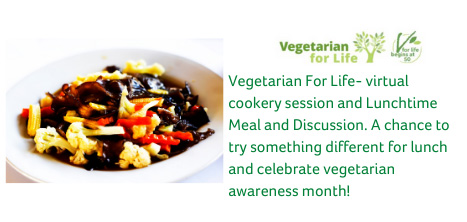 October 22nd Techy Tea Party
Zooming Marvelous!
Our friendly online clubs are a great way to stay connected. You'll be able to join many of the activities we have on at the centre, only remotely from the comfort of your own home. You can enjoy quizzes, BINGO, creative classes, discussion, friendship, gentle guided exercise and more!
Check out our Autumn Timetable for further information about what's on and when.
And if getting onto video conferencing apps like Zoom seems as easy to you as rocketing to the moon, check out our step by step guides.
Click here to find the steps broken down into easy to follow instructions per device:
From your laptop or PC
From your Android device
From your IOS device
You will need a password to access the class.
Before each of the below classes, you'll need the meeting ID and password for your Zoom session. If you are missing these details you can call 020 7386 9085 (Reception) or 020 7386 2654 (Digital Champions) or emailing: digital@ageukhf.org.uk
Please do not access the classes until 5-10 minutes before the session starts.
Stay connected and join our online activities. Offering gentle exercise, social events and creative group classes on Zoom.
Are you interested in joining our online classes but not sure how?
If you haven't got access to a laptop or tablet or you need a little extra help please get in touch to let us know. Our digital skills team are just a phone call away 0207 386 9085.