How your organisation can get involved

What are the benefits of partnering with Age UK Hammersmith and Fulham?
Age UK Hammersmith and Fulham is a local charity working in the borough since 1982. There are more than 19,000 residents aged 65 and older in Hammersmith & Fulham. 43% of them live alone, the fourth highest proportion in England. One in four live in poverty. One in five have poor or very poor health and more than half live with a long-term health problem or disability.
Our vision, mission, and values are to make a positive difference in their lives. We provide activities and essential services to promote the wellbeing, independence, and inclusion of older people. We also work with likeminded parties to extend our effectiveness in the community.
Each and every corporate relationship matters to us. We work hard to help older people get more out of later life and we are keen to work with you to establish a mutually beneficial relationship.
A partnership with us could be beneficial for your business by helping you meet your corporate social responsibility objectives. It's a great way to motivate employees, gain insight into the over-50s market, get some great PR and help Age UK Hammersmith and Fulham support vulnerable people in the local community.
How can we get involved?
There are a number of ways your organisation can partner with us.
Sponsor one of our events
We hold a number of events throughout the year, such as our summer garden party, our Christmas party or day trips in our minibus. By sponsoring an event, you can help us with the costs, for example, food and decorations, your staff can get involved, and in return get some great PR and local media coverage.
Run a fundraising event
Your employees could run their own fundraiser to help raise vital funds for our work. They could do a cake sale, dress down day, a sponsored walk or run, or a raffle. There are so many things they could do - contact us for more ideas!
Send employees to volunteer
Could you send a team to help out at an event or activity? It's a great way for staff to bond by working together to help vulnerable older people. Previous staff teams have served Christmas lunches, taken older people on days out, painted our day centre, and revamped our garden.
Donate equipment
If you would like to donate a piece of equipment, we would be very grateful. Please contact us to find out our current needs. These could include digital devices, kitchen equipment for our lunch clubs, or bespoke equipment for our centre.
We would also be very grateful for gifts in kind, including gift vouchers, to thank our volunteers or make our clients feel special.
Choose Age UK Hammersmith and Fulham as your Charity of the Year
Please consider choosing Age UK Hammersmith and Fulham as your business Charity of the Year. In return, we would offer joint branding on our fundraising materials and our events, as well as positive PR and local media coverage.
Thank you to all our corporate partners
Older people have been seriously affected by the pandemic yet our ability to provide services and information was hampered by the restrictions of lockdown.
Many local businesses came forward to help us to keep delivering our services in different and substantial ways.
We are unable to name all the businesses which have supported our work over the last years, but we wanted to name a few of those who played a role recently.
Our utmost gratitude to those businesses who have supported Age UK Hammersmith and Fulham in a variety of ways and, through us, helped older residents in the borough.
Some contributed to the cost of delivering one of our services. Some made gifts-in-kind, providing equipment or a free service and helped us celebrate our clients and volunteers. Others provided employee volunteering hours helping at our community centre. Other prepared vital meals for isolated older residents and delivered them to their homes during the worst times of the Covid-19 pandemic.
Accenture
Bayley & Sage
Chelsea FC with Compass Group UK&I and Payne and Gunter

DevicesDotNow

Di Lusso Travel
Evad
Faithful+Gould
Fresh Fitness Foods
Fulham FC
GoodGym
Land Securities
Lloyds Banking
Metro Bank
Peardrops Catering
Ready Tech Go
Rude Health Café
Waitrose & Partners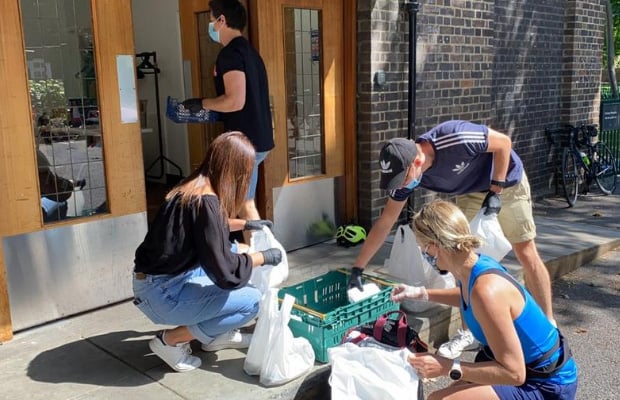 Corporate sponsor case study - Santander
Age UK Hammersmith and Fulham partnered with Santander to provide our clients with a Christmas lunch.
"It was fantastic to have the Santander Team at Age UK H&F to help us with our client Christmas lunch. Their contribution, time and effort on the day made it a huge highlight of the year and would not have been possible without their help." Vanessa, Age UK H&F Volunteer Coordinator
The team helped by:
Providing a team of 13 volunteers from 10am-4.30pm to help with running the event, including setting up, prepping and serving food & drink.
Donated £250 to cover the Christmas meal (60+ attended)
Helped set-up in the morning by decorating the hall and setting up the tables, and helped clear away in the afternoon.
Prepped food in the kitchen with our volunteer cook and served food and drinks.
Joined in with morning activities with clients such as chess.
Greeted and welcomed clients when they arrived.
Organised the music and a slideshow to play during the lunch.
"We all had a fantastic day and very much enjoyed getting into the Christmas spirit. It was great to see first-hand what wonderful work, and the resulting positive impact you're having on the community." Isabella, Santander UK Internal Audit Division | Financial Crime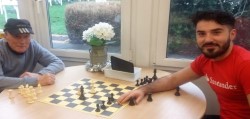 13 enthusiastic volunteers arrived in the morning to help with the preparations for the day, all wearing matching Santander Christmas t-shirts! After a quick de-brief with teas, coffees and biscuits, the team were keen to get to work and were allocated various tasks which rotated throughout the day so that everyone got a chance to participate in the different activities and meet new people.
Everyone got stuck in and embraced the festive spirit of the day, working together with each other, Age UK H&F staff, volunteers and clients. While one group were chopping carrots and peeling potatoes in the kitchen, under the guidance of our volunteer cook, another group were busy in the main hall setting up the tables with Christmas crackers, napkins and tinsel. Another group were based in the library room putting together a wonderful Christmas playlist for everyone to enjoy during the lunch.
As clients started to arrive, Santander volunteers were on hand to welcome them with a glass of champagne and take them to their seats. Music, laughter and the smell of mulled wine filled the hall as volunteers and clients chatted away over their roast turkey before the Christmas singalong began and dessert was brought out.
The whole day ran so smoothly thanks to our spectacular team of Santander volunteers who were kept busy from the moment they arrived to the moment they left with smiles on their faces! One volunteer managed to fit in a game of chess with one of our regular chess club clients, which made his day, and some other volunteers learnt how to make paper napkin origami for an impressive table display! It was heartwarming to hear such good feedback about the event from both the clients and volunteers and we are so grateful to Santander for making it such a special day for everyone involved.