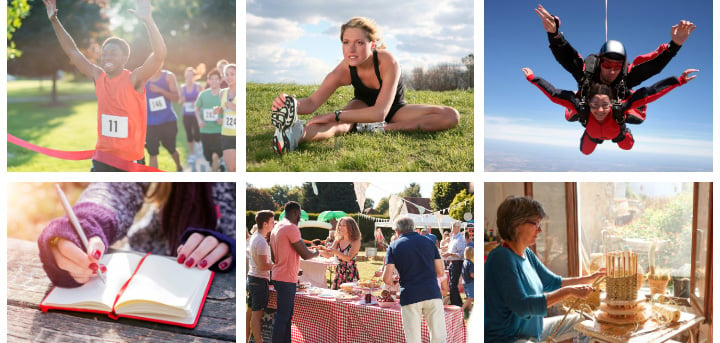 There are so many ways to fundraise
Is there something you would like to achieve that you haven't quite committed yourself to yet?
Sometimes, what we need is some accountability. Raising money for a good cause can help you reach your goals. Want to improve your fitness? Write a book? Learn to play a tune? Not all fundraising challenges involve running marathons or jumping out of airplanes- although things like this are highly encouraged too.
It's easy to start a Just Giving page and fundraise for Age UK Hammersmith and Fulham. Once set up, make sure to share your fundraiser regularly on your social channels. Let friends and family know what your challenge means to you. You might find your employer has a match funding scheme too.
You'll get a boost as your friends donate and cheer you on. Plus you'll be doing something good for older people who really need your help. If you tag @Ageukhf in your social media posts, we'll be sure to encourage your efforts as you go.
Plan a fundraising event with friends
Soon we'll be able to have events in person again which opens up a world of possibilities.
Fundraising is a great way to celebrate coming together with friends and colleagues.
1. Bake Off at the office
Encourage your colleagues to bring in home-baked goodies to sell in the office. A great way to bring a little fun back into the working day and catch up during your lunch break. You can even spice things up with a little competition. Price by donation or make suggestions. Don't forget to ask your employers if they'll match the funds raised.
2. Get your thinking caps on
Test your general knowledge with a quiz night at your local. A great way to break out of the foggy thinking of lockdown and fire up those synapses again. Haven't we all missed our local pub? Charge to participate and get some prizes donated from local businesses.
3. Celebrate good times
Celebrate coming together again with friends with a themed night you will all love. A Karaoke night, Disco Fever, Comedy Sports Day, BBQ or Pic Nic. The important thing is to plan something you'll all enjoy doing. Put the fun into fundraising!
Share a moment of gratitude for each other and ask your friends to make a donation for those who have no one.
4. Dog washing
Do you and your family love man's best friend? Invite your fellow dog walkers for a puppy spa day in your back garden. Break out the paddling pool and the hose and offer discounted rates to get those paws squeaky clean.
5. Host a Coffee Morning
Coffee with friends, simple as it seems, is one of life's greatest pleasures. Display suggested donations for cakes and activities and keep your donation box high vis.
Whatever you decide to do please make sure to let us know so that we can cheer you on. You can tag us on social media @ageukhf or contact fundraising@ageukhf.org.uk
Recovery Appeal – PLEASE DONATE
Your support will directly help older people break out of isolation and recover from lockdown. Thanks to our services, such as gentle exercise classes, lunches at our community centre and other group activities, older people can chat, have a laugh, and feel less anxious and lonely. Thank you for your donation.
Triathlon Fundraiser Case Study
Our befriending volunteer Anna kindly chose to take part in a triathlon to help raise funds for Age UK Hammersmith and Fulham. The money raised helped to support the vital services offered for the local older and vulnerable members of our community.
"All the early mornings training were made a lot easier knowing the money I was raising would go to such a good cause. The hardest part was teaching myself to swim and then braving the cold dark water of the Serpentine to practice. The event itself was way more mentally and psychically challenging than I'd imagined but the atmosphere was incredible and the feeling of crossing the finish line is truly indescribable. If others are considering taking part, I couldn't recommend it more. It is hugely rewarding to set yourself such a challenge and to support Age UK Hammersmith and Fulham!"