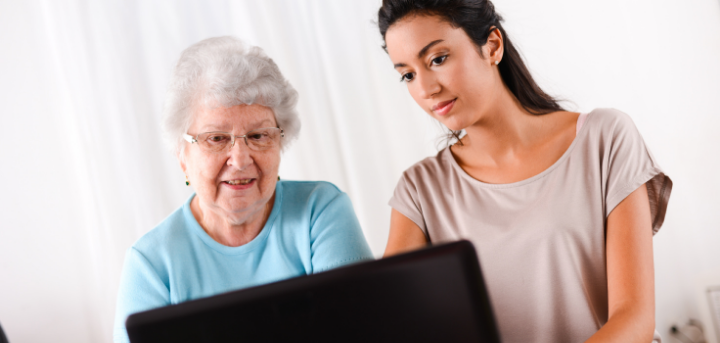 Donate to Digital Inclusion
Help us bridge the Digital Divide in Hammersmith and Fulham
Being digitally included can help older people stay connected with family and friends, enjoy greater convenience and explore their interests. Our Digital Inclusion program offers a helping hand to older people in Hammersmith and Fulham who are curious about getting online. Our aim is to help each of them grow digitally confident and we need your help.
Digital Skills have never been more important. As more and more services move online, many older adults are getting left behind. From booking appointments with a GP to paying bills, older adults are increasingly expected to climb daunting digital hurdles with little support. The online world can be a scary place. From viruses to scams, one only needs to listen to the news to feel intimidated.
This is where you come in. A donation of £20 can help one older person have a one-to-one session with a Digital Champion.
Our Digital Champions take an individual approach with each of our clients who, guided by their interests are eased into their digital journey. Armed with the information they need on how to avoid scams and surf safely, our clients grow increasingly confident online. Our aim is to help them manage the basic day to day tasks that so many of us take for granted and have fun while they go.
For isolated older people, gaining digital skills can be a lifeline to the outside world. COVID 19 has brought opportunities to engage with many social activities online and to participate in meetups with distant family and friends. Being able to explore interests online independently can help older people find like minded friends and develop a social life that would not have been possible otherwise.
The difference you can make for an older person with your donation is truly life changing.
Make a difference in your community
Help our Digital Skills team reach more older people in Hammersmith and Fulham.
Please help if you can so that we can be there for older people in Hammersmith & Fulham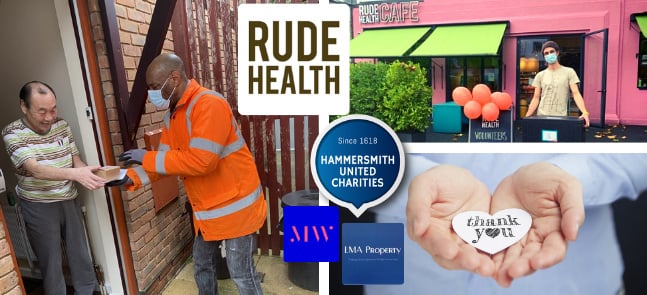 Big THANK YOU to everyone who has helped to sustain our Vital Meal Delivery Service for isolated older people this winter.
Thank You to All Our Donors!
It is because of all of you we are able to buy a new minibus and continue our shopping service.
We needed to raise enough money to buy a new minibus that complies with Transport for London's Low and Ultra Low Emission Zones.
We're so pleased with the response from our community and we can't wait to tell you all of our adventures.
Our shopping service is the only way some of our clients get out. The new minibus will ensure people can access this service, as well as day trips and outings for years to come.
We rely on your support to help older people in Hammersmith and Fulham. There are many ways you can donate to us.
Ways to give
Giving online is quick and easy. You can make a one-off donation or a regular monthly donation to support our work through our Just Giving page.

If you would like to write us a cheque, please make it payable to Age UK Hammersmith and Fulham and post it to us at 105 Greyhound Road, Hammersmith, W6 8NJ.
Leaving a gift in your Will enables us to provide vital services for older people in Hammersmith and Fulham. Every gift in every Will, no matter how large or small, makes a difference.

Money raised from our shop supports our vital services in Hammersmith and Fulham, so why not bag a bargain or donate something you no longer need?
Payroll giving
Payroll giving is an easy, tax effective way in which you can make a regular donation to help us provide vital services to older people in need.
Give As You Live
Help Us Raise Vital Funds for Free!
Fancy donating money to us through your Christmas shopping for free? Check out this amazing offer from Give As You Live.