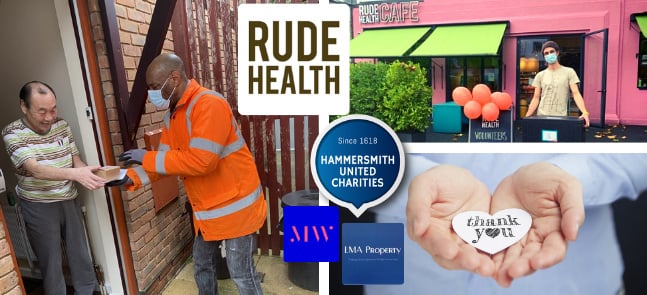 Big THANK YOU to everyone who has helped to sustain our Vital Meal Delivery Service for isolated older people this winter.
A difficult winter for many of our most isolated and vulnerable Hammersmith and Fulham residents was made much easier thanks to support from our local community. Rude Health Café, LMA Property, United in Hammersmith and Fulham Charities, Manbre Wharf and some heroic individual fundraising efforts! Our colleague Alexandra managed to raise £1384 and completely smashed her target to walk 100km!
Thank You to All Our Donors!
It is because of all of you we are able to buy a new minibus and continue our shopping service.
We needed to raise enough money to buy a new minibus that complies with Transport for London's Low and Ultra Low Emission Zones.
We're so pleased with the response from our community and we can't wait to tell you all of our adventures.
Our shopping service is the only way some of our clients get out. The new minibus will ensure people can access this service, as well as day trips and outings for years to come.
We rely on your support to help older people in Hammersmith and Fulham. There are many ways you can donate to us.
Ways to give
Giving online is quick and easy. You can make a one-off donation or a regular monthly donation to support our work through our Just Giving page.

If you would like to write us a cheque, please make it payable to Age UK Hammersmith and Fulham and post it to us at 105 Greyhound Road, Hammersmith, W6 8NJ.
Leaving a gift in your Will enables us to provide vital services for older people in Hammersmith and Fulham. Every gift in every Will, no matter how large or small, makes a difference.

Money raised from our shop supports our vital services in Hammersmith and Fulham, so why not bag a bargain or donate something you no longer need?
Payroll giving
Payroll giving is an easy, tax effective way in which you can make a regular donation to help us provide vital services to older people in need.
Support Age UK Hammersmith & Fulham when shopping on AmazonSmile
We have signed up for AmazonSmile, which supports charitable organisations such as Age UK Hammersmith and Fulham to fundraise as customers shop.
Give As You Live
Help Us Raise Vital Funds for Free!
Fancy donating money to us through your Christmas shopping for free? Check out this amazing offer from Give As You Live.