Computer and technology classes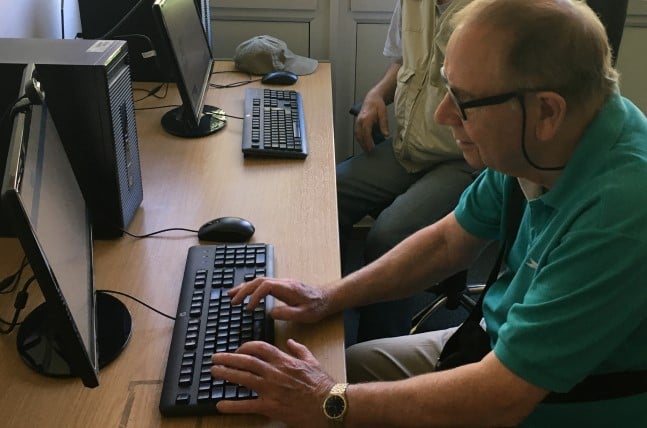 Would you like to improve your digital skills? Learn how to look up travel routes, check the weather, or even research your hobbies – we can help show you how!
"The growth of the computer has made a difference in many lives. Age UK Hammersmith & Fulham provide help with computers so you can make contact with friends and relatives, also if you want to book tickets for a show. There's lots of benefit and fun, and you can download music too." Barry, 80, from Sands End
Learn new skills
We offer 1-to-1 basic tuition with our enthusiastic volunteers - getting online, emails, social media and much more! Sessions are FREE, and the volunteers are available Monday – Friday. Contact us to find out times and to book.
Some of our volunteers can also help with smartphones and tablets by arrangement. They can cover a wide range of skills, including more advanced skills like online shopping, form-filling and staying safe online.
Please do call to let us know what you'd like to learn and to book: 0207 386 9085 or email at digital@ageukhf.org.uk
Cyber Café
Our computer room is open Monday - Friday from 10am - 4pm and is equipped with 8 up-to-date (Windows 10) computers. Visit our centre at 105 Greyhound Road to use the computers and connect to the internet.
Volunteering Opportunities
Would you be interested in joining our Staying Connected Digital Inclusion Project by helping learners at our drop in centre or in their home? Full training provided.
Find out more about volunteering as a Digital Champion or please get in touch on: digital@ageukhf.org.uk
Case Study: Robin
My hour with John today, helping with my laptop and accessing social media, was excellent! John is so calm and clear whilst being very friendly and professional, a great volunteer indeed. I have booked two further sessions with him over the next two weeks and am looking forward to becoming far more proficient with my social media accounts for the very first time."....Says Robin, Age UK H&F Member.
Case Study: Kevin
"I've been visiting Age UK H&F and learning simple things on my mobile and tablet like how to turn it off and on, YouTube and watching videos. There's lots more to learn but with practise you can get there. I'm very glad that I got the phone and now I'm learning about the tablet too. It was difficult at first but practise makes perfect. I surprised myself by the knowledge I've learnt already. You can learn one bit at a time.
The people at Age UK that train you are very experienced and helpful. They've been patient and are good at explaining. Without their help I wouldn't be where I am today, they've been a great help to me. I'd recommend anyone to go for it, you're never too old to learn, I'm 81."
Our Digital Skills sessions will soon be back at the centre. Please book in advance of your visit to ensure your space.
Contact the digital team
To find out more or book a session contact our digital team on: 020 7386 9085 or send an email to: digital@ageukhf.org.uk