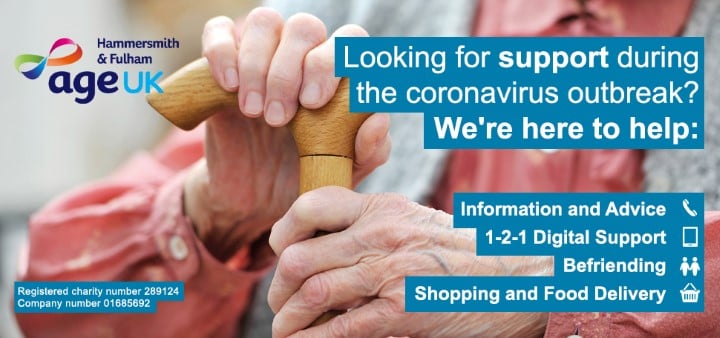 Coronavirus (COVID-19) Update
CHARITY SHOP AND ACTIVITY CENTRE CLOSURE
Due to the coronavirus outbreak and following the government instruction that everyone should stop non-essential contact with others and travel. Age UK Hammersmith and Fulham has decided to close our activity centre and charity shop whilst the government instruction remains in place.
Visit our Coronavirus (COVID-19) Update page for details on:
What services we are running during the coronavirus outbreak
How to access help
Volunteering during coronavirus
Information about coronavirus
The Age UK Hammersmith and Fulham Newsletter
Donating to Age UK Hammersmith and Fulham
We thank you for your patience and understanding during this difficult time and ask that you do everything to remain safe and healthy. We encourage everyone to always follow the advice from Public Health England as we continue to do so too:
https://www.gov.uk/coronavirus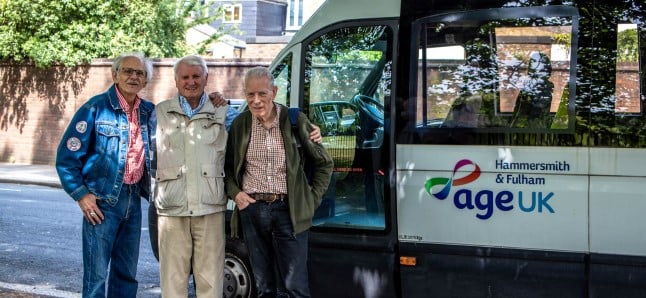 Help buy a new minibus for older people - PLEASE DONATE
Please help our charity support older residents by pledging your support today
Why not get involved and help Age UK Hammersmith and Fulham?
If you would like to get involved, there are lots of things you can do. Whether you want to give your time by volunteering, take part in a fundraising event, or help with our campaigns, your help would be much appreciated.
How you can get involved
We rely on your support to keep helping older people in Hammersmith and Fulham. Any donation, no matter how much, is greatly appreciated.

Our amazing volunteers help us to do so much in Hammersmith and Fulham. Whether you have an hour or a day to spare, we have lots of opportunities for volunteers.
The Hammersmith & Fulham Local and Vocal Hub runs quarterly forums to gauge the views of local residents and enable them to question those providing services for older people in the borough.

It's easy to become a member of Age UK Hammersmith and Fulham. Our membership fee is just £10 for a year.
Other ways to get involved
A partnership with us could be beneficial for your business by helping you meet your corporate social responsibility objectives.

Age UK Hammersmith and Fulham is committed to being there for older people who need us. If you decide to leave a gift in your will to us, you will be supporting us to make life better for older people in Hammersmith and Fulham.

Whether you want to walk, run, bake, or even jump out of a plane, we have loads of fundraising ideas and events for people who want to help us make a difference.
Payroll giving
Payroll giving is an easy, tax effective way in which you can make a regular donation to help us provide vital services to older people in need.