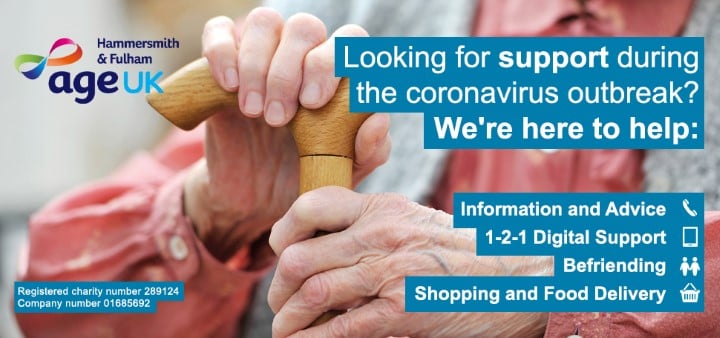 Coronavirus (COVID-19) Update
Due to the coronavirus outbreak and following the government instruction that everyone should stop non-essential contact with others and travel. Age UK Hammersmith and Fulham has decided to close our activity centre whilst the government instruction remains in place.
We thank you for your patience and understanding during this difficult time and ask that you do everything to remain safe and healthy. We encourage everyone to always follow the advice from Public Health England as we continue to do so too: https://www.gov.uk/coronavirus
Age UK Hammersmith and Fulham Service Update
We are still running a number of services and full details can be found in our Service Update. They include:
Information and Advice - 30 minute telephone appointments are available to book covering the following areas of advice: Welfare Benefits, Employment, Housing, Consumer, Debt and Basic Immigration queries. To book, call: 020 7386 9085
Shopping Service - We have increased our shopping service from two days a week to five days. To book, email sophie@ageukhf.org.uk or call: 07538 327 734
Digital Inclusion Project - Our Digital Champions are available to provide 1-2-1 digital support over the phone. To book, email digital@ageukhf.org.uk or call: 020 7386 9085.
Meal Delivery Service - Our meal delivery service is offered 5 days a week. Food is freshly cooked and arrives chilled with reheating instructions and allergen information. You can order 1 meal per week or 5 for the entire week which will be delivered each day. Orders must be placed 36 hours in advance and by 3pm each day. To book call 020 7386 9085 or email peter@ageukhf.org.uk
Isolated Buddy Service - Personal Grocery Service, Telephone Befriending and Prescription Assistance
This new service helps older members of society unable to leave their homes and without support of friends, family and neighbours. Those enrolled on the scheme are matched to a local 'Isolation Buddy Volunteer' who offer the following essential services for the duration of the coronavirus period:
- 1 x Grocery Shop per week up to the value of £20 cash, which they give the volunteer along with their personalised list.
- 2 x Weekly Befriending Telephone calls.
- Assistance setting up electronic prescriptions - delivered to the door
The service is currently only available to those with the ability to pay for their shopping in cash. If you, or someone you know require help, please complete this short online Client Form (requesting help) We hope to help as many people as our resources allow. If the your situation is urgent, please contact us directly on reception and we will do what we can to help. N.B. All Isolation Buddy Volunteers are reference and DBS checked to safeguard service users.
For further updates call us on 020 7386 9085.
How can I access help?
If you or someone you know is in need of support then complete our Client Form (requesting help). Let us know how we can support older residents of the Borough experiencing Isolation as a result of the coronavirus. The purpose for the form is to log the demand and how we can help people with new services in response to coronavirus.
What activities can I do from home?
There's lots of activities available online for people to access from home including:
Where can I find out about volunteering during coronavirus?
If you'd like to volunteer and offer help then take a look at our
volunteer page
for ways to get involved.
Where can I access more information about coronavirus?
There are a number of websites with resources, information and news updates on coronavirus including:
Need help getting online? If you aren't sure how to access these websites from your mobile, tablet or laptop then get in touch with our team to book a telephone call with our Digital Champions who can provide 1-2-1 digital support over the phone. To book, email digital@ageukhf.org.uk or call: 020 7386 9085
Where can I read the Age UK Hammersmith and Fulham Newsletter?
We are releasing regular newsletters with updates about our services during the coronavirus outbreak. You can read the latest newsletters here:
How can I make a donation to Age UK Hammersmith and Fulham?
Thank you for supporting us! We want to ensure we reach as many vulnerable older people as possible. Donations both large and small make such a difference.
To find out about other ways to donate visit our donate page.