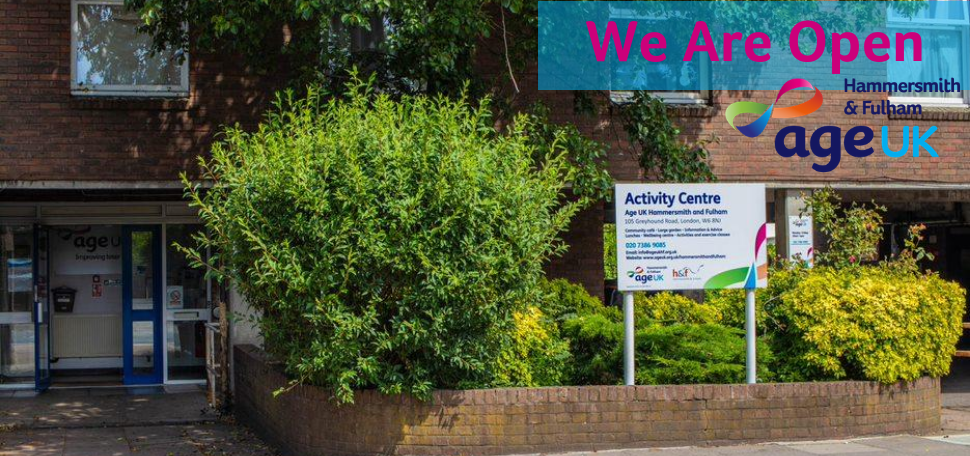 We Are Open!
We are delighted to announce that our Activity Centre on Greyhound Road opened on Monday 12th April. We have started with our classes and from May 17th we hope to start our lunch service again too. You can sign up for our newsletter to get updates as more of our services resume.
As we return from a long winter of hibernation, some people may naturally have worries or concerns about what to expect and whether they feel confident to attend. We hope the following information will help to answer your questions about the steps we are taking to keep everyone safe and well.
What Will Happen When I Arrive?
If you are not well, you should not come to the Centre at all. However, on arrival, everyone's temperature will additionally be checked to make sure that they aren't starting to develop symptoms of which they are not yet aware. This will involve a very simple forehead temperature check.
As long as your temperature is not raised at all, you will be able to come into the Centre. Unfortunately, if your temperature is raised you will not be able to come into the Centre and will need to return home.
If the reception area is busy you may be asked to wait outside.
We recommend that you book in advance to ensure your place as spaces are limited due to social distancing guidelines.
What Will Be Running?
The Centre will be open as usual Mon-Fri: 10 am - 4 pm
Activities and classes: There will be a mixture of face-to-face and online activities. We are looking to reintroduce all our usual classes and activities. Initially, numbers attending the Centre may be smaller than normal in order to maintain safe distancing.
Information & Advice: Telephone and/or face-to-face appointments will be carried out. Initially, face to face appointments will be available 2 days per week
Do I Need a Face Covering?
Everyone who comes into the Centre - staff, volunteers and clients - will need to wear a face-covering or face mask at all times, except when they are eating or exercising.
Changes in Routine to Keep Everyone Safe
We have made some essential changes. We ask everyone visiting the Centre to help keep the risk of spreading coronavirus to a minimum by:
Social distancing of at least one metre will be maintained.
Face masks must be worn at all times except when eating or exercising.
Hand washing will be encouraged on a regular basis.
Hand sanitiser will be available throughout the building.
Toilets will be open. We request that you wash your hands before using the toilet and again afterwards. After leaving the toilet area, please also use hand-sanitiser (in addition to hand washing).
The kitchen area will be closed except for staff and volunteers.
---
Age UK Hammersmith and Fulham Service Update
We are still running a number of services and full details can be found in our Service Update. They include:
Information and Advice - 30 minute appointments are available to book again covering the following areas of advice: Welfare Benefits, Employment, Housing, Consumer, Debt and Basic Immigration queries. To book, call: 020 7386 9085
Shopping Service - We have increased our shopping service from two days a week to five days. To book, email sophie@ageukhf.org.uk or call: 0207 386 9085
Digital Inclusion Project - Our Digital Champions are available to provide 1-2-1 digital support over the phone and will soon be returning to the centre. To book, email digital@ageukhf.org.uk or call: 020 7386 9085.
If you, or someone you know require help, please complete this short online Client Form (requesting help) We hope to help as many people as our resources allow. If your situation is urgent, please contact us directly on reception and we will do what we can to help.
For further updates call us on 020 7386 9085.
Where can I find out about volunteering during coronavirus?
If you'd like to volunteer and offer help then take a look at our
volunteer page
for ways to get involved.
Where can I access more information about coronavirus?
There are a number of websites with resources, information and news updates on coronavirus including:
Need help getting online? If you aren't sure how to access these websites from your mobile, tablet or laptop then get in touch with our team to book a telephone call with our Digital Champions who can provide 1-2-1 digital support over the phone. To book, email digital@ageukhf.org.uk or call: 020 7386 9085
Where can I read the Age UK Hammersmith and Fulham Newsletter?
We are releasing regular newsletters with updates about our services during the coronavirus outbreak. You can read the latest newsletters here:
How can I support the important services Age UK Hammersmith and Fulham provides for older people?
Thank you for supporting us! We want to ensure we reach as many vulnerable older people as possible. Donations both large and small make such a difference.
To find out about other ways to donate visit our donate page.