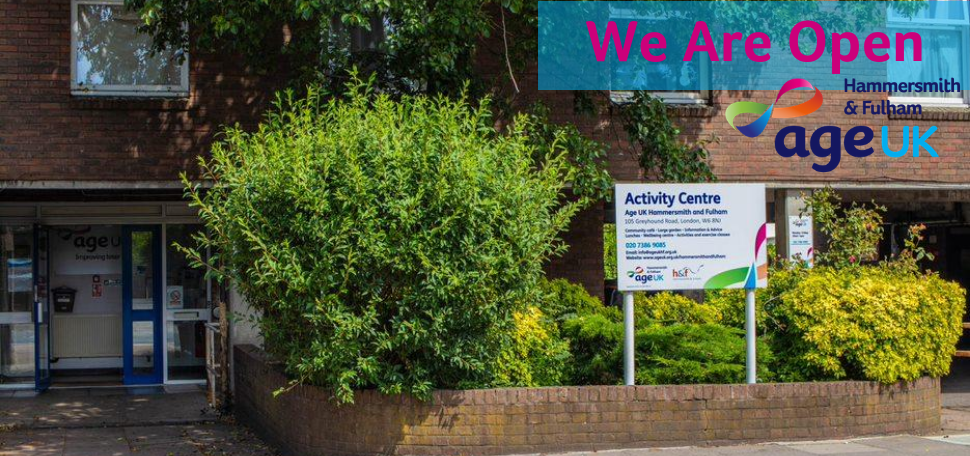 We Are Open
We are really pleased to let you know that life at our Greyhound Road Activity Centre has largely returned to normal. All of our classes have now returned (along with some new welcome additions) and our lunch service is back on track.
Please don't worry if you are still feeling anxious about coming into the Centre, it's entirely understandable. Although the rules have now relaxed, we are continuing to take steps to ensure the safety of our members and keep the Centre as a welcoming space for you to visit.
To receive regular updates on our services and any new Covid measures (should they come back into effect), you can sign up to our Newsletter.
What will happen when I arrive?
If you are not well, we kindly ask that you don't attend the Centre. On arrival, we will take your temperature via a digital thermometer, just to make sure one of the key early covid symptoms hasn't been missed.
As long as your temperature is not raised, you will be able to come into the Centre. If it is raised, we will ask you to return home.
If the reception area is busy you may be asked to wait outside.
What is running?
The Centre is open as usual Mon-Fri: 10 am - 4 pm
All of our classes are now back on. The full schedule of classes can be found here - Activities and classes.
Telephone and face-to-face appointments are back on, with more information found here - Information & Advice.
Our Digital Champions are back to being able to provide 1-2-1 digital support in person and over the phone. The sessions are 30-minutes long and led by one of our trained volunteers. We can also help older people find a suitable internet provider and avoid getting stung by salespeople with broadband packages they don't need. More information can be found here -Digital Skills.

For those who are unable to come to the Centre, a video link session over zoom can be set up upon request. To book, email

digital@ageukhf.org.uk

or call: 020 7386 9085.
Do I need a face covering?
Face coverings are no longer mandatory. However, we would like to remind everyone that some of our guests are still very vulnerable and being vaccinated does not mean you can't catch and pass on COVID 19. We therefore request you wear one out of courtesy to those who may not be able to be vaccinated.
Changes in Routine to Keep Everyone Safe
We have made some essential changes to the way we operate. We are asking everyone visiting the Centre to help keep the risk of spreading coronavirus to a minimum by:
Keeping a 2m distance whenever possible to protect those who may not be able to have the vaccine.
Encouraging our members to wash their hands on a regular basis.
Providing hand sanitiser to all throughout the building.
Opening the toilets. We request that members wash their hands before using the toilet and again afterwards. After leaving the toilet area, we request members also use hand-sanitiser (in addition to hand washing).
Closing the kitchen area with the exception of staff and volunteers.
Requesting that our members wear a mask or face covering when not eating.
---
Age UK Hammersmith and Fulham Service Update
We are still running a number of services and full details can be found in our Service Update. They include:
Information and Advice - 30 minute appointments are available to book again covering the following areas of advice: Welfare Benefits, Employment, Housing, Consumer, Debt and Basic Immigration queries. To book, call: 020 7386 9085
Shopping Service - We have increased our shopping service from two days a week to five days. To book, email sophie@ageukhf.org.uk or call: 0207 386 9085
Digital Inclusion Project - Our Digital Champions are available to provide 1-2-1 digital support over the phone and will soon be returning to the centre. To book, email digital@ageukhf.org.uk or call: 020 7386 9085.
If you, or someone you know require help, please complete this short online Client Form (requesting help) We hope to help as many people as our resources allow. If your situation is urgent, please contact us directly on reception and we will do what we can to help.
For further updates call us on 020 7386 9085.
Where can I access more information about coronavirus?
There are a number of websites with resources, information and news updates on coronavirus including:
Need help getting online? If you aren't sure how to access these websites from your mobile, tablet or laptop then get in touch with our team to book a telephone call with our Digital Champions who can provide 1-2-1 digital support over the phone. To book, email digital@ageukhf.org.uk or call: 020 7386 9085
Where can I read the Age UK Hammersmith and Fulham Newsletter?
We are releasing regular newsletters with updates about our services during the coronavirus outbreak. You can read the latest newsletters here:
How can I support the important services Age UK Hammersmith and Fulham provides for older people?
Thank you for supporting us! We want to ensure we reach as many vulnerable older people as possible. Donations both large and small make such a difference.
To find out about other ways to donate visit our donate page.