Age UK Isle of Wight Receives £30,000 Donation from Wolverton Manor Fair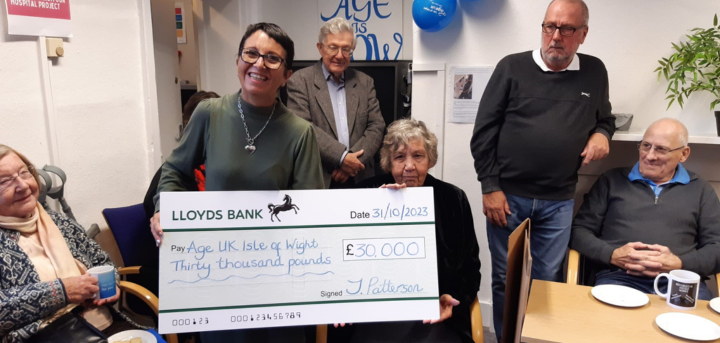 Published on 02 November 2023 04:33 PM
Age UK Isle of Wight Receives £30,000 Donation from Wolverton Manor Fair
Age UK Isle of Wight is delighted to announce that it has received a generous donation of £30,000 from the proceeds of Wolverton Manor Fair, which took place on the 2nd and 3rd of September 2023. This annual event has chosen Age UK Isle of Wight as its charity beneficiary for the past 18-years, gifting vital funding to the organisation to use to support its services and initiatives.
Age UK Isle of Wight, an independent Island charity dedicated to supporting over 50s, extends its heartfelt appreciation to Patterson family, who own Wolverton Manor and facilitate the fair, for their support and generosity.
Jane Patterson, a former Trustee, and Patron of Age UK Isle of Wight has played a significant role in supporting and funding the organisation's services, especially through the money raised by Wolverton Manor Fair. Her kindness and generosity have enabled the charity to fund the necessary resources to pursue new ideas and initiatives.

The partnership between Age UK Isle of Wight and the Wolverton Manor Fair has been instrumental in delivering services and activities that greatly benefit the charity's clients. Sheila Evans, a Trustee at Age UK Isle of Wight, expressed gratitude to Jane Patterson on behalf of the charity, stating, "This relationship has forged a bond that we greatly value and has enabled us to pursue ideas and projects that would have otherwise been out of reach. Jane Patterson's unconditional support has given us the freedom to make a real difference in the lives of older people on the Isle of Wight."
Age UK Isle of Wight would like to express its deepest gratitude to Jane Patterson, the Wolverton Fair Committee, and all those who attended the fair and supported the organisation. Their kindness and support will have a lasting impact on the lives of older people in the community.
Over the past few years, the funds gifted from Wolverton Fair has been essential in continuing the organisation's award-winning Good Neighbour Scheme (GNS), which has made a significant impact on combatting loneliness in older people in the community.
This year's Wolverton Fair was a resounding success, with record-breaking attendance and glorious sunshine. The £30,000 donation received from the fair will be utilised to continue funding Age UK Isle of Wight's core services, including the GNS befriending service, information and advice signposting, and opens the opportunity to find new ways to support over 50s on the Island.
If you would like to find out more about the services Age UK Isle of Wight, please telephone (01983 525282) or via email infoandadvice@ageukiw.org.uk