Celebrating 40 years
Published on 13 February 2018 10:43 AM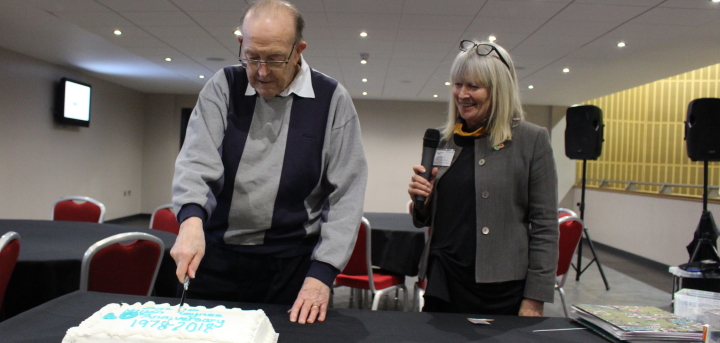 Chief Executive Jane Palmer was delighted to welcome over 600 especially invited guests to join staff at the Arena MK to launch a year of celebrating the charity's 40th birthday.
Age UK Milton Keynes has been active in Milton Keynes since "Age Concern Milton Keynes" was set up in 1978. Thanks to the generosity of Santander we were able to play host at the fabulous Arena MK to the hundreds of people who have worked with us, supported us, volunteered for us or in some way played a part in enabling the charity to make a difference to the people of Milton Keynes.
Club member John was invited to cut the celebratory cake as Monday 12th February happened to be his 78th birthday. Jane thanked everyone for joining us for a Network Breakfast Meeting, a Drop-in Buffet Cafe and a Sit-down Afternoon Tea. We were also thrilled that members from four of our lunch clubs were able to join us, taking the opportunity to dress up for an extra social occasion this week and enjoy the hospitality at Arena MK.
We hope to celebrate our 40th birthday all year and look forward to another 40 years of supporting the older people of Milton Keynes.