Swimathon cheque presentation
Published on 19 June 2019 01:54 PM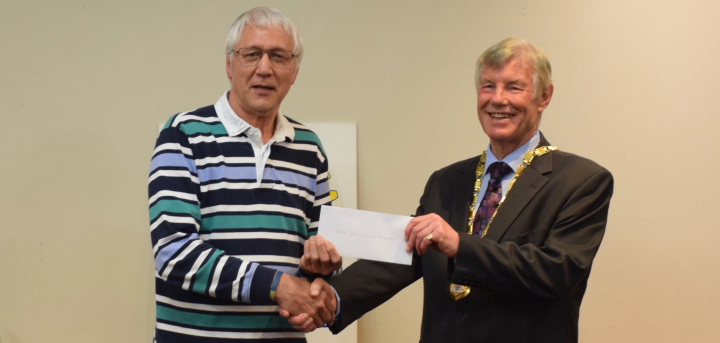 Thank you for the generous donation
We were delighted to be chosen as one of the eight local charities to be supported by the Rotary Clubs of Milton Keynes 2019 Swimathon. Our two teams of swimmers and two "clickers" had a fantastic time at the event on Saturday 9th March. On Monday 17th June our volunteers Dick Evans and Rose Evans represented the charity at the cheque presentation at Holiday Inn Milton Keynes Central. The Rotary Clubs of Milton Keynes kindly chose to support the development of a second Peartree Memory Club. Age UK Milton Keynes now runs two weekly clubs where people with a diagnosis of dementia can take part in group activities and enjoy socialising in a supportive environment.
Dick, who is a longstanding volunteer for the charity, and Rose both volunteer at the Peartree Memory Clubs. Dick has been instrumental (no pun intended as Dick's singing and guitar playing are one of the joys of the weekly sessions) in the success of the clubs so he was the ideal person to accept a cheque for £2,500 presented by the Mayor of Milton Keynes, Cllr Sam Crooks.
As increasing numbers of people living in Milton Keynes are being diagnosed with dementia, Age UK Milton Keynes is working to provide the support that makes a real and positive difference to their lives. Peartree Memory Clubs Co-ordinator Di Broadbent and her team of friendly, caring volunteers put on a range of activities every week and always give our clients a warm welcome. Please find out more about the clubs or call us on 01908 550700.
Thank you Rotary Clubs of Milton Keynes. We look forward to joining in the 2020 Swimathon in just under nine months' time!