Easter bonnets and songs
Published on 16 April 2019 03:15 PM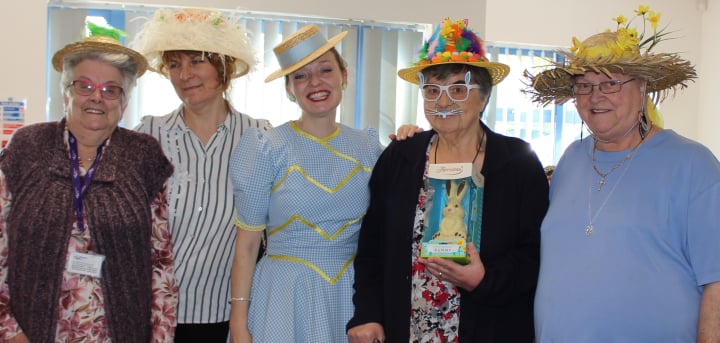 The proud winner of our Easter Bonnet Competition is Linda!
Our lunch club members love to join in traditional ways of celebrating the season and what could be more fun at this time of year than decorating a traditional Easter bonnet. Linda [pictured above with her chocolate rabbit prize] was surprised and delighted to win with her colourful bonnet with crazy rabbit glasses. The winning hat was picked by "Voice in a million" Fiona Harrison who gave lunch club members a fabulous, barnstorming performance of her "Easter parade show".
People come to our lunch clubs to meet friends and to enjoy a chat, but every once in a while our team organises something extra special for club members. Soprano Fiona's show had everyone smiling and clapping along to familiar tunes, especially the more lively songs from between the wars. Volunteer Josie says she recognised many of the songs from her childhood as her grandfather used to sing them to her. In particular she loved hearing Fiona's wonderful rendition of "High Hopes" which was a hit for Frank Sinatra.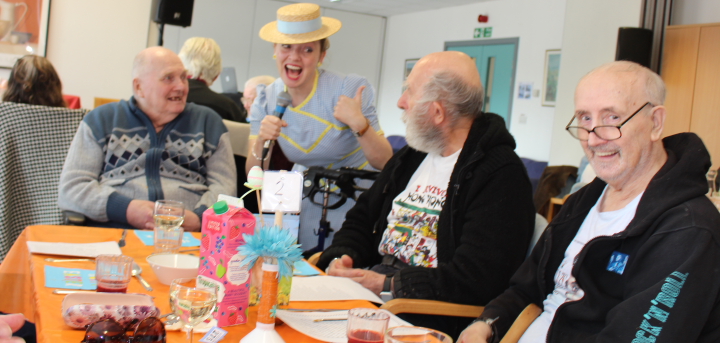 If you or a family member is interested in coming along to a lunch club why not visit us or call us on 01908 557890 for more details.