Volunteers Week 2019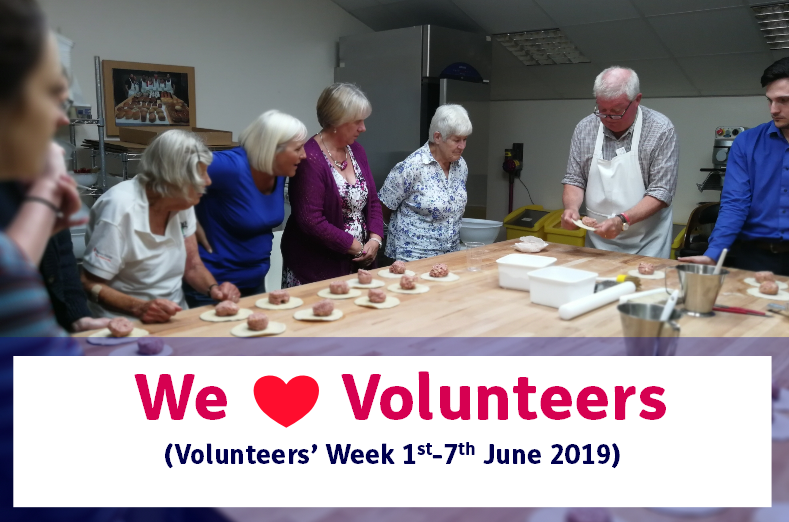 Published on 01 June 2019 03:30 PM
Local businesses help to say "thank very much" to local Volunteers
This National Volunteers Week (1st to 7th June) some of the best businesses in the area have joined us to celebrate the work that Volunteers do and say "Thank you".
Every year, during Volunteers Week, we put on events to bring Volunteers together and to show their appreciation, and this year is the biggest yet with eleven events organised across Somerset and North Somerset during the week and more than 150 people, comprising Volunteers, their guests and members of staff, due to take part.
The events include: a visit to the Gin, Fizz and Food Festival at Woodlands, a trip around the Glastonbury Festival site with Michael Eavis with help from Aston Coaches, lunch and pasty making with Burns the Bread at Glastonbury, a "Silver Supper" at the Purple Spoon Café in Bridgwater, Cream Tea at Torre Cider Farm near Washford, Katakanuing along with River Tone thanks to Channel Adventure at the COACH centre, Taunton, Coffee with a talk about roasting at Braziers, Wellington, followed by a tour around Tone Dale House thanks to Ben Fox, a visit to the award winning Trethowan Dairy near Hewish, a tour around the Yeo Valley Organic Garden, breakfast and tour at Halsway Manor near Crowcombe and a lunch in the garden at a secret location.
Our Chief Executive, Phil Dolan, said "We are grateful to our Volunteers, not just during Volunteers Week, but every day, for the time and care they donate to make life better for the older people in their communities. Just as the charity couldn't provide the services we offer without their help, it would not have been possible to arrange these events to show our appreciation to them without the kind support of these businesses."
Our Volunteers undertake a variety of roles such as helping around the office, providing support with completing claim forms and leading fun, gentle activity sessions.
Further information can be found here or call 01823 345627 to find out about Volunteering with Age UK Somerset, or if you are into social media the charity are @AgeUKSomerset on Facebook and Twitter.