Upcoming Events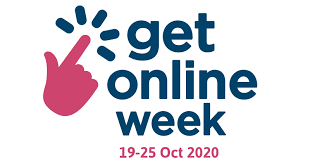 As part of Get Online Week we have a couple of special events for you to enjoy.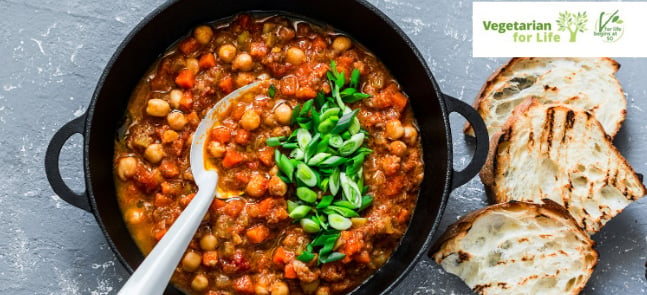 Vegetarian For Life- virtual cookery session and Lunchtime Meal and Discussion
A chance to try something different for lunch and celebrate vegetarian awareness month!
We have two options:
Option 1
A tasty lunch recipe to cook at home. We can send you a list of ingredients and cooking instructions. Give it a go, send in your pictures and join our discussion about how it went and how it tasted in a Zoom session.
Let us know in person at the centre or by emailing this address -
digital@ageukhf.org.uk
- or calling 020 7386 9085.
We will send you the recipe and the Zoom meeting details. If you need help getting on Zoom, please visit our
Online Activities
page.
Option 2
Alternatively, come to our Activity Centre on Greyhound Road for lunch at 12:45 and try the recipe suggested by Vegetarian For Life and cooked by our very own Age UK chefs. Spaces are limited so make sure to book in advance 020 7386 9085.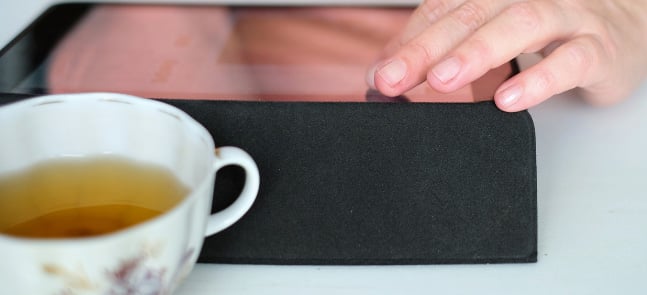 Techy Tea Party
Join this fun session on how to get online with free Tea & Cake
Got a new device? Then bring it in! Don't have one? No worries, you can try one of ours!
We'll have laptops, tablets and smartphones to play with so you can see what suits you best.
We will also be trying a Kahoot! An interactive quiz … with top prizes to the
winners!
Thursday 22nd October 2020 – 2pm / after lunch
Living with Hearing Loss deafPLUS Talk
Zoe, from national charity deafPLUS, will talk to us about the many services
and opportunities that deafPLUS has on offer - whether we are Hearing, Deaf
or somewhere in between!
deafPLUS presents Living with Hearing Loss. This free course offers a
chance to explore hearing loss in a friendly, informal environment.
Thursday 5th November 2020 – 1.45pm / after lunch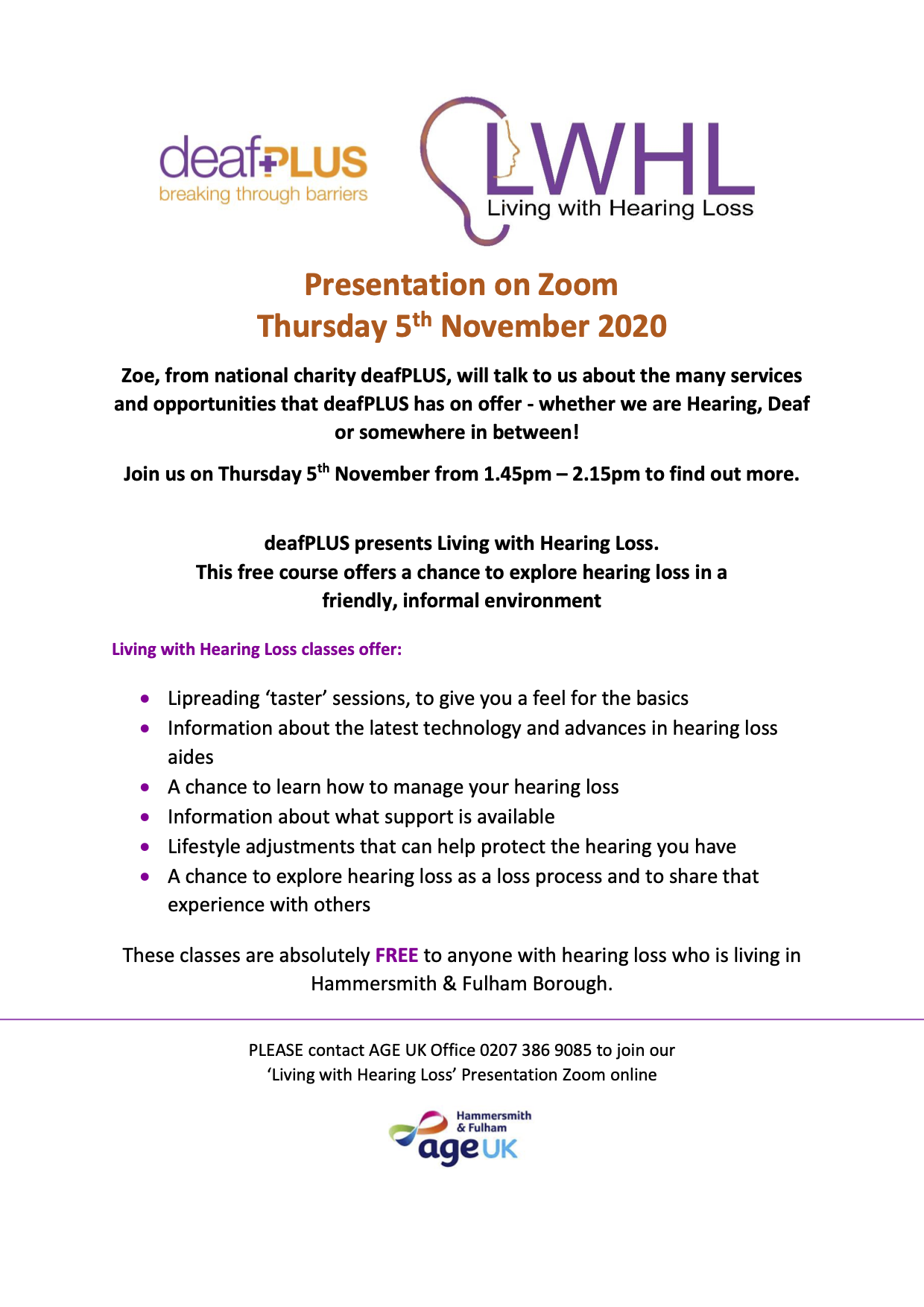 FREE Professional advice regarding wills and power of attorney
Appointments are now available on Fridays for FREE professional advice regarding wills and power of attorney. For dates and to book one of the 15 minute appointments with the Probate and Wills Service call 0207 386 2657 or email peter
@ageukhf.org.uk
FREE Professional advice regarding tax
Appointments are now available for FREE professional advice regarding tax with Tax Help For Older People — Contact 01308 488 066 to find out dates and to book.
Living with Hearing Loss - Deaf Plus
To register for a series of workshops about hearing loss and lipreading in the near future please register your interest if you have hearing impairment with Peter 02073862657 or email peter@ageukhf.org.uk
Upcoming Talks
We are in the process of booking a series of afternoon lectures accessible online and at the centre. Topics will cover physical health, history and practical advice. Contact Peter in October for further information Peter 02073862657 or email peter@ageukhf.org.uk
Coronavirus (COVID-19) Update
OUR ACTIVITY CENTRE IS NOW OPEN
We are happy to announce that the centre has now resumed many services. Under government guidelines, please be aware that everyone will be asked to wear either a facemask or visor when inside the centre unless you are participating in exercise or eating. Hand sanitiser will be available throughout the centre. You may also be asked to wait outside following social distancing guidelines should the reception area be busy. Please do not attend the centre if you are feeling unwell. Some services may be slower to resume than others so please check individual pages for updates.
Visit our Reopening After Lockdown page for details on what to expect when you arrive at the centre.
We thank you for your patience and understanding during this period and ask that you do everything to remain safe and healthy. We encourage everyone to always follow the advice from Public Health England as we continue to do so too: https://www.gov.uk/coronavirus
Are you interested in joining our online classes but not sure how?
If you haven't got access to a laptop or tablet or you need a little extra help please get in touch to let us know. Our digital skills team are just a phone call away 0207 386 9085.
Download our Activity Sheet