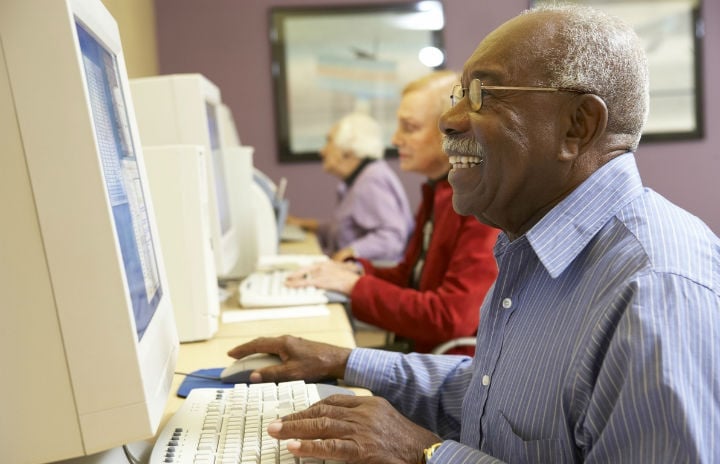 One-to-one computer tuition is available to older people at many locations across Barnet.
Age UK Barnet has teamed up with schools and colleges across the borough to give older people free one-to-one tuition. This programme runs in participating Barnet schools and at different times throughout the year. We have run school sessions in Mill Hill, East Finchley and North Finchley. We can also offer some tuition at our own centre in East Finchley.
This is the perfect opportunity for older people to learn to use computers, improve communication with family and friends, tap into the convenience of online shopping, find out what's happening close to home and around the world or even research a family tree. From getting to grips with digital technology, using the latest cameras and mobile phones, or downloading your favourite music, books and movies, there really is something for everybody.
If you are over 55, live in the London Borough of Barnet and are interested in joining, finding out more about this programme or your nearest participating venue, email us or call on 020 8432 1415
Library IT drop-in clinics
Burnt Oak Library
Watling Avenue, Burnt Oak, HA8 0UB
Mondays, 10.30am - 12pm
Child's Hill Library
320 Cricklewood Lane, NW2 2QE
Tuesdays, 11am - 12.30pm
East Barnet Library
85 Brookhill Road EN4 8SG
Tuesdays, 12pm-1.30pm
Edgware Library
Hale Lane HA8 8NN
Thursdays, 2pm-3.30pm
South Friern Library
Colney Hatch Lane, N10 1HD
Thursdays
10.30am - 12pm
Other IT drop-in clinics
Arts Depot
5 Nether Street, North Finchley N12 0GA
Thursdays,10.30am - 12pm
Hartley Hall
Flower Lane, Mill Hill NW7 2JA
Thursdays, 10am - 12pm


Computers and a Cuppa in East Finchley
Free computer and internet skills sessions - please bring your own device if you have one. Contact fivebells.computerclub@gmail.com
Tuesdays 2pm-4pm at The Five Bells Pub, 165-167 East End Road N2 0LZ
The Maurice and Vivienne Wohl Campus
221 Golders Green Road NW11 9DQ
IT courses and drop ins from Jewish Care Explore
Find out more by calling 020 8922 2400 or email Jewish Care Explore
Computer lessons (group)
Friend in Need (FIN) Community Centre, East Barnet Baptist Church, Crescent Road, East Barnet EN4 8PS
Learn to use a computer, the internet or a tablet on Thursdays 2pm - 3pm. Cost £4
Booking is essential as limited places are available. To book call 020 8449 8225 or email FIN
Find out what's on for over 55s in Barnet