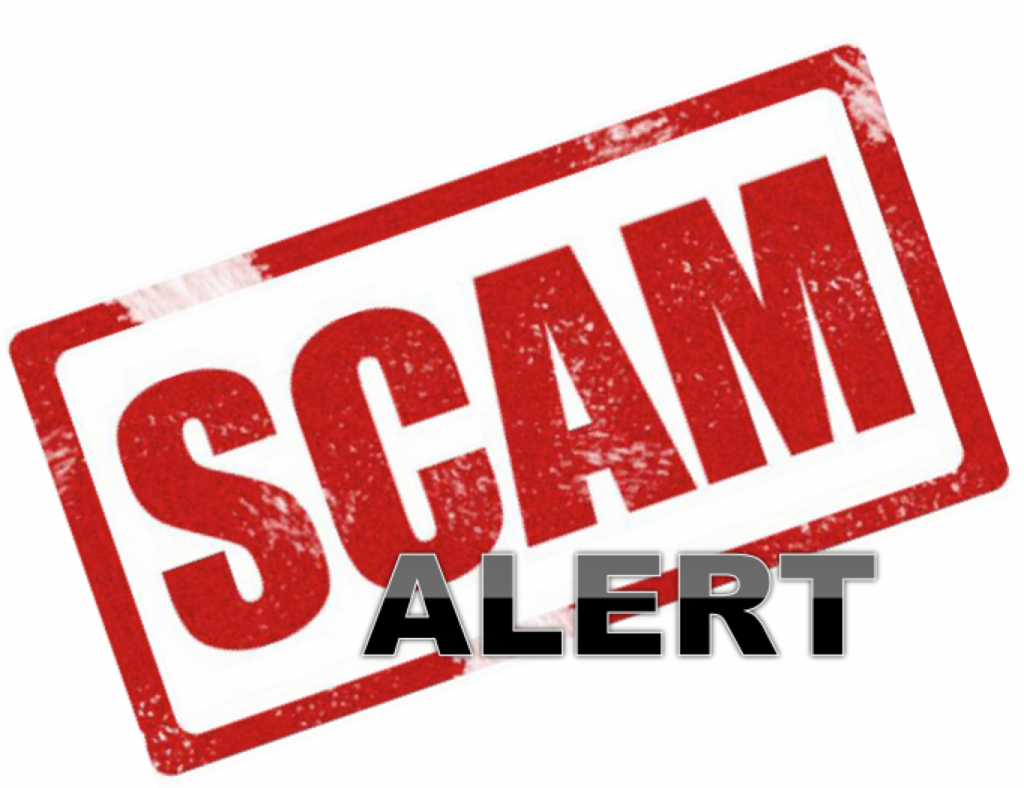 Check this page regularly for updates on the latest scams and advice on how to protect yourself. We have a new Scams Prevention and Victim Support service for more support and advice - click here for more details.
The Little Book of Big Scams - a useful summary of all the most common scams and what you can do to protect yourself. Click here to view
Tips on creating a safe password*
A three random word password is the most secure. It doesn't have to be a complex string of uppercase and lowercase characters, symbols, and numbers. Length is enough. Eg running123 can be hacked in 3.6 seconds but something like: grinningskydivingoffer£33 can take 20million years to hack
To check if your email or phone has been involved in a data breach, go to the website: https://haveibeenpwned.com
*Advice from the Metropolitan Police Cyberawareness Team
From offshore romance scams to a celebrity bitcoin giveaways, the stangest scams of 2023, according to Which? - click here for the story.
Government advice on protecting yourself on social media - click here
The latest stats on the number of scams in Barnet here.
Holiday scams
In 2022/23 there were 6,400 reports of holiday fraud and £15 million lost to scammers - click here for the most common holiday scams and how to protect yourself.
Parcel delivery fraud
This is the most common type of scam in the UK this year, accounting for 49 per cent of all scams, according to Citizens Advice research. Almost half of those targeted by scammers were involved in a malicious parcel delivery scam, with fraudsters seeking personal information or bank details.
Citizens Advice said several common scams involved a 'quite sophisticated' impersonation of official organisations. People targeted by parcel delivery scams received texts or emails from criminals claiming to be from a delivery company to reschedule or pay extra delivery fees. Others received false tracking information for items that never arrived after being purchased online.
If you're expecting a delivery and you receive a 'missed parcel' message:
Do not click the link and never give out personal bank details.
Use the official websites of delivery companies to track your parcel.
Forward the message to 7726, a free spam-reporting service provided by phone operators. If you are not sure how to forward a text message from your particular device, search online for instructions.
Delete the message.
Doorstep scams
Nearly a fifth of adults were targeted in a doorstep scam over the last year, according to a study by home security company Ring. Fraudsters posed as energy suppliers, security staff and representatives of well-known brands in a bid to con victims. On average adults have been targeted four times over that period - losing on average £171 each time. The most prolific scams involved criminals falsely claiming to represent energy firms and selling goods at inflated prices.
Criminals can use deception to convince you:
 They may claim they are working on a neighbour's address, noticed you need work completed and they
have left over materials.
 They may inspect areas you can't access, for example the loft or roof and show you photos or videos
claiming they are evidence that you need the urgent repairs. Beware of these tactics as these images
may not even be your property.
 They may throw water down when you are not looking to indicate you have 'damp'.
 They may be insistent you pay in cash immediately or put down a deposit, even offering to take you
to the bank to get the money. If you do this, they may continue to find reasons for you to pay more
money.
 Some callers will be legitimate. Gas, electricity and water companies may visit to read your meters.
Charities may visit to ask for donations and council officials may contact you regarding local issues.
Always ask for identification and tell them to wait outside whilst you check this by calling the company
or speaking to a relative or friend. If you are calling the company, don't use the phone number on the
person's ID card).
How to protect yourself
 Always check their identity. If you are not happy about a person's identity, do not let them into your
house under any circumstances.
 Take time to consider your options and research costs from other providers. If in doubt contact your
local Trading Standards.
 If you feel pressured by any cold caller, have the confidence to be firm and say no.
 Call the citizens advice consumer helpline following a doorstep caller on 03454 04 05 06.
Check out Action Fraud which has some useful advice on protecting yourself against doorstep scams - here.
M & S Golden Ticket Scam
This is a fake scam promising 500 lucky winners to received £100 to spend at M&S by liking the post on social media, according to a Scam Marshalls newsletter. The purpose of this scam (and others like it) is to gather people's personal information to they can be targeted with more scams in the future. Scams Marshalls work with National Trading Standards to spread the word about the scams out there. Click here for their website and how to become a Scams Marshall.
Planning a holiday? – top tips
Read online reviews from reputable sources to check websites are genuine
Only use the secure payment method recommended by reputable online retailers
Use a credit card if possible when making purchases over £100 and up to £30,000-you receive more protection
Facebook marketplace
Criminals are exploiting sellers by arranging delivery via a courier service. Once paid the delivery never happens and the profile will be uncontactable.
People's Postcode Lottery
Watch out for fake letters which claim that recipients have won thousands on the People's Postcode Lottery. This scam letter includes the People's Postcode Lottery logo and branding. It claims that your postcode has been randomly selected from the electoral roll database and says your 'win' is part of a programme to award money from previously unclaimed prizes. The letter asks you to call a number to claim your prize. At this point the criminal will ask you to provide personal information, which will likely include your bank account details. The advice is to always contact the People's Postcode Lottery directly via a verified phone number (08081 098765), e-mail address or postal address if you genuinely believe that you may have won a prize.
Fake emails and texts offering discounts on energy bills.
A number of different scams have been circulating, including some that appear to be from the energy regulator Ofgem. The £400 energyy bill announced by the Government will be available to all households and will be automatic. People should not give away personal details in order to apply. The messages invite people to apply for the £400 "non-repayable discount" and instruct the recipient to follow a link to a fake Ofgem website to then provide personal details. It then encourages people to set up a direct debit to receive the money. All of the reported emails display the email subject header 'Claim your bill rebate now' and the criminals behind the scam are using the Ofgem logo and colours to make the email appear authentic.
Remember that no matter how an offer comes to your attention, there are very few occasions where there is a legitimate need to hand over your bank details.
Reporting scam emails
If you receive a scam email, you should send it to report@phishing.gov.uk and delete it. If you do grant someone access to your device, turn it off immediately and disconnect from your wi-fi. When you switch the device back on, remove any newly downloaded software by searching through your recent downloads.
If you've lost any money or if scammers have gained access to your bank details, contact your bank straight away and report the scam to Action Fraud.
New free Covid test scam
This is a version of a previous scam. Individuals are sent text messages claiming they have been 'in close proximity to someone who has tested positive for the Omicron BA-5 variant and that they are 'eligible for a free test'. Do not click the link. People have been duped into giving personal information, with some divulging bank details as they are asked to pay for postage and packaging.
Summer scams
There are always scams to match the times, according to the latest update from the local Safer Neighbourhood team. Watch out for HMRC tax rebate emails for working from home during Covid as well as promises of any type of rebate such as Council Tax and fuel, and parcel delivery emails and texts. Professional scammers now seem to know that we are expecting rebates and parcels making us more susceptible. Always be cautious if in doubt do not click on any link, do your own search and contact the agency or company directly.
Pickpocketing in Barnet High Street
There have been a spate of pickpocketing incidents in Barnet High Street, with older people being targeted, in particular, according to Barnet police. The Safer Neighbourhood Team is doing daily patrols of the high street and are linking with local businesses, and distributing leaflets. Here are a few do and don'ts from the Metropolitan Police
DO
Do keep purses and bags closed and secure at all times


Do carry bags in front of you or diagonally across your chest


Do return cards to your purse or wallet quickly and zip it up or button it


Do use a purse that's difficult to open. One that zips or snaps shut is best, and keep it closed


Do use a money belt if you're carrying a significant quantity of cash


Do conceal your wallet in a buttoned or zipped pocket where it doesn't bulge


Do keep a list, separate from your wallet and phone, of contact numbers of family in case your phone is stolen


Do keep a photocopy of your airline tickets, passport, credit cards and any other documents that would be impossible or inconvenient to replace if stolen
DON'T
Don't hang stuff on the back of a chair.
Don't leave anything on the back of a pushchair.
Don't place your belongings out of sight on the floor.
Remember, having a zipped bag doesn't mean you're totally safe. Thieves have been known to walk behind victims while slowly unzipping bags. Yes, they can be that bold. So, never underestimate a pickpocket.
Council tax refund scam
There's a new council tax refund scam doing the rounds relating to the energy rebate of £150, according to a Which? scams update. The Local Government Association has given guidance that people who pay for council by direct debit will receive the government's energy rebate directly into their bank account. If people pay in other ways (not direct debit) they will be sent a letter with details of how to claim the rebate. They should never respond to a text or email.
Energy scams
These scams focus on the rising costs of energy
Doorstep scam
People on pre payment meters are offered "cut-price energy", according to Action Fraud. People are offered a cut price deal on their doorstep, for example £50 of electricity meter top-up for a cash payment of just £25. But criminals are using cloned keys to top up energy credit illegally and energy companies do not receive payment for energy used, and the customer ends up paying for the energy twice – first to the fraudsters and then to their energy company.
Phone scam
You receive a phone call, and the scammers say they are from a familiar price comparison website that you might have used in the past. You are then offered a special offer, one day only, often only available for a limited number of customers so you must do it now. They will pressurise you to make a quick decision and won't give you time to think.
There are a number of signs this is a scam. Firstly, it is unlikely for a price comparison website to call. Secondly, it is unlikely that there will be offers just available for the first few people who sign up - they do offers for everyone and not for the few. Never give any of your details over the phone to the caller.
Fake Ukraine fundraisers
Action Fraud has received 196 reports of bogus requests to fundraise for victims of the crisis, reports the BBC.
Scammers use a variety of methods to con donors, including selling charity T-shirts, it says. Some are even pretending to be Wladimir Klitschko, whose brother Vitali is mayor of Ukraine's capital, Kyiv.
Action Fraud has shared advice about how to detect the scams:
Never click on the links or attachments in suspicious emails or respond to unsolicited messages asking for personal or financial details - even if they are in the name of a charity
To donate online, type in the address of the charity website rather than clicking on a link
Be cautious when donating to an online fundraising page - fake ones are often badly written or contain spelling mistakes
Fake E.ON email
Peope have been receiving an email from the energy company E.ON, allegedly offering a refund. It is a convincing email but it is fake. If unsure never click on any link but go to the website via your own search.
Fake NHS Covid-19 PCR text
Scammers have been impersonating the NHS and sending texts claiming that the recipient has been in close contact with someone with Covid-19 and demanding they order a PCR test. The aim of this is to steal your personal data and bank details. Do not click on the link.
Medical alert systems scams
People are phoned up and told they they might be entitled to a free medical alert button from Medical Alert Systems. The caller knows the name of the person and says that the offer is for vulnerable adults who are at risk of falls. This is a potential scam. Never give out personal details whether on the phone, or email, or text.
Covid pass scam
Criminals are using the NHS Covid Pass as a way to target the public by convincing them to hand over money, financial details and personal information. They are sending imitation text messages, emails and making phone calls pretending to be from the NHS, and offering fake vaccine certificates for sale online and through social media.
Remember, the NHS app is free and the NHS Covid pass is free. The NHS will never ask for payment or financial details. The NHS will never issue fines or penalties relating to your Covid pass
Mobile messaging scam
A message is sent to mobiles, often via WhatsApp, by someone pretending to be their son or daughter and claiming they've lost their phone. Once the new number is saved, scammers then say they need money after an incident, hoping that the victim will trustingly hand over thousands of pounds and their financial details.
To avoid falling for the scam, WhatsApp users should follow the Stop, Think, Call method.
Stop: Take time before you respond. Make sure your WhatsApp two-step verification is switched on to protect your account, that you are happy with your privacy settings.
Think: Does this request make sense? Are they asking for money? Remember that scammers prey on people's kindness, trust and willingness to help.
Call: Verify that it really is your friend or family member by calling them directly, or asking them to share a voice note. Only when you are 100% sure the request is from someone you know and trust, should you consider it. If it turns out to be untrue, report it to Action Fraud.
Festive scamming
A few tips to avoid being scammed during the festive season from Jan Lovell, our local ward community police officer:
* If you are away from your home, do lock up well, use timer switches and set house alarms. Also let a neighbour know your home is empty and give them your contact details in case of any issues.
* Never give out personal details whether on the phone, or email, or text. * Never click on any link in an email or text - contact the company/bank directly if you wish to check the validity of any messages. * And do check the small print on various special offers. Often you can be signing up for a repeat service which you will be charged monthly. If it seems too good then . . .
'These measures will protect you from most scams and dodgy but legal dealings,' says Jan.
Fake NHS Covid pass email and texts
Scammers are still hoping to cash in on any confusion around the end of pandemic restrictions by sending out lookalike NHS-branded emails and texts that invite you to apply – and pay – for a NHS Covid pass.The messages attempt to get you to click through on a suspicious link that's posing as the NHS via a subdomain. Please do not click on any suspicious links and remember that you will never be asked to pay for a Covid pass or booster jab.
Loft insulation scam
Age UK has been made aware of a scam phone call that was made to a member of the public by a company who call themselves 'Vision Homes', purporting to work for Age UK and offering loft insulation. Please encourage any victims to report scams to their local trading standards and the local police. You may also want to take a look at the Age UK website for doorstep crime resources and phone scam resources.
Fake Primark gift cards
According to Which? there have been a growing number of gift card scams relating to big high street stores and the latest one is supposedly from Primar. Phishing emails are promising 'Primark Rewards', claiming that you need to 'activate the delivery' in order to receive them. Never click on a link that you don't completely trust.
Pension pot scams
Scammers are exploiting pension reforms and the uncertainty created by the pandemic to trick them out of their life savings.
Because people now have the option to release their retirement savings, scammers no longer need to access the money directly from a pension scheme. Increasingly, scammers are persuading people to transfer their savings from the safety of established pension schemes into inappropriate or even non-existent investments.
* Be wary of free pension review offers. If you are contacted out of the blue about your pension, it's likely to be a scam
* Check the FCA's Financial Services Register to make sure that anyone offering you advice or other financial services is authorised by the FCA. And only use the details provided on the FCA Register - not details a firm gives you, in case they are pretending to be an FCA authorised firm.
Fake gardeners
We have recently had reports of people stating they are gardeners charging elderly residents large sums of money for very basic work. Please be vigilant and aware and report suspicious behaviour on 101.
The East Fichley Safe Neighbourhood Team told us about one person who was charged £600 for some basic gardening work and was taken to the bank to withdraw the money. The 'gardeners' returned to the home address again the following day asking if the victim wanted further work for even more money. The victim felt pressured and set off his alarm so the 'gardeners' left.
Please be aware of people offering services at the door - they are unlikely to give good service and value or guarantee their work.
Fake police calls
Watch out for fake calls (from a withheld number) by someone who says they're a police officer, giving a name, police station and police ID, and claiming that you have been a victim or serious fraud on your bank account. This has happened to a couple of the people we support in Barnet. One client was told by the fake police caller that they had arrested someone who had been using her bank card. He said that he didn't want any card details but would put her on to a 'secure line' to her bank when she could give them the information they needed. He also gave her the name of the person they had in custody asking if she knew him or whether there was anyone iin the household who knew him. This was a way of finding out about who she lived with.
Luckily our client became suspicious at the mention of 'secure line' and hung up!
Never give out your bank details, pin or transfer money.
These callers have no connection with the police. The police or your bank will never contact you out of the blue to ask for your PIN, password, or to transfer money to another account to keep it safe.
Anyone who has given out their personal information to a caller they now think was a fraudster should contact their bank immediately.
To report a fraud, call Action Fraud on 0300 123 2040
CORONAVIRUS SCAMS
Vaccine scam
A fake text has been circulating telling people they're eligible to apply for the Covid-19 vaccine. The wording is as follows: 'we have identified that your are eligible to apply for your vaccine'. It then advises you to follow a link to get more information and 'apply'.
This URL takes you through to a very convincing fake NHS website that asks for your personal details - including bank and bank card details to check your identity.
A genuine NHS site would never ask for your personal and bank details and would never ask you to press a button on your keypad. Please do not fall for this scam. You do not pay for your vaccine.
Track and trace scam
A new telephone scam is coming to light .... callers contact residents saying they are from NHS Track & Trace, telling the resident that they have been in contact with someone suffering from Covid 19 and need to have a test sent out to them. This is swiftly followed with a request for the resident's bank details; the caller states that the test and results cost £500.
Please do not fall for this scam. If you need a test sent out to you because you are unable to attend a test site, this is done for free, both delivery and collection, followed up by the result.
Important! The NHS Test and Trace service will NOT:
*ask for bank details or payments
*ask for details of any other accounts, such as social media
*ask you to set up a password or PIN number over the phone
*ask you to call a premium rate number, such as those starting 09 or 087
Covid-19 doorstep scam
Be aware that opportunists and criminals can take advantage of older people who are self-isolating during this period of Coronavirus outbreak.
There are people calling door to door claiming to be carrying out Coronavirus testing at your home for you on behalf of NHS or your GP.
NHS teams are NOT conducting any door to door testing for the Coronavirus - these are thieves trying to get into your home.
If anyone knocks on your door claiming to be conducting the tests please call the police
Anyone being offered "kindness" by cold callers by way of running errands, collecting prescriptions and doing shopping should not accept services from STRAN who may ask for cash up front, a credit card and its PIN, or gain trust simply to execute a more elaborate scam.
Since February 2020, the National Fraud Intelligence Bureau (NFIB) has identified a growing number of reports of fraud where Coronavirus was mentioned, with victim losses totalling over £800k. Ten of these reports were made by victims that attempted to purchase protective face masks from fraudulent sellers. Reporting numbers are expected to rise as the virus continues to spread across the world.
Other scams to watch out for
Fake Aviva letters
One of our clients has received a convincing letter, on headed paper, from Aviva, with whom she has a policy, which made it more believable. She was asked to call the number shown to identify herself as they had information about her products with them. They also said that they wanted to check any other existing addresses she may have. Luckily, she went online and checked out the 0800 number first which she then found out was linked to a scam. Always check out phone numbers independently, and do not pass on any personal or bank details on the spot. Please report any suspicious contact which appears to be from Aviva to their Fraud Hub. Click here for the link which also has plenty of tips to help protect yourself from fraud.
Email scam
This is a group email sent to you and your contacts. It will say something along the lines of: 'Where are you presently? I need your help for something very urgent so please get back to me via email as soon as you get this message.' DO NOT REPLY TO THIS EMAIL It is a scam, a request for money for someone getting through the coronavirus
Green Homes Grant scam
From September 2020, homeowners will be able to apply for vouchers of up to £5,000 for energy efficient home improvements - beware of letters or cold calls from someone claiming to be able to help you with the new government grant. To get the voucher, you'll need to complete an online application for a recommended home improvement, get a quote from a listed supplier and have the quote approved. This new scheme fits in with a popular scam where consumers are contacted by phone and mail to explain that they can help consumers with applying for a grant, find suppliers and get the work done for them for a fee. Once the fee has been paid, no work is ever carried out and the money is gone!
Report any letters or calls to Action Fraud on 0300 123 2040 or send the letter to Freepost, NTSST, Mail Marshals
Click here for more information about the Green Homes grant.
Romance Fraud
Action Fraud has seen a significant increase in romance fraud this year as the coronavirus outbreak has led to more people trying to find love online. In these scams, a criminal creates a fake profile on an online dating or social media platform and targets individuals in an attempt to gain their trust. This eventually leads to requests of money for investments, legal fees, travel or a new project, for instance. Early requests for money and a reluctance to talk about their work or life may be red flags. If you experience anything suspicious, please talk to someone you trust for help. If you think you've been scammed, report it straight to your bank and Action Fraud on 0300 123 2040.
TV licence scams
Fraudsters may look to exploit confusion around the licence fee change by contacting older people and asking them to "pay" for their new licence.
No one will be expected to pay for a new licence until they have been contacted by a letter from TV Licensing and either claimed a free licence or agreed a payment plan. The BBC expects to start sending letters in August but the date has not been confirmed.
For now, ignore any emails, letters, calls or doorstop visits you receive asking you to pay for a TV licence as they may be a scam.
Click here for Age UK's guide to protecting yourself from a TV licence scam.
Do not buy an item or service at the door
The local Safer Neighbourhood team is advising people not to buy from people knocking at your door. There have been several reports of young men, allegedly from a Youth Opportunities Project for ex offenders, selling cleaning items door to door. The men do have an ID tag and may even have a peddlers licence and may be genuinely from a project, but there is a chance they may not.
At best they will be selling basic items for a much higher price by engaging your sympathy. At worst they are using this front to make money, and can be quite verbally abusive if refused.
So, check who is at the door via a window; unknown callers are so much easier to deal with through a closed door or window. A quick smile and no thank you and away from the window will see most of them quietly on their way.
'We do not buy at the door' stickers can be bought on line or you can make them yourself.
If the caller is persistant or abusive call police on 101.
Cashpoint and parking meter scam
This scam has been reported by motorists who have parked on roads and private car parks across Barnet and have been approached by a male suspect "to assist them" with paying for parking. They usually pretend to be traffic wardens or their managers.
When getting to an ATM or to a parking meter, the suspects have then told the motorists their credit cards either have been "swallowed up" by the machine or they have used a handheld device and used distraction methods to steal their credit cards. The cards are then immediately used and thousands of pounds in cash withdrawn.
No parking attendant will ever ask you for your credit card to pay for parking.
If you are approached by someone, even if they are wearing a yellow jacket or some form of ID,
Do not give them your card!. Call Police immediately on 999 or ask someone for help or to call the police.
NHS scam
There have been reports of cold callers phoning up older people claiming to be carrying out a survey on elderly care and requirements. In one case a man who was undergoing treatment for cancer and was waiting for an appointment assumed the call was relating to this. He talked about his medication and ended up agreeing to a face to face meeting. The person who came around tried to sell him an NHS matress for £14,000. When the man said he did not have this kind of money the visitor left. This cold call was actually an attempted scam. Never assume everyone is genuine, always ask a friend or neighbour for a second opinion and never be rushed into making hasty decisions.

Waterboard scam
Safer Neighbourd - East Finchley is warning about a recent waterboard scam where 2 males convinced a lady to take safety chain off her front door and let them in, telling her a neighbours house was flooded. While distracted at the kitchen by one man the other went through the house and stole £4,000 of jewellery.
Do not open your door to anyone you do not know. If you do not know them it is highly unlikely they will have anything you are interested in. If you are unsure, ask them to make an appointment for when you can have family or a neighbour present. Not all callers are con men, but sales people can be pushy too.
Roofing scam

A lady in East Finchley was pursued over several days by a "roofing company" trying to persuade her to pay for scaffolding erection with a view to work on the roof and chimneys. Fortunately the lady realised something was not right and refused to deal with them further before giving them any money. This lady was approached again by different men trying a different angle within a week!
It is best not to engage with callers either at the door or on the phone. If you do it encourages them to try again another time, these addresses and phone numbers end up on "mugs lists"and are valuable to con people..
In both cases the con men were well presented, charming, fluent and had a good answer for everything.
If you are concerned about damage to your home it is best to discuss this with family and work towards finding a reputable workman. Please don`t buy at the door.
Seasonal burglaries - protect yourself
Please keep your home secure while you are away. There have been recent cases of burglars accessing homes through open windows and doors, so do take extra care to close and lock everything up before leaving home and make sure ground floor windows and doors are locked at night. Upstairs windows clearly would be best locked, but during hot weather understandably we want air at night. Burglaries at night are much rarer, but burglars will be attracted to open windows, so do consider how easily accessible your open windows could be, especially if you have a flat roof beneath.
A burglar alarm is a big deterrant so consider one if you have not yet fitted. Some 99% of burglaries are on homes that do not have an alarm or where the alarm has not been engaged. An alarm will at least deter a burglar, alert neighbours and even at worst will prevent a burglar from being in your home for more than a few seconds greatly limiting the impact of the burglary. It`s also a good idea to get a neighbour or family member to keep an eye on your home, turning on and of lights, rearranging curtains, parking on your drive , putting wheelie bins back, clearing mail etc and giving them contact details for where you can be contacted while away.
Spoof HMRC phone calls
Action Fraud has experienced an increase in the reporting of malicious calls and voicemails, to members of the public purporting to be from Her Majesty's Revenue & Customs (HMRC).
Fraudsters are spoofing genuine HMRC telephone numbers to deceive their victims over the phone. The fraudsters state that as a result of the victim's non-payment of tax or other duty, the victim is liable for prosecution or other legal proceedings in order to settle the balance. The fraudsters suggest victims can avoid this, by arranging payment to be made immediately by methods such as bank transfer or by purchasing iTunes gift cards.
If the victim is hesitant or refuses to comply, the suspect makes a threat such as immediate arrest, sending bailiffs to the victim's address or, in some cases, deportation.
Often, the period for which the tax is allegedly due is distant enough to guarantee the victim will have little, if any, paperwork or ability to verify the claims. Once the money is paid the suspects sever all contact with the victim.
In genuine cases, HMRC will initially make direct contact with you via post/letter and potentially follow up that letter with a phone call at a later date.
If HMRC contact you via telephone they will quote the reference number on the initial letter you should have received. HMRC will not discuss something you are not already aware of, like a tax investigation, and will

NOT

demand immediate payment.
Take action
Always question unsolicited requests for your personal or financial information. Just because someone knows your basic details (such as your name and contact details), it doesn't mean they are genuine. Instead, contact the company directly using trusted methods such as a known email address or phone number.
Legitimate organisations wouldn't ask you to pay taxes, bills or fees using an iTunes gift card, or any other type of voucher. If you're contacted by anyone that asks you to do this, you're likely the target of a scam
Don't be rushed or pressured into making a decision. Under no circumstances would a genuine bank or some other trusted organisation force you to make a financial transaction on the spot.
Report Phishing attempts. If you receive a call, text or email of this nature and have not lost money, you can report this as phishing to Action Fraud
Forex trading and brokerage scams
UK consumers are being increasingly targeted by unauthorised forex trading and brokerage firms offering the chance the trade in foreign exchange, according to National Trading Standards. Most consumers report they initially receive some returns, they are then encouraged to invest more money. The returns then stop, the account is suspended and there's no further contact with the firm. Many claim to be authorised by the FCA (Financial Conduct Authority) and give registration details of another company a 'clone firm'. Some scammers sell details on to other criminals who then offer to get your money back or buy back the investment after you pay a fee.
Protect yourself:
Check the firm is regulated by the FCA.
Ask the company for the firm reference number (FRN). Use this number to search the FCA's register.
If they are not registered check the FCA's warning list of firms to avoid.
Never use a phone number link in an email or website from the firm offering the investment.
Don't be pressured to invest quickly.
Be wary of promised returns that sound too good to be true.
Seek independent financial advice or guidance before investing.
Watch out for these FAKE TalkTalk emails about a refund

Action Fraud has received over 100 reports this week about fake emails purporting to be from TalkTalk. The emails state that the recipient's TalkTalk account is in credit and that they're owed a refund. The links in the emails lead to malicious websites.

Don't click on the links or attachments in suspicious emails, and never respond to messages that ask for your personal or financial details.
Could you help catch criminals?
If you have any CCTV or Ring video doorbell that records, you might be able to help the police with their investigations.
Neighbourhood Watch has set up a CCTV Watch across Barnet to assist police investigating crime, so if you do have a recording device, and you would like to help, email the police on hale.snt@met.police.uk.

Police will then contact you if there is an incident in you street to see if you have captured anything and then visit you to examine the footage
TV Licensing scam update
First identified by the National Fraud Intelligence Bureau (NFIB) in September 2018, this continues to be reported to Action Fraud in high numbers. Fraudsters are sending the public fake TV Licensing emails that are designed to steal their personal and financial information. Action Fraud has received over 900 crime reports with victim losses totalling more than £830,000.
How you can protect yourself:
Don't click on the links or attachments in suspicious emails and never respond to messages that ask for your personal or financial details.
Don't assume a phone call or email is authentic, even if someone knows your basic details (such as your name or address). Remember, criminals can spoof phone numbers and email addresses to appear as companies you know and trust, such as TV Licensing.
Your bank will never call and ask you for your PIN, full banking password, or ask you to transfer money out of your account.
What to do if you've fallen victim:
Let your bank know as soon as possible and monitor your bank statements regularly for any unusual activity.
If you suspect your identity may have been stolen you can check your credit file quickly and easily online. Use a reputable service provider and follow up on any unexpected or suspicious results.
If you have been a victim of fraud or cyber crime, report it to Action Fraud at actionfraud.police.uk, or by calling 0300 123 2040.
Fake police phone calls
According to Neighbourhood watch in East Finchley, there have been reports of scammers calling to say they are the POLICE from Hammersmith and they have arrested someone using your bank card - and need you to confirm your details to prevent further use. Police will NEVER ask for your PIN number or personal details.One older man has had £5000 removed from his account this way.
Fake online BT scam offering enhanced secuity
A local Neighbourhood Watch member alerted us to his experience of a recent online security protection fraud.
He received a call from someone claiming to be from BT to say they had run a security check and that someone had been using his IP address to engage in unsavoury activities. He was offered enhanced security, for which there was normally a change, but he was being offered it for free. He was passed to a 'technician' who got him to install a programme called Team Viewer on his laptop. He later discovered that this allowed the criminal to take control of his computer. He was then asked to log onto his Amazon email account by another 'technician, and a third 'technician asked him to log into his bank account and enter details into his bank pass reader.
This took two and a half hours and as soon as he had finished the call, he contacted his bank and then BT who confirmed that it was a fraud. Luckily, thanks to the vigilence of his bank, he did not lose any money, but they attempted to steal £3,000 from his account.
Always check the identity of a caller if you suspect they are not from the organisation they claim to be from - use numbers listed in the directory - and if possible phone back on a different phone.
If anyone you do know know tries to install Team Viewer on your computer, stop the call.
A Ban on Pension Cold Calls
The government has announced its ban on cold calling in relation to pensions making them illegal. The ban is effective from Wednesday 9th January. This is a strong step forward to help prevent older people becoming a victim of a pension scam.
TV Licence Scam update
We recently reported on Fake TV licence emails which use headlines such as "correct your licensing information" and "your TV licence expires today" in an attempt to convince people to click on the link in the email. Action Fraud said it received 5,057 complaints about such emails between 1 October and the end of December - so stay aware!
Click here for a recent BBC article: https://www.bbc.co.uk/news/uk-46745298
Watch out for Bogus British Gas callers
According to a recent police report, uniforms belonging to British Gas have been stolen. So f you are visited at your home address by someone claiming to be from British Gas without an appointment, do not let them in without checking with British Gas first on 0333 202 9802.
Keep your door securely shut, and if you have a door chain put it on.
Be aware of cold callers. If you're not sure who is at your door, don't open it. If you believe bogus callers are trying to access your home, call police on 999.
Check the identity of the caller by calling the company they are claiming to be from i.e. gas, electricity, water and police.
Use the telephone numbers listed in your local directory or provided independently by your service provider or online on their website.
Do not use any telephone numbers provided by the caller - they may be bogus.
Boiler scam
A company that claims to service boilers have been ringing people, claiming that their boiler guarantee has run out, and are taking bank details to renew the guarantee. They call themselves The Boiler Company UK, but never service the boilers once they've taken the money. They hold a lot of personal information about people and seem to know when people's service date is due. Trading Standards is currently looking into this scam and in the meantime, never give any personal or financial details to a cold caller.
Common lies distraction burglars use to convince you to let them into your home:
"I'm from the water board, there's a leak down the road and I need to check your water supply" This is never true; the phrase "water board" is no longer used by legitimate callers.
"I need to read your meter" Check with your utility company before you let them in. Keep your utility company numbers handy – from your bills.
"We're the police, we've caught a burglar and we think he's stolen from you and we need to check your money is safe" The police never do this.
Black Friday! How to shop online safely...
Software updates
Make sure you've installed the latest software & app updates. Criminals use weaknesses in software to attack your devices and steal information, such as your payment details.
Email accounts
Use a strong, separate password for your email account. Criminals can use your email to access other online accounts, such as those you use for online shopping.
Phishing
Don't click on a link in an unexpected email or text. The volume of online shopping related phishing emails increases significantly during the holiday period. Remember, if a deal seems too good to be true, it probably is.
Payment methods
Don't pay for goods or services by bank transfer unless you know and trust the person. Payments via bank transfer offer you no protection if you become a victim of fraud.
Fakephone scam
There have been recent reports of phone calls allegedly from the tax office telling people that they owe money.One gentleman was told he had not paid £2000 arrears and that there is a warrant for his arrest, or there is a law suit against him. The caller carries on, giving reference numbers, threatening to freeze his bank account. He was asked how much money he had in the account, and they tried to arrange someone to come within the hour and collect a payment. Another woman was told that the police were on their way.
This can be very frightening.
Remember, it's a scam if someone calls you claiming to be from HMRC saying that you will be arrested, that we are filing a lawsuit against you, or even that you are owed a tax refund, and asks for information such as your name, credit card or bank details.
HMRC's top tips for avoiding scams are:
Recognise the signs - genuine organisations like banks and HMRC will never contact you out of the blue to ask for your PIN, password or bank details.
Stay safe - don't give out private information, reply to text messages, download attachments or click on links in emails you weren't expecting.
Take action - forward suspicious emails claiming to be from HMRC to phishing@hmrc.gsi.gov.uk and texts to 60599, or contact Action Fraud on 0300 123 2040 to report any suspicious calls or use their online fraud reporting tool.
HMRC Debt management teams do contact members of the public by phone about paying outstanding debts.
If a customer (or agent) isn't confident that the call is from HMRC, we will ask them to call back. Depending on the circumstances and to give the customer confidence it is actually HMRC calling, information may be disclosed to the caller which only HMRC is party to
Calls from the majority of HMRC offices will leave caller identification data, i.e. the number the caller has used to contact you from
Never click on a link and if in doubt make your own independent
For up to date advice on scam HMRC phone calls, visit gov.uk.
Cashpoing scams
These have dropped dramatically but do not drop your huard. Scammers are now targeting the parking metres, getting people to put their cards in to the meters to pay for being 'wrongly parked'. The council does not collect fines this way - watch out for warnings on the meter.
Extortion scam! Cyber criminals send victims their own passwords
Cyber criminals are attempting to blackmail unsuspecting victims by claiming to have used the victims' password to install spying malware on the victims' computer. The criminals claim they've recorded videos of the victim watching adult material by activating their webcam when they visit these websites. What makes this scam so convincing is that the email usually includes a genuine password the victim has used for one of their online accounts. We believe criminals obtain the passwords from data breaches. Here's an example of what the email may look like.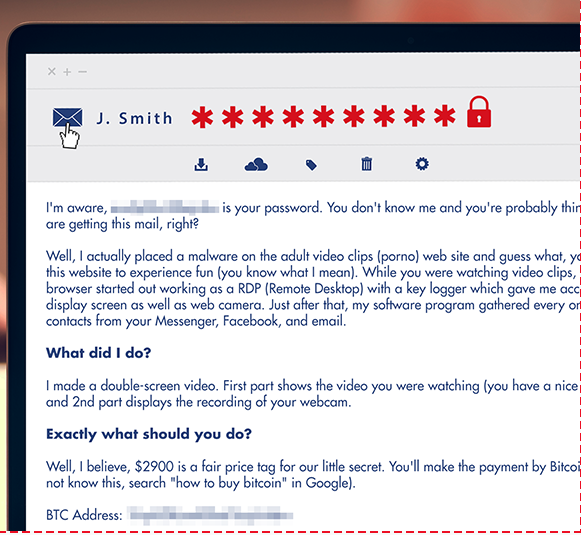 What to do if you get one of these emails?
Don't reply to the email, or be pressured into paying. The police advise that you do not pay criminals.
Try flagging the email as spam/junk if you receive it multiple times.
Perform a password reset as soon as possible on any accounts where you've used the password mentioned in the email.
Always use a strong, separate password for important accounts, such as your email. Where available, enable two-factor authentication (2FA). Always install the latest software and app updates. Install, or enable, anti-virus software on your laptops and computers and keep it update.
If you receive one of these emails, report it to Action Fraud's phishing reporting tool.
If you have received one of these emails and paid the ransom, report it to your local police force.
Fake TV licencing emails
Action Fraud have alerted us to a sharp increase in reports about fake TV Licensing emails claiming to offer refunds. The emails state that the refund cannot be processed due to "invalid account details". The links provided in the emails lead to phishing websites designed to steal personal and financial details.

Always question unsolicited requests for your personal or financial information in case it's a scam. Never automatically click on a link in an unexpected email or text.
Cashpoint scam update
Distraction thefts continue
Keep an eye out for distraction thefts at cashpoints and parking meters - and please spread the word about these scams. Thieves are using various tactics to distract people by speaking to them (usually very loudly and with urgency) such as:
putting a newspaper in front of their face and taking the cash as it is dispensed by the machine.
telling them their car is wrongly parked and it will be cheaper to pay a fine now, leading them to a cashpoint and either the card and pin number is swallowed by a device on the machine or by sleight of hand the card is taken and the victim tells them the PIN number.
These scammers are very skilled and versatile, moving from one area to another and back. Please make as many vulnerable people aware of these scams and alert the police to suspicious activity.
Scams videos from the Met Police
Click here for a film about three common scams that are happening countrywide at the moment, including courier scams, telephone scams and ATM distraction theft.
Click here for a film about bogus policeman scams.
Fake fine allegatiuons
In another cashpoint scam, the men tell the victims that their car is wrongly parked and it will be cheaper to pay a fine now, leading them to a cashpoint. Then either the card and PIN number is swallowed by a device on the machine or by sleight of hand the card is taken and the victim tells them the PIN number.
Offers of help
There have been reports of people being approached at the cash points, being offered help in retrieving their card from the machine. "Help" is usually getting you to put your PIN in again. The slot on the machine now has the card and the PIN number.
Do look carefully at the slot area on cash machines and if it doesn`t look right do not use it and call police on 101.
As we do not have any internal cash points on East Finchley High Road any longer, a safer way to get money is to ask for cash back when you do your supermarket shop, buy petrol etc.
Number plate theft
If you have one of the following makes of car you are more likely to be targeted for a number plate theft. Criminals use them to swap between same make vehicles to try to prevent detection in case a witness gets a vehicle registration number.
The vehicles most at risk are BMW, Audi & Mercedes especially black/dark ones.
Halfords stores sell anti theft bolts for number plates, which cost around are £6. You can get them on line too.
Contactless card fraud
According to Experian.co.uk, every card payment is fully traceable, right through to the recipient account, meaning if fraud is reported, the recipient is easily identifiable. It is theoretically possible that someone could use a registered terminal that is connected to a retail account, but it would be easy to track the thief down.
How to avoid contactless card fraud
There are now over 108.4 million contactless payment cards in circulation in the United Kingdom, with over 416.3 million transactions carried out each month. By removing the need for a PIN code, contactless cards do offer a fast and convenient way to pay, however, they may also offer criminals the opportunity to commit fraud. Here are some facts behind contactless cards, how fraudsters can take advantage and the best ways to avoid becoming of a victim of credit card fraud.
How do contactless cards work?
Contactless cards contain both a chip and an antenna that is used to carry out the transaction. When you hold your card on or near a card reader, the reader sends out a signal which is picked up by the antenna. The chip inside contains information about your account and using this information, the reader can process its payment. Payments are currently limited to a maximum of £30 and are used for small retail purchases.
Contactless card fraud facts
It may seem like contactless technology allows fraudsters an easy way to access your money without a PIN. However, contactless card fraud is relatively low in reality.
A 2015 test by the consumer group Which? found that it was possible to steal details from contactless cards using an easy-to-buy card reader and free software. They were able to extract a card number and expiry date from 10 different contactless cards, but not the name or CVV code on the back. This would not be enough information to make a purchase online from most online retailers.
Another method that fraudsters could use is to actually process payments by standing near someone on a train or in another crowded public place and reading their contactless card through their clothes.
When you consider that metal objects near the card would block the signal, the proximity required and the potential for card clash, the chances of successfully processing a payment are reduced.
How to protect yourself from fraud
There are steps you can take to protect yourself from contactless card fraud:
ensure you don't leave cards in easily accessible pockets or bags
keep your cards in your front pocket rather than rear pocket.
line your wallet or cardholder with tinfoil to block any signals from reaching your card or purchase a low priced product on the market containing metal inserts that do the same job.
There is a limit on how many times you can use a contactless card before requiring a PIN, which stops criminals from carrying out a large volume of small transactions.
If your card is lost or stolen, make sure to report it to your bank or card issuer as soon as possible so it can be cancelled. You should also keep a close eye on bank statements and your credit report to look for any unusual activity.
Bogus TPS (Telephone Preference Service) & Scams
We are aware of a number of organisations that call people claiming to be the Telephone Preference Service (TPS) and try to charge consumers for registration. It is FREE to sign up to the TPS register. We will never contact you requesting payments or credit card details. Once an individual's telephone number is on the TPS, it will remain on it and there is no need to update your registration.

If you suspect that you have been contacted by a fraudulent organisation, then you can contact Action Fraud to report your concerns. http://www.actionfraud.police.uk/
Already registered with an alternative TPS service?
If you have already signed up and paid for a commercial alternative to TPS by mistake, don't worry you can still take action.

You have the right to cancel your order from the moment you place your order until 14 working days from the day after you enter into the contract for the provision of the service or from the day you receive your goods. Businesses are required by law to comply with this right to cancel.

For more help and advice or if you have trouble obtaining a refund, please contact your local Trading Standards office.
Be a ScamSmart investor
Organisations that run investment scams will ignore the fact that you are registered with the TPS. They will cold call you, offering you investment opportunities with high rates of return. Be very cautious if you are approached in this way. For more information on investment scams, and the steps you can take to avoid them, visit https://www.fca.org.uk/consumers/avoid-scams-unauthorised-firms.
Supplement scammers caught!
The Government has closed down 9 firms who were selling overpriced supplements to older people, cheating around 36,000 people out of an extimated £10.6 million. For the full story click here

Parking Ticket Scam
This has been raised during our Scams Awareness talks in the borough and seems to be continuing. On TUESDAY 5th JUNE 2018 an elderly gentleman parked his car in the High Road. When he returned a minute later a male told him that a parking warden had taken a photo of his car. He didn't notice at this stage that there was no ticket on his window, and the man said that he would show him how to use the parking ticket machines. The male told him to put his card in the machine He did so, and the man told him to enter his card pin number and press the green button to get the card back. he put in his pin number and the green button so that the cards would come back. When he did this they did not.
The male said that they must be faulty and the council will send him the cards when they open up the machine. VIW1 then went home. The next day he contacted the council and they advised that this is not how they operate. On checking with this bank a sale for £1200 had been made from his account
It would appear that the unknown male had somehow tampered with the card machine and watched the gentleman put his pin number in the machine.
Burglaries
There has been an increase in burglaries on the homes of our elderly residents including two incidents where the victims awoke in the night to burglars in their home. Fortunately no one was harmed and very little taken.
If you or a family member does not have an ALARM we would strongly recommend fitting one. Nearly all burglaries we have attended in East Finchley did not have an alarm or did not have the alarm engaged. Go to www.which.co.uk for excellent independent reviews on different types of alarm including doorbell technology alarms. An introductory one month membership costs just £1.
Check bank statements and know the difference between a direct debit and a CPA
A Continuous Payment Authority is a type of regular automatic payment where an individual gives a vendor permission to take money from a credit or debit account whenever the vendor feels money is owed. They are often used by payday lenders, free trial websites internet service providers, payday loan providers, gyms and subscription sites such as those for magazines. Continuous Payment Authorities should not be confused with Direct Debit arrangements or standing orders. The difference between a CPA and a direct debit is that a CPA gives the company you are paying permission to take payments whenever they want, and take payments for different amounts, without consulting you beforehand. Often there is no written record of them, and the payer can cancel them by contacting the vendor or their bank. Concerns have been raised about abuse of CPAs by companies to withdraw money from the accounts of unsuspecting customers, who often do not realise the terms and conditions associated with them. Keep a close eye on your bank statement to ensure that all payments match your expectations.
You can cancel a continuous payment authority either by telling the company, or by telling your bank.
Distraction burglars/ bogus callers in East Finchley

Three males are posing as BUILDERS/PLUMBERS/METER READERS. Only one will come to the door, gain entry and then allow the others in .
DO NOT LET ANY STRANGER IN TO YOUR HOME, NO MATTER HOW CONVINCING THEY ARE.

They are targeting the vulnerable IF YOU HAVE A VULNERABLE RELATIVE, FRIEND OR NEIGHBOUR PLEASE WARN THEM.
We are also experiencing an increase in residential burglaries throughout the ward, please make sure you lock up well and use any alarms.
Go to www.met.police.uk for burglary prevention.
Hot Weather & burglaries:
Remember, during this hot period, make sure any windows you have open to keep you cool are locked when you leave. We have had a number of burglaries over the weekend where the burglar has climbed through windows left open
Below is a burglary self-assessment survey to see how secure your home is against the burglar
Other news..
Panic Buttons: A company called Argenti now have the contract for Barnet assist Call centre and to supply panic buttons for Barnet
Phone scams are on the rise with criminals targeting households across the UK to try and defraud people out of their money.
Typically fraudsters try to cold call members of the public pretending to be from a trusted organisation – like your bank, the police, a utility provider or a computer company. While the criminals' tactics can vary, the aim is the same. They want to get your personal or financial information, encourage you to hand over your cards or cash, or trick into transferring money into accounts they control.
Don't fall for their tricks.
Read on to find out about the scams and what you can do to stay safe.
How the scams work
One of the most common methods we see involves a fraudster posing as your bank or the police. They claim there's been fraud on your bank account and you need to act quickly to protect your money.
Their solution is for you to transfer your money to a so-called 'safe account'. But the account is actually controlled by the fraudster and when you move the money, they steal it.
In a twist on this scam, the criminal asks you to assist in a police investigation of supposedly corrupt staff in a bank or foreign money exchange, who they claim are issuing fake currency.
You're then asked to visit the branch and withdraw a large amount of cash and take it home, where it is collected by a fraudster posing as a policeman or a courier.
To make their call appear genuine, fraudsters often use a tactic called 'number spoofing'. This enables them to alter the phone number from which they are calling so that it matches your bank's number. Then they ask you to check your handset display in an attempt to convince you it's a real call.
Other common phone scams include:
being told that your computer has a virus or that your internet connection is running slow. The fraudster then takes control of your computer to 'fix' the problem, but instead actually installs software which steals your data. They may also watch you as you're asked to log into your online banking account.
claiming that you're due a refund or compensation for poor service, such as for your internet connection. They get your bank details, but then say they have accidentally sent thousands of pounds, rather than hundreds, an error which will cost them their job. They then ask for the difference to be refunded via a wire transfer.
How to stay safe
Fraudsters can sound extremely professional and will do all they can to convince you that their call is genuine.
But there are some simple steps you can take to keep safe.
It's really important to be wary of any unsolicited phone calls, especially when they ask for your personal or financial details.
Remember – your bank or the police will never:
Ask you to transfer money to a new account for fraud reasons, even if they say it is in your name.
Phone you to ask for your 4-digit card PIN or your online banking password, even by tapping them into the telephone keypad.
Ask you to withdraw money to hand over to them for safe-keeping.
Send someone to your home to collect your cash, PIN, payment card or cheque book if you are a victim of fraud.
Ask you to purchase goods using your card and then hand them over for safe-keeping.
If you are given any of these instructions, it is a fraudulent approach.
Hang up the phone, wait five minutes, then call your bank or card issuer on a number you trust – such as the one on their website or on the back of your bank card.
Your bank will also never ask you to check the number showing on your phone's display matches their registered phone number.
Criminals may already have some information about you, for example your name and address. So don't assume that a call is genuine just because they have these details or because they claim to represent a legitimate organisation you use or a person that you know.
Never feel pressurised into making a quick response; scammers will sometimes try to hurry you into taking action. A genuine organisation will always give you the time you need to make an informed decision.
If you're ever at all suspicious about a call, then just hang up the phone.
The UK banks, building societies and card issuers, with the support of the police, have published a Joint Declaration which clearly explains those requests they will NEVER ask of you on the phone.
Doorstep charity activity
We have been notified that there will be authorised charity door to door activity in the N2 Post code during 16-22nd April. They will be represented on badges by CAPLL Ltd and selling lottery tickets on behalf of the RSPCA.
We would recommend treating any caller at the door that you do not personally know or expect with caution and not let them in your home.
Please share this message with any elderly or vulnerable person you know.
Martin lewis used as fake endorsement for fraudulent cryptocurrency investments
Fraudulent websites alleging to offer cryptocurrency investments are dishonestly using the image of Martin Lewis, the founder and editor for moneysavingexpert.com, as an endorsement for their companies.

The adverts using Martin Lewis to promote illicit schemes can be found on social media and other websites. Clicking on the advert takes you to the full article where Martin Lewis image is presented along with fake quotes recommending investments in bitcoin and other digital currencies with the fraudulent "company". Alternatively clicking on the advert will take you to a page where you are required to input your contact details, the suspect company then phones you and encourages you to invest.
Martin Lewis has published a warning to the public saying "I don't do adverts. If you ever see one with my face or name on it, it is without my permission, and usually a scam". The full article can be found here; https://blog.moneysavingexpert.com/2018/03/13/martin-lewis-spread-word-dont-believe-scam-bitcoin-code-bitcoin-trading-ads/?_.
Similarly these fraudulent websites are also misusing images and fabricating recommendations from the investors on Dragons Den. These adverts also claim the investors on the panel trade in cryptocurrencies using their services to try and legitimise their company.
What you need to do

Don't assume it's authentic: Professional-looking websites, adverts or social media posts don't indicate that an investment opportunity is genuine. Criminals can exploit the names of well-known brands or individuals to make their scams appear legitimate.
Don't be rushed or pressured into making a decision: A genuine bank or financial organisation won't force you to make a financial transaction on the spot. Always be wary if you're pressured to invest quickly or promised returns that sound too good to be true.
Stay in control: Avoid unsolicited investment offers, especially those over cold calls. If you're thinking about making an investment, get impartial advice from an independent financial adviser – never use an adviser from the company that contacted you, as this may be part of the scam.
Visit Take Five (takefive-stopfraud.org.uk/advice/) and Cyber Aware (cyberaware.gov.uk) for more information about how to protect yourself online.
Legal firms - recently issued scam alerts
When a firm's or individual's identity has been copied exactly (or cloned), due diligence is necessary. If you receive correspondence claiming to be from the below firm(s) or individual(s), or information of a similar nature to that described, you should conduct your own due diligence by checking the authenticity of the correspondence by contacting the law firm directly by reliable and established means. You can contact the Solicitors Regulation Authority (SRA) http://www.sra.org.uk/home/home.page to find out if individuals or firms are regulated and authorised by the SRA and verify an individual's or firm's practising details. Other verification methods, such as checking public records (e.g. telephone directories and company records) may be required in other circumstances.
Correspondence and website in the name "Peter Lynch Solicitors"
29 March 2018 – Correspondence has been sent, and a website is operating, falsely claiming to be for a firm of solicitors called "Peter Lynch Solicitors".
Websites for "AAF Solicitors" / "AA Fearnley Solicitors"
29 March 2018 – The websites www․aafsolicitors․com and www․aaf-solicitors․com are operating, which falsely claim to be for a firm of solicitors.
Emails misusing the name "Taylor Walton Solicitors"
29 March 2018 – The SRA has been informed that members of the public have received emails misusing the name "Taylor Walton Solicitors".
Emails misusing the names of Vinaya Jigajinni and Sintons LLP
28 March 2018 – Emails have been sent, falsely claiming to be from Vinaya Jigajinni of Sintons LLP.
Correspondence and website misusing the details of Royds Withy King
28 March 2018 – Faxed letters have been sent, and a website is operating, misusing the details of Royds Withy King.
28 March 2018 – The website "www.davidmgllp.com" is operating, which falsely misuses the address of a genuine firm of solicitors.
Emails misusing the names of Francesca Cappa and MFB Solicitors
27 March 2018 – Emails have been sent, falsely claiming to be from Francesca Cappa of MFB Solicitors, in relation to unpaid payments.
Email misusing the name of Osborne Clarke LLP
26 March 2018 – An email has been sent, falsely claiming to be from Osborne Clarke LLP, in relation to an unclaimed inheritance.
Emails claiming to be from "Mill-Reeve"
23 March 2018 – Members of the public have been contacted via emails and social media by individuals purporting to be employees of "Mill-Reeve" and Mills & Reeve LLP.
Correspondence in the name of "Caputo & Partners LLP"
23 March 2018 – A letter has been sent referring to an unclaimed life insurance policy, claiming to be from a London based law firm called "Caputo & Partners LLP".
Website "www․djwachtelsolicitors․uk" and correspondence of "D.J Wachtel (Solicitors) LLP"
22 March 2018 – The website "www․djwachtelsolicitors․uk" is operating, which falsely misuses the name and address of a genuine firm of solicitors.
Emails misusing the name "Poorvi Chothani"
22 March 2018 – Emails have been sent falsely claiming to be from "Poorvi Chothani" of LawQuest.
Telephone call misusing the details of "Your Law"
20 March 2018 – A member of the public has received a telephone call falsely claiming to be calling on behalf of Your Law.
Correspondence misusing the details of Browne Jacobson LLP
20 March 2018 – Faxed letters have been sent referring to an unclaimed inheritance, misusing the name Browne Jacobson LLP.
Website for "Birchman & Partners LLP"
19 March 2018 – The website "www.birchmanpllp.com" is operating, which falsely claims to be for a regulated firm.
Telephone calls misusing the name of Sarah Waddington Solicitors
19 March 2018 – Members of the public have been contacted by a company, which has falsely stated that it is associated with "Sarah Waddington Solicitors".
Emails misusing the name of JMW Solicitors LLP
16 March 2018 – Emails have been sent which falsely claim to be from JMW Solicitors LLP in relation to conveyancing matters.
Emails misusing the name "William Ryan LLP"
15 March 2018 – Emails have been sent, claiming to relate to an inheritance matter and falsely claiming to be from "William Ryan LLP".
Email and website misusing the name "Solomons Solicitors"
15 March 2018 – An email and website regarding "Accident Claims Guys" falsely claims to be linked to "Solomons Solicitors LLP".
Website for "Smith & George Solicitors"
15 March 2018 – The website "www.sgesolicitors.com" is operating, which falsely claims to be for a regulated firm.
Email misusing the name "Elliots Bond & Banbury"
8 March 2018 – An email has been sent, claiming to relate to a property conveyance, falsely claiming to be from "Jane Russel" of "Elliots Bond & Banbury".
Email misusing the name "Atlantic Solicitors"
6 March 2018 – An email has been sent, claiming to relate to a property conveyance, falsely claiming to be from "Kamal Giwa" of "Atlantic Solicitors".
Emails misusing the name of GHW Solicitors LLP
6 March 2018 – Emails have been sent which falsely claim to be from GHW Solicitors LLP in relation to a memorandum of sale.
Website "www․hilldickinsonlaw․com" misusing the name "Hill Dickinson LLP"
5 March 2018 – The website "www․hilldickinsonlaw․com" is operating, which falsely claims to be for a regulated legal firm.
Email misusing the name "Harden & Co Solicitors LLP" and Roseblade & Co Solicitors
1 March 2018 – An email has been sent falsely claiming to be from "Harden & Co Solicitors LLP" and Roseblade & Co Solicitors in relation to a memorandum of sale.
Emails misusing the name of Hine Downing Solicitors
31 January 2018 – Emails have been sent which falsely claim to be from Hine Downing Solicitors.
Emails misusing the name of Bray & Bray
22 August 2017 – Members of the public have received emails falsely claiming to be from David Berridge of "Bray & Bray Solicitors", regarding an "abandoned investment".
Letter misusing the name "Howell Jones Solicitors"
28 February 2018 – A letter has been sent falsely claiming to be from Howell Jones Solicitors, regarding an alleged refund involving binary options.
Misuse of the details of Alpine Law Limited
23 February 2018 – Letters have been sent regarding an unclaimed inheritance, which falsely claim to be from "Stuart Bennett" of "Alpine Law Solicitors Limited".
23 February 2018 – Letters have been sent to members of the public, which claim to be from "Tony Roland" of "Tony Roland & Partners".
Emails falsely claiming to be from Harden & Co Solicitors
23 February 2018 – Emails have been sent to law firms and members of the public claiming to be from "Harden & Co" in relation to a property sale.
Correspondence misusing the details of John Verrall & Co
22 February 2018 – The SRA has been informed that a faxed letter has been sent concerning an unclaimed inheritance which has misused the details of a closed law firm.
Website in the name of Harbottle Lewis
22 February 2018 – The website "www.harbottlewis.com" is operating, which falsely claims to be for a law firm based in London.
Emails purporting to be from "Malcolm Harper of Fast Service Solicitors"
21 February 2018 – An email has been sent purporting to be from "Malcolm Harper of Fast Service Solicitors", in relation to an employment law dispute.
Letter misusing the name "Sookias & Sookias Solicitors"
21 February 2018 – A letter has been sent falsely claiming to be from Sookias & Sookias Solicitors, in relation to an outstanding invoice.
Telephone calls misusing the details of Bott & Co
21 February 2018 – Members of the public have received telephone calls falsely claiming to be calling on behalf of Bott & Co.
Warning: "Acosta Solicitors LLP".
21 February 2018 – Letters have been sent to members of the public, which falsely claim to be from "Thiago F. Acosta" of "Acosta Solicitors LLP".
Cloned emails in the name of Julie Davies of Evans and Greaves Solicitors.
20 February 2018 – The SRA has been informed that cloned emails which misuse the details of the Evans and Greaves Solicitors have been sent to over 2000 members of the public.
Letter from "Birchman & Partners LLP"
8 February 2018 – The SRA has been informed that a letter has been sent in the name "Birchman & Partners LLP", in relation to an unclaimed inheritance.
Social Media Profiles misusing the name "Hickman and Rose Solicitors"
7 February 2018 – Social media profiles misusing the name "Hickman and Rose Solicitors".
Website in the name of Andrew Denning ("www.andrewdening.com")
5 February 2018 – A website "www.andrewdening.com" is operating for "Andrew Denning", and claims to be for a law firm based in London.
Email falsely claiming to be from "Reynolds & Co Solicitors LLP"
5 February 2018 – An email has been sent relating to a property transaction which falsely claims to be from "Rita Odenells" of "Reynolds & Co Solicitors LLP".
Emails misusing the details of Clyde & Co LLP
1 February 2018 – Emails misusing the details of Clyde & Co LLP have been sent to members of the public regarding an unclaimed inheritance.
Emails misusing the name of David Battiscombe
1 February 2018 – Emails have been sent, falsely claiming to be from David Battiscombe, in relation to an unclaimed inheritance.
Letters misusing the name "Morgan Elis Solicitors"
1 February 2018 – Letters have been sent, claiming to relate to an inheritance matter and falsely claiming to be from "Morgan Elis Solicitors".
New website from trading standards
A new website advises people of the variety scams & what to look out for:https://www.friendsagainstscams.org.uk/
Man caught for local cashpoint distraction thefts
A male has been charged with 42 fraud offences. He used the bank cards he had stolen to withdraw cash and make other purchases totalling £16,000. Police want to thank the vigilant members of the public who saw the police's original warning and advice on the matter, and sent invaluable photos of a suspicious male to police.
If you have been a victim of this type of distraction theft, please report this to Police online at www.met.police.uk or by calling 101.
Fraud alert-Safe Account
If someone calls you and asks for your PINsentry codes, passcodes or passwords, never disclose them – even if they claim to be from your bank
No genuine bank would ask you to transfer money to a 'safe account'
Text messages asking you to urgently call your bank could also be fake
If you suspect fraud, before taking any action, call using the number on the back of your bank card
False claims of Telephone Preference Service

Fraudsters are cold-calling victims, falsely stating that they are calling from one of the well-known UK telecommunication service providers. They call victims claiming to provide a 'Telephone Preference Service' – a call-barring service
The fraudsters ask victims to confirm/provide their bank account details, informing them that there is a one-off charge for the service. Victims instead see monthly debits deducted from their accounts, which they have not authorised. The fraudsters often target elderly victims.


On occasions when victims attempted to call back, the telephone number provided by the fraudster was either unable to be reached or the victim's direct debit cancellation request was refused.

Protect yourself:
There is only one Telephone Preference Service (TPS). The TPS is the only official UK 'do-not-call' register for opting out of live telesales calls. It is FREE to sign-up to the register. TPS never charge for registration. You can register for this service at http://www.tpsonline.org.uk.
You will receive postal confirmation of genuine direct debits. If you notice unauthorised payments leaving your account, you should contact your bank promptly.
Always be wary of providing personal information, or confirming that personal information the caller already claims to hold is correct. Always be certain that you know who you talking to. If in doubt hang up immediately.
If you have been affected by this, or any other type of fraud, report it to Action Fraud by visiting www.actionfraud.police.uk or by calling 0300 123 2040

Email accounts: contain more than just your emails.
Email accounts contain a wealth of sensitive information. Criminals can use your email to reset passwords or obtain personal and financial information, such as your bank details, full address or DOB, leaving you vulnerable to identity theft and fraud.
Secure your email account with two simple steps…
1 - Use a strong, separate password
2 - Enable two-factor authentication
Vehicle Crime:
There has been a spike in vehicle crime across Barnet: the advice is simple, always lock the car, do not leave items visible, remove items from the vehicle, even small change. Recent crime figures for the Borough of Barnet show that Ford Transit and Mercedes Sprinter vans have been targeted for goods within, especially powers tools. In addition there have been a number of thefts involving number plates. Please consider extra safety precautions.
General advice
• Fit theft resistant number plate fittings – stolen number plates are commonly used to hide the identity of stolen vehicles. Use one way clutch head screws and adhesive to secure the plate.
• When out and about - try to park your vehicle in an area that is overlooked and well lit
• Thieves are using sophisticated methods to steal vehicles with electronic keys - a scanner is used to locate the signal from the key. To prevent this, always keep the electronic key in a security pouch when not in use.
• Leaving items on show is an invitation – power leads, SatNavs and mounts, stereo front panels, coins, sunglasses, tools, clothing and bags should be removed from the vehicle or placed out of sight.
• Keys and ignition fobs should kept safe and out of sight and reach – the most common ways to steal a car or van is to take the keys or ignition fob, either when left in the vehicle or from your home through burglary. Try not to keep your keys in an obvious place such as the hallway or kitchen.
• Always lock and close the windows of your vehicle when unattended – on the drive, the petrol station forecourt or when parking an unlocked vehicle is the easiest to steal or steal from.
• Fit an alarm or immobiliser if your vehicle does not have one.
• Set the steering wheel lock if your vehicle is fitted with one. If not, use a bar type steering lock each time you leave your vehicle.
• Also consider using a gear stick lock.
ATM theft
There has been a recent increase in distraction thefts at ATMs in Barnet Borough. With this in mind, please be aware of anyone standing close by and always check the machine to see if it's been tampered with before you use it.
Tell-tale signs of ATM fraud
Things to look out for are devices attached to the machine – some are more obvious than others. If you do see something suspicious contact the police and the bank.
Remember, if it doesn't look or feel right then steer clear and, if possible, go inside the bank where it will be safer. And always keep a regular check on your transactions.
Stay sharp
We know it's not always easy but please be aware of your surroundings when you're at an ATM. Thieves will try to watch as you key in your PIN or distract you while you're withdrawing cash. Be vigilant. Cover your PIN and keep an eye on your card at all times, especially if someone taps you on the shoulder or tries to speak to you.
When you have left the ATM, put your card away immediately.
Finally, be careful with contactless cards. You can obtain a card holder to prevent your card details from being inadvertently read.
We don't want you to be paranoid, but being aware of your surroundings and not being distracted makes it harder for people to take advantage and less likely that they'll try to
Investment Scam
A firm called Taylor & Clark (T&C) is calling about investing in a lithium-mining venture. T&C asks for copies of a passport and a utility bill to be sent to the mining company. You will receive a contract to sign and return and then hear no more. Calls to T&C just get cut off.
Doorstep Scam
A fraudster called at the address of an 83 year old stating that she was a neighbour, had locked herself out and needed to borrow some money for a taxi. The victim invited her in and lent her £40 from her purse. It is believed that when victim then went into another room the suspect stole the purse from her handbag. It was not until the next day the victim discovered her purse was missing and then received a phone call from her bank informing her that her cards had been used.
Flight ticket fraud
Fraudsters are attempting to entice victims who are looking for cheap flights abroad. Victims have reported booking tickets via websites or a "popular" ticket broker, only to discover that after payment via bank transfer or electronic wire transfer, the tickets/booking references received are counterfeit. In some cases, all communications between the company or broker and the victim have been severed. Fraudsters are targeting individuals who are seeking to travel to African nations and the Middle East, particularly those wishing to travel in time for popular public and religious holidays.
Prevention advice:
Pay safe: Be cautious if you're asked to pay directly into a private individual's bank account. Paying by direct bank transfer is like paying by cash – the money is very difficult to trace and is not refundable. Wherever possible, pay by credit card or a debit card.
Conduct research on any company you're considering purchasing tickets from; for example, are there any negative reviews or forum posts by previous customers online? Don't just rely on one review - do a thorough online search to check the company's credentials.
Check any company website thoroughly; does it look professional? Are there any spelling mistakes or irregularities? There should be a valid landline phone number and a full postal address so that the company can be contacted. Avoid using the site if there is only a PO Box address and mobile phone number, as it could be difficult to get in touch after you buy tickets. PO Box addresses and mobile phone numbers are easy to change and difficult to trace.
Be aware that purchasing tickets from a third party, particularly when initial contact has been made via a social media platform can be incredibly risky.
If tickets to your intended destination appear cheaper than any other vendor, always consider this; if it looks too good to be true, it probably is!
Look for the logo: Check whether the company is a member of a recognised trade body such as ABTA or ATOL. You can verify membership of ABTA online, at www.abta.com.
If you have been affected by this, or any other type of fraud, report it to Action Fraud by calling 0300 123 2040, or visiting www.actionfraud.police.uk.
Phantom debt fraud
Action Fraud has recently experienced an increase in the number of calls to members of the public by fraudsters requesting payments for a "phantom" debt. The fraud involves being cold-called by someone purporting to be a debt collector, bailiff or other type of enforcement agent. The fraudster may claim to be working under instruction of a court, business or other body and suggest they are recovering funds for a non-existent debt.
The fraudsters are requesting payment, sometimes by bank transfer and if refused, they threaten to visit homes or workplaces in order to recover the supposed debt that is owed. In some cases, the victim is also threatened with arrest. From the reports Action Fraud has received, this type of fraud is presently occurring throughout the UK.
To learn more, please take a look at some of the helpful information and links on the Step Change Debt Charity website; https://www.stepchange.org/debt-info/debt-collection/bailiffs-and-debt-collectors-differences.aspx
Protect yourself
Make vigorous checks if you ever get a cold call. Bailiffs for example, should always be able to provide you with a case number and warrant number, along with their name and the court they are calling from; make a note of all details provided to you.
If you receive a visit from a bailiff, they must always identify themselves as a Court Bailiff at the earliest possible opportunity. Ask to see their identity card which they must carry to prove who they are, this card shows their photograph and identity number. They will also carry the physical warrant showing the debt and endorsed with a court seal.
If you work for a business and receive a call or visit, be sure to speak with your manager or business owner first. Never pay the debts yourself on behalf of the business you work for; some fraudsters have suggested employees make payment suggesting they can then be reimbursed by their employer when in reality the debt is non-existent.
Exercise caution believing someone is genuine because you've found something on the internet; fraudsters could easily create fake online profiles to make you believe them.
Double check with the court, company or public body they claim to work for to confirm whether the call is legitimate; if you use a landline make sure you hear the dialling tone prior to dialling as the caller could still be on the line and you could potentially speak to the fraudster(s) to confirm the non-existent debt. Also be sure to independently search for a telephone number to call; never use a number provided by the caller without carrying out your own research.
Do not feel rushed or intimidated to make a decision based on a phone call. Take five and listen to your instincts.
If you know you have a debt, keep in regular contact with your creditor and be sure to establish the debt type at the earliest opportunity if you are not aware. This will help you to understand who might be in contact with you regarding any repayments or arrears.
You can report suspicious calls like these to Action Fraud by visiting www.actionfaud.police.uk or by calling 0300 123 2040.
How to spot a scam
Common scams and how to spot them
• STOP – Never do anything you don't want to or make any decisions on the spot
• CHECK – Always check their credentials
• ASK – Always ask someone you trust for a second opinion
• MINE – Do not give away personal information
• SHARE – Share your experience with others to lower their risk of being scammed