Covid-19: surviving self-isolation
We are in unprecedented times, and we are doing everything we can to reach out to people who may not be able to leave their homes.
So we have searched far and wide to bring together useful links and trusted advice that you may need during this challenging period.
We will be posting links that help you stay connected, keep fit and healthy plus ways of getting support if you run into difficulties.
Contact us on 020 8203 5040 or info@ageukbarnet.org.uk if you need help with food shopping and tasks such as picking up prescriptions or you would like regular phone chats or information and advice on money matters or welfare benefits. If you have a medical conditition that leaves you particularly vulnerable, you may be able to get extra support from the government. Click here to register. You can also call the Age UK Advice line on 0800 169 65 65 for practical information and advice.
If you require urgent support out of office hours, please contact Barnet Council's Urgent Support Helpline on 0808 281 3210 or email COVID19support@barnet.gov.uk. If you require urgent pharmacies or supplies please contact CommUNITY Barnet on 020 8016 0016.
Technology - stay connected with friends and family
Click here to set up and use Skype
Click here to set up a Facebook account
Click here to set up a Twitter account
Click here to set up an Instagram account
Click here to set up a Zoom account
Click here on how to use a video call on your phone
Click here for useful tech tips from BT on everything from downloading a podcast to using WhatsApp and ordering an online prescription.
Click here for a collection of 400 user-friendly how-to guides from Digital Unite on everything from grasping computer basics to getting to grips with your smartphone or tablet.
Click here for free factsheets from Ability Net on how digital technologies can help people with disabilities.
Mental health and bereavement
Barnet Covid-19 Bereavement and Counselling Service - provides information and signposting for Barnet residents who have been bereaved such as arranging death certificates, funeral services, and financial support. You will also recieve immediate emotional support and 6 months of counselling. A free service for Barnet residents who have been bereaved. Click here for more information or phone 020 8016 0016.
Click here for the Help Hub, an online therapy service which is offering free 20-minute sessions aimed at vulnerable older people and others who are self-isolating or struggling.
SilverLine Health is offering free CBT therapy for people suffering from anxiety, stress and sleep problems. Click here to sign up
For a friendly chat, day or night, call Silver Line on 0800 470 80 90
Headspace - a tool which offers guided meditation to help deal with stress - is offering free support during the covid crisis. Click here for more
Mind is a charity that helps people struggling with mental health issues. Click here for information and guidance on your wellbeing in relation to the coronavirus.
If you are in a serious mental health crisis, please call the Barnet Wellbeing Service on 03333 449 088 or The Samaritans on 116 123
The Barnet Wellbeing Service website has a huge range of useful phone apps to help improve your mental health plus links to exercise and tips and food and diet. Click here for the links.
Barnet's free Working Well Service can support on issues such as isolation, anxiety and possible bereavements. Contact Sonal Doshi on 0738 454 3020 or sonal@getsetuk.co.uk
The Samaratans have produced a guide on mental health and the coronavirus outbreak. Click here to read it.
NCL Suicide Prevention Service - which helps people can access additional support during the COVID-19 pandemic. The helpline will be open Monday, Wednesday and Friday from 6pm-8pm and on Sunday from 6pm-9pm. This helpline will provide support via: • a freephone number 08088 02 00 80 (Calls to this helpline are free from landlines and mobile phones within the UK and do not appear on itemised bills.) • by text message on 07860 058 793 (Text messages are charged at usual network rate and texts will be responded to during helpline opening hours) • by webchat (click here), which can be accessed during service opening hours.
Mental Health and Coping during Covid 19. Click here for government advice
How to protect your mental health during the coronavirus pandemic - BBC news article
Health and Anxiety and coronavirus - click here for advice from anxiety.org.uk
Worried about increased alcohol use? Help is on hand to reduce or stop drinking in a safe way here, complete an alcohol test online or Skype for an online coaching sessions.
Good Thinking is an online mental health programme for Londoners supporting people with mild-moderate mental health problems.
Government guidance has support for organisations assisting residents with mental health and wellbeing issues.
Worried about money? Click here to find out how the coronavirus situation could affect your finance and benefits.
Shopping and food delivery
Age UK Barnet can help people with a meal or food donation under urgent circumstances. Please phone 020 8203 5040 or email: urgentcovidsupport@ageukbarnet.org.uk. Most GP surgeries can send prescriptions to local pharmacies – and some pharmacies deliver to older people who cannot get out. Phone your local pharmacy to check.
Friends in Need - FIN provides a range of services for older people and their carers living in Barnet. Tel: 020 8449 8225 or email: fin@fin-eastbarnet.org.uk
High Barnet Good Neighbours - can also help with shopping. Their opening hours are Monday-Friday 10:00-13:00. Tel: 020 8441 5678. Answerphone out of hours
Mill Hill Good Neighbours can also help with shopping. Tel 020 8906 3340.
The United Synagogue can help with dropping off food, picking up medication and emotional support. Phone the helpline on 020 8343 5696
Jewish Care is delivering a limited amount of meals. Contact Jewish Care helpline 020 8922 2222 or email helpline@jcare.org
Supermarket updates
Shopping - goldenhour times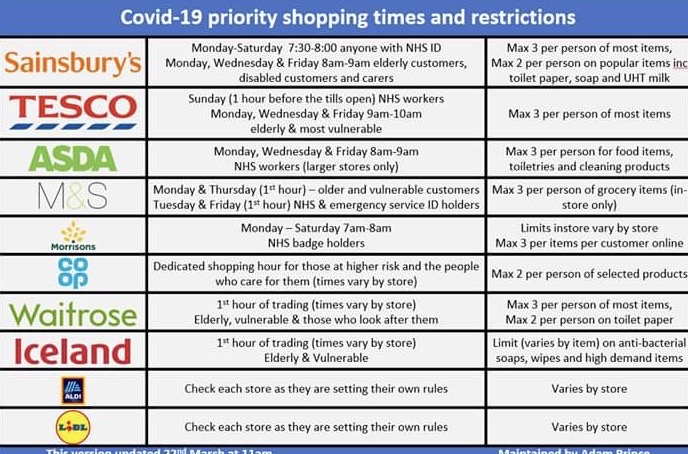 Shopping over the phone
Morrisons has a phone shopping service for older vulnerable people who can't go to the shops or have never used online shopping before. Choose from a menu of 47 items and items will be delivered to the door by an employee. Customers will need a bank card or mobile phone to pay and can use chip and pin or contactless. Customers wishing to place an order should phone 0345 611 611 and select option 5.
Some Waitrose stores are taking over-the-phone payments - use your local directory to find your local stores and find out if this is an option.
Shopping online
The government released a list of more than one million vulnerable people to supermarkets and they have been using these to see who might need extra help and priority delivery slots.
If you have never used home delivery before and have a letter from the government advising you that you are vulnerable, you can approach a supermarket directly and let them know that you need help.
EasyRead has produced a step-by-step guide to shopping online for those who have never done this before. Click here for the guide.
Click here for Sainsbury's on line. Sainsbury's has asked existing customers aged 70+ to register on its automated phone system: 0800 953 4988. For those with a tablet or smart phone, Sainsbury's has also launched a grocery app called ChopChop where you can order up to 20 items which will be delivered within 60 minutes. Delivery costs £4.99. Download app from your app store.
Click here for Tesco. If you have a letter from the NHS, you will be able to book a priority slot and select an eight hour window for delivery. Customers who do not currently have a Tesco account and have a letter from the NHS can either create an account online or call the supermarket on 0800 917 7359.
M&S and Morrisons have teamed up with Deliveroo to offer an 'Essentials by Deliveroo' service, which will deliver basic essentials to households without a delivery fee. Book thorugh Deliveroo here
The Waitrose Rapid Service is a new online shopping option which promises to deliver your groceries in less than 2 hours of ordering - click here for the link.
Morrisons is offering next day delivery on its food boxes. You choose between a veggie box and a meat box and they contain a mix of food. Each box costs £35. Click here to find out more and to register.
New Covent Garden Market is now doing deliveries for fresh produce - click here for the link.
First Aid Food – normally a wholesaler, First Aid Food is now taking online orders from individuals and offers home delivery. Food, drink and household products. Minimum order £45. Phone 020 333 22 983 or click here to order online.
Greengrocers Choice deliver fruit and vegetable boxes to the door. You currently need to wait a week for a delivery slot. Click here to order online.
All Greens deliver fruit and veg boxes as well as other essentials such as eggs and milk. Click here to order online.
Try online supermarket Osolocal2u for vegetable and fruit boxes as well as stockcupboard essentials. Click here to order online.
Pale Green Dot offers fruit and veg boxes, meat boxes and dairy boxes - you can order as a one off or set up weekly deliveries. Click here to order online.
Other similar online options include First Choice Produce and Premier Food Service Providers which sells ready meals and snacks as well as fruit and vegetable boxes and meat and diary.
Groceriesdeliveredtoyourdoor This website has been created to help communities in London and surrounding areas find suppliers or local stores that will deliver groceries to your home during the Coronavirus outbreak. Click here to order
Asda has introduced a shopping card for volunteers who are shopping for those who can't leave the house. It can be topped up in a similar way to an e-giftcard and sent to the volunteer or left in a safe space for them to collect. This means that vulnerable people don't have to hand over cash to volunteers, and there's no need for an exchange of bank details.
Local to Barnet
For milk, bread cheese, other essential items try Daily Dairy Delivery - they deliver all over the borough, and there's half price delivery if you mention AUKB.
The Society Company, an eco delivery service which sells sustainable foods and household products in various bundles and is offering free delivery during Covid.
Local shops in High Barnet that deliver
Moore and Sons butcher – 0208 449 9649
Butchers Hook (meat and fish) – 07500 833 933
J&B Dairies 07957 488114
Free meals for older people
Indian restaurants in Barnet The following restaurants are offering a free meal to older people over 70 in isolation. Just call and you will be asked to choose an option - you will have to get someone to pick up the meal, however.
Bayleaf Restaurant and Bayleaf Takeaway, 1342 High Rd, Whetstone, London N20 9HJ - 020 8446 8999 or 07863129414.
Woodhouse Tandoori, 219 Woodhouse Rd, Friern Barnet, London N12 9BD - 020 8361 7879
Taste of Nawab, 97 Colney Hatch Ln, London N10 1LR - 020 8883 6429
The Wilds Cafe in 27 East Barnet Road EN4 8RN is cooking and delivering free meals to older vulnerable people in New and East Barnet - donations welcome. To arrange a delivery, contact: thewildscafe@gmail.com or tel: 07774 384089
Recipes
Age UK Barnet is runnning online cookalongs on Zoom on a Thursday evening and Monday morning. Email karen.williamson@ageukbarnet.org.uk for more information. Age UK Barnet cookery demos will be added to our YouTube channel. Click here for the link.
BBC Food - For Budget dinners click here
BBC Goodfood - Five ingredients or less recipes click here
BBC Goodfood - Storecupboard Recipes click here
BBC Goodfood - Easy Recipes click here
BBC Goodfood - Healthy click here
Online games
Chess - click here for chess.com
Learn a language - click here for duolingo.com
Bridge -click here for bridgebase.com
Quizzes - fun quizzes on all kinds of subjects - click here for sporcle.com
Countdown - - click here for the popular TV quiz show game on happysoft.org.uk
Exercise
Our Tai Chi instructor Chris Jones is now running Virtual Chen Tai Chi on Zoom on Tuesdays and Fridays 11am-12noon. Email Chris@taijicircle.com for links. Click here for more info.
Simple Home Exercises for Older People
Age uk/ simple exercises for older adults
How to exercise at home if you're avoiding the Gym during the covid 19 outbreak
NHS Aerobics video for beginners
NHS Belly dancing exercise video
NHS La Bomba dance exercise video
NHS Wake-up workout video beginner
NHS Pilates video for beginners
NHS Chair-based pilates video workout
NHS Back pain pilates video workout
NHS Knee problems pilates video workout
NHS Arthritis pilates video workout
NHS Osteoporosis pilates video workout
NHS MS and fibromyalgia pilates video workout
A big selection of free online workouts for older people for a wide range of abilities
Keep moving and dance video from Saracens Sports Foundation
Over 50s online ballet classes from Ballet Based Movement - click here for their YouTube workout.
Music, culture and learning
Age UK Barnet and Barnet Connect are organising live music performances with some of our favourite musicians on our YouTube channel. Follow us on Facebook for the latest updates. Click on our YouTube channel for videos of our concerts.
The National Theatre is live streaming productions on YouTube every Thursday evening. Click here for info
Cirque de Soleil 60 minute special. Click here to view.
A helpful guide put together by music4dementia 2020 on how to use music during COVID. Click here for the guide.
Interactive live music activities on Facebook from Electric Umbrella - click here to find out more
An online creative space run by theatre company Chickenshed bringing people of different generations together - click here to find out more
The New York Met Opera is releasing a recording from their archives every day. Click here to view
Archive of public domain feature films, including many silent and film noir greats. Click here to view
The Open Library project - click here to view
Berlin Philharmonics' Digital Concert Hall - click here to view
Free online courses from The Open University - click here to view.
Online courses from top universities and institutions Click here for FutureLearn courses
Some books are now free on Audible - click here.
450 courses from Ivy League Universities - click here
Video tutorials on art, macrame, knitting and baking. Click here
Natasha and Pierre, King Lear with Anthony Hopkins and Much Ado About Nothing with Tennant and Catherine Tate. Click here
Live streams from Monterey Bay aquarium. Click here
Learn ancient languages click here
Virtual tours of museums around the world click here
Chatterpack - a list of online resources to keep people entertained when you are stuck at home click here
Online religious services
Catholic religious services streamed. You can even search for your local parish. Click here for their timetable of services.
Church of England services and bible readings from churches in Barnet. Click here to find out the next services.
Guidance for muslim communities. Click here for advice from the Muslim Council of Britain.