Covid-19: surviving self-isolation
We are in unprecedented times, and we are doing everything we can to reach out to people who may not be able to leave their homes.
So we have searched far and wide to bring together useful links and trusted advice that you may need during this challenging period.
We will be posting links that help you stay connected, keep fit and healthy plus ways of getting support if you run into difficulties.
Contact us on 020 8203 5040 or info@ageukbarnet.org.uk if you need urgent help with food shopping and tasks such as picking up prescriptions or you would like regular phone chats or information and advice on money matters or welfare benefits. If you have a medical conditition that leaves you particularly vulnerable, you may be able to get extra support from the government. Click here to register.
Technology - stay connected with friends and family
Click here to set up and use Skype
Click here to set up a Facebook account
Click here to set up a Twitter account
Click here to set up an Instagram account
Click here to set up a Zoom account
Mental health
Click here for the Help Hub, an online therapy service which is offering free 20-minute sessions aimed at vulnerable older people and others who are self-isolating or struggling.
Mind is a charity that helps people struggling with mential health issues. Click here for information and guidance on your wellbeing in relation to the coronavirus.
The Samaratans have produced a guide on mental health and the coronavirus outbreak. Click here to read it.
If you are in a mental health crisis, please call the Barnet Wellbeing Service on 03333 449 088 or The Samaritons on 116 123
The Barnet Wellbeing Service website has a huge range of useful phone apps to help improve your mental health plus links to exercise and tips and food and diet. Click here for the links.
Mental Health and Coping during Covid 19. Click here for government advice
How to protect your mental health during the coronavirus pandemic - BBC news article
Health and Anxiety and coronavirus - click here for advice from anxiety.org.uk
Worried about money? Click here to find out how the coronavirus situation could affect your finance and benefits.
Shopping and food delivery
Age UK Barnet can help with people with a meal or food donation under urgent circumstances. Please phone 020 8203 5040 or email: urgentcovidsupport@ageukbarnet.org.uk
Friends in Need - FIN provides a range of services for older people and their carers living in Barnet. Tel: 020 8449 8225 or email: fin@fin-eastbarnet.org.uk
Helping Hands can help with shopping and collecting prescription for older people in Barnet. Tel: 020 8275 8378 or email: helpinghands@fin-eastbarnet.org.uk
High Barnet Good Neighbours - can also help with shopping. Their opening hours are Monday-Friday 10:00-13:00. Tel: 020 8441 5678. Answerphone out of hours
Mill Hill COVID19 community support group for help in Mill Hill - tel: 0208 959 1995 or email: Millhillcovi19@gmail.com
Supermarket updates
Shopping - goldenhour times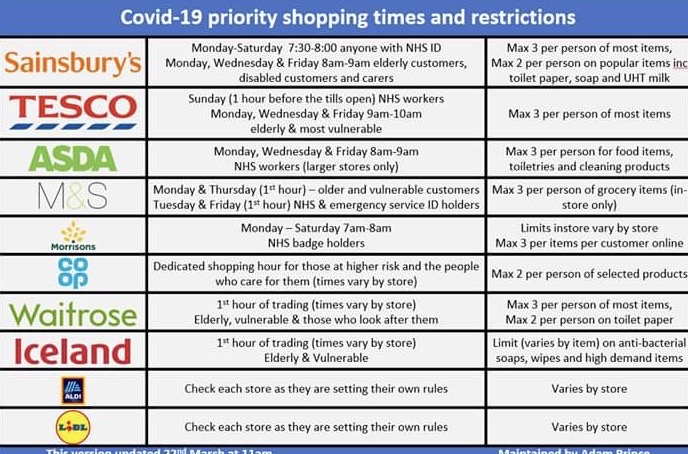 Sainsbury's - older people already registered with them will be prioritised when delivery slots are being allocated. Click here to find out more. Waitrose will be doing the same - click here.
Morrisons is offering next day delivery on its food boxes. You choose between a veggie box and a meat box and they contain a mix of food. Each box costs £35. Click here to find out more and to register.
New Covent Garden Market is now doing deliveries for fresh produce - click here for the link, but bear in mind there is a high demand for this at the moment.
Free meals for older people
Indian restaurants in Barnet The following restaurants are offering a free meal to older people over 70 in isolation. Just call and you will be asked to choose an option - you will have to get someone to pick up the meal, however.
Bayleaf Restaurant and Bayleaf Takeaway, 1342 High Rd, Whetstone, London N20 9HJ - 020 8446 8999 or 07863129414.
Woodhouse Tandoori, 219 Woodhouse Rd, Friern Barnet, London N12 9BD - 020 8361 7879
Taste of Nawab, 97 Colney Hatch Ln, London N10 1LR - 020 8883 6429
The Wilds Cafe in 27 East Barnet Road EN4 8RN is cooking and delivering free meals to older vulnerable people in New and East Barnet - donations welcome. To arrange a delivery, contact: thewildscafe@gmail.com or tel: 07774 384089
Recipes
BBC Food - For Budget dinners click here
BBC Goodfood - Five ingredients or less recipes click here
BBC Goodfood - Storecupboard Recipes click here
BBC Goodfood - Easy Recipes click here
BBC Goodfood - Healthy click here
Online games
Chess - click here for chess.com
Learn a language - click here for duolingo.com
Bridge -click here for bridgebase.com
Quizzes - fun quizzes on all kinds of subjects - click here for sporcle.com
Countdown - - click here for the popular TV quiz show game on happysoft.org.uk
Exercise
Simple Home Exercises for Older People
Age uk/ simple exercises for older adults
How to exercise at home if you're avoiding the Gym during the covid 19 outbreak
NHS Aerobics video for beginners
NHS Belly dancing exercise video
NHS La Bomba dance exercise video
NHS Wake-up workout video beginner
NHS Pilates video for beginners
NHS Chair-based pilates video workout
NHS Back pain pilates video workout
NHS Knee problems pilates video workout
NHS Arthritis pilates video workout
NHS Osteoporosis pilates video workout
NHS MS and fibromyalgia pilates video workout
Keep moving and dance video from Saracens Sports Foundation
Over 50s online ballet classes from Ballet Based Movement - click here for their YouTube workout.
Music, culture and learning
The National Theatre is live streaming productions on YouTube every Thursday evening. Click here for info
Cirque de Soleil 60 minute special. Click here to view.
Interactive live music activities on Facebook from Electric Umbrella - click here to find out more
An online creative space run by theatre company Chickenshed bringing people of different generations together - click here to find out more
The New York Met Opera is releasing a recording from their archives every day. Click here to view
Archive of public domain feature films, including many silent and film noir greats. Click here to view
The Open Library project - click here to view
Berlin Philharmonics' Digital Concert Hall - click here to view
450 courses from Ivy League Universities - click here
Natasha and Pierre, King Lear with Anthony Hopkins and Much Ado About Nothing with Tennant and Catherine Tate. Click here
Live streams from Monterey Bay aquarium. Click here
Learn ancient languages click here
Virtual tours of museums around the world click here
Chatterpack - a list of online resources to keep people entertained when you are stuck at home click here
Online religious services
Catholic religious services streamed. You can even search for your local parish. Click here for their timetable of services.
Church of England services and bible readings from churches in Barnet. Click here to find out the next services.
Guidance for muslim communities. Click here for advice from the Muslim Council of Britain.