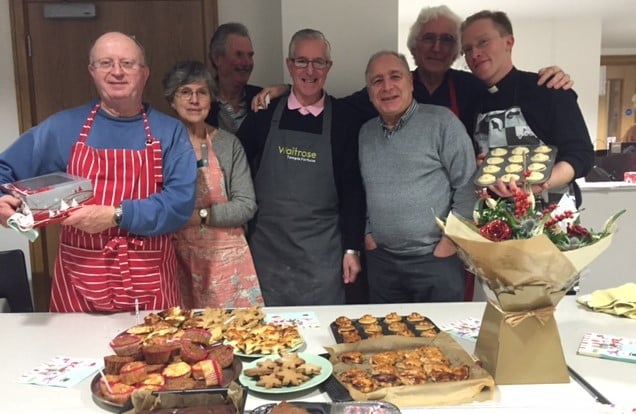 Eat Well Live Well is Age UK Barnet's programme to improve the health and diet of older people in Barnet as well as tackle social isolation. We offer fun and healthy cookery courses around the borough for older men and women who want to pick up some kitchen skills
Our latest cookery courses
COVID-19 UPDATE: We have suspended our face to face cookery classes at this time but we have started online cookery sessions on Zoom. Click here for more info.
We will also be putting up easy fun cookery demos made by some of our volunteers...
When sessions are running normally, we have a range of cookery courses to suit all tastes and experience, from beginners courses to healthy eating, Indian cookery to vegetarian cuisine. We also have more advanced workshops and a male-only cookery club.
Courses range from £5 a session to £7.50 a session, which reflects the amount and type of ingredients we use. All ingredients are provided.
We currently have four venues in Barnet :
Venue: East Finchley, Ann Owen's Centre, Oak Lane N2 8LT
Wooden Spoon and Apron Club - evenings
Each week you cook a three or four course meal inspired by a cuisine from a different part of the world, then eat together afterwards
Cookery masterclass
One dish - cooked in three different ways
Men's Beginners Class
For absolute beginners - learn how to cook a handful of easy dishes and boost your confidence in the kitchen.
Venue: Mill Hill International School. Milespit Hill NW7 2RX
Healthy Eating Cookery Course - with advice from nutritionist
Tasty, nutritious easy-to-make recipes.
Cakes and Bakes
Make delicious cakes and biscuits, then enjoy together with a cup of tea or coffee afterwards.
Venue: Hartley Hall, Flower Lane, Mill Hill NW7 2JA
Men's Cookery - cooks tour of Europe
Venue: Hospitality House, 11-59 High Road, East Finchley N2 8AB
Professional Cookery Workshops
For more info or to book a place phone 020 8150 0967 or email karen.williamson@ageukbarnet.org.uk
Survey! Tell us what services you want!