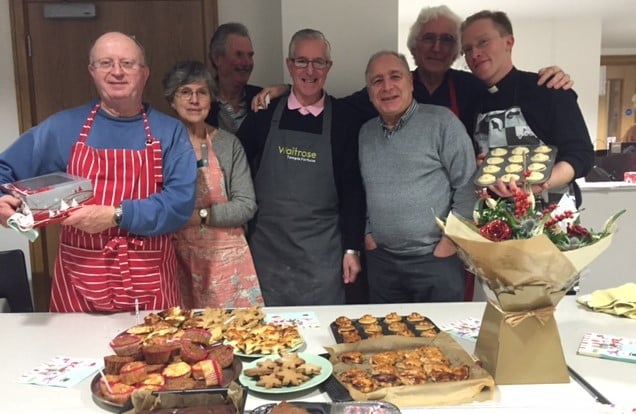 Our face-to-face cookery sessions are back. We aim to suit all tastes and experience, from beginners courses to healthy eating, Indian cookery and vegetarian cuisine. We also offer more advanced masterclasses and a male-only cookery club
Our latest cookery courses
FACE TO FACE SESSIONS
To book a place, email stacey.kanolik@ageukbarnet.org.uk or phone 020 8203 5040
1: Summer classes - Lunch on a plate!
Mondays 11am - 1pm
A variety of different volunteer Chefs will share their favourite recipes with the group.There will be a wide range of topics including Indian food and nutritious vegetarian dishes
Ingredients will be provided. You will be cooking along and have a chance to eat together afterwards.
Takes place at the Ann Owens Centre, Oak Lane, East Finchley N2 8LT.
You can sign up to as many or few of the sessions as you would like:
20th June, 27th June, 4th July, 11th July, 18th July, 25th July, 1st August, 8th August, 15th August, 22nd August
£6 a session
On 4, 11, 18 and 25 July, our volunteer chef and dietetics student Kato will be hosting a Mediterranean cookery course (vegetarian)
2:Authentic Italian Cooking and Pasta Making - Thursdays 5-8pm
Our volunteer Chef Nazz will share the secrets of homemade pasta and authentic Italian food
Takes place over 4 Thursdays starting on Thursday 14 July at the Ann Owens centre, Oak Lane, East Finchley N2 8LT.
Everyone cooks, eats and cleans up together, supper club style and is led by different chef volunteers.
3: Quick and easy! Face to face.
Starts Wednesdays (2pm-4pm)
This course takes place at Mill Hill International School, Milespit Hill, Mill Hill NW7 2RX and proves that good food doesn't need tobe complicated. 5 week course - £30 payable upfront.
Special courses and workshops
Healthy Eating short course with qualified dietitian Emmy - 9 June 2022
Topics covered: Healthy heart, Diabetes, and Healthy gut
Takes place at The Ann Owens Centre, Oak Lane East Finchley N2 8LT
The classes will include food tasting and cooking demonstration
Thursday June 9th, 16th and 23rd from 4pm – 6 pm
£4 per session
Cookery demos and nutrition talks - face to face
We hold regular cookery demos with different themes ranging from eating for bone health and preventing diabetes to easy picnic ideas! We are limited to 6 participants per session currently, although this may change. Each session costs £3, payable upfront or on the day. You will be able to sample the food afterwards
ONLINE COURSES
Online Indian cookery and international cuisine - 6 week courses
We will run online courses when we have enough interest to run a course. Please get in touch to register your interest. Costs £3 a session - £18 to be paid upfront for the whole course. Contact stacey.kanolik@ageukbarnet.org.uk
COSTS
- £3 a session for our face to face cookery demos.
- £3 a session for our online course. You need to pay for whole course upfront.
- £6 a session for our face to face courses, where we buy all ingredients and you just turn up and cook along. Again, you will need to pay for the whole course upfront.



Just get back to me on stacey.kanolik@ageukbarnet.org.uk if you have any questions and to book your place.

Survey! Tell us what services you want!