Throughout the year we put on community events and fundraisers to help us raise money to run the vital activities and services that we offer to older poeple in Barnet. At the moment we are unable to hold any face to face events, so we will be holding live online events - some of which will be available to view after the event. If you or anyone you know might need help getting set up online we have volunteers who can help. Just contact us on info@ageukbarnet.org.uk or 020 8203 5040.
There is no charge for our musical events but we welcome any donations. Click here for our JustGiving page. Enjoy!
UPCOMING EVENTS
Sing your way through lockdown!
After the success of our Christmas online singalong with the fabulous choirmaster Jenny Le Touche, we are opening up her Tuesday sessions to anyone who'd like to take a late morning break from their day and join us for a few songs. Sessions are 11am-12noon and there'll be a different theme each week. From Beatles tracks to musicals and love songs, do join us for a track or two.
Please email Howard on howard.chapman@ageukbarnet.org.uk for more details and the Zoom link.
The singalong sessions are free but click here to make a donation
Old Time Music Hall - Live on Zoom
Thursday 22 April, 2.00pm
Join the Victorian Plums for a fully costumed show packed with singalong classics from the golden age of Music Hall. We guarantee to put a smile on your face and a song in your heart! For a Zoom link, please email howard.chapman@ageukbarnet.org.uk.
Do you have a story to tell?
If so, you might be interested in a series of exciting new storytelling workshops we're planning with Artsdepot in North Finchley and story telling company Take Stock Exchange (TSX).
Over a Zoom session, you will learn storytelling skills, share stories, ideas and opinions about life in Finchley and Barnet. You'll also hear from other people in the local area and be part of a collective local story, which will be shared online as a podcast. The sessions are a huge confidence boost and a lot of fun!
Next session:
Wednesday 7 April, 2-4pm

For more information and to book a please, please email Howard on howard.chapman@ageukbarnet.org.uk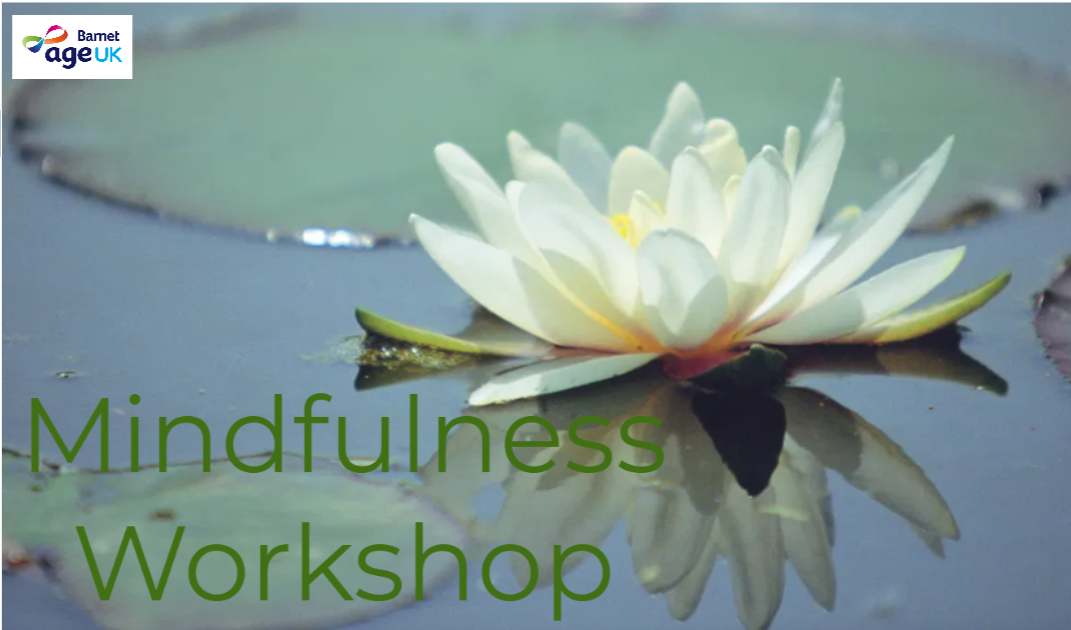 Mindfulness workshop - dealing with negative thoughts and emotions
Tuesday 18 May 2021 - 2pm-3.30pm
We are pleased to announce that stress coach Kamontip Evans is offering us another free mindfulness session. Kamontip's first session was enjoyed by 22 participants who picked up some useful techniques to help deal with stress and anxiety. One participant said: 'I really enjoyed it - and had the best night's sleep in ages.' This time you will learn about how mindfulness techniques can help you deal with negativve thoughts and emotions.
For more information and the Zoom link, please contact Fiona on fiona.cronin@ageukbarnet.org.uk or phone her on 07799 519314
Well-loved saxophone tunes
Steph from the World Harmonie Orchestra has recorded a lovely 30 minute concert for us, divided into 3 segments. It will be available to watch until March 2021.
Click here for the first part, Click here for the second part. Click here for the third part. Enjoy!
PAST EVENTS
Talented young musician Joe Loveday performs some of your favourite Beatles tunes.
Wellbeing Q&A to mark Mental Health Awareness Week. Our trustee neuroscientist Catherine Loveday, Professor at University of Westminster, answers your questions on lockdown anxiety, sleep and why routine is so important in people with dementia.
A Musical Afternoon regular, Italian Tenor Yuri Sabatini's gives us a live performance, singing operatic arias, traditional songs and other popular tunes..