Throughout the year we put on community events and fundraisers to help us raise money to run the vital activities and services that we offer to older people in Barnet. We are now running a mix of face to face events and live online events - some of which will be available to view after the event. If you or anyone you know might need help getting set up online we have volunteers who can help. Just contact us on info@ageukbarnet.org.uk or 020 8203 5040.
UPCOMING EVENTS
Singalong at Discover Barnet's Summer Festival - Victoria Park
Our choirmaster Jenny la Touche will be performing a singalong on Wednesday 7 July 2021 at 11am. Why not pop along to Victoria Park where there's open air cinema where as well as our singalong there'll be major sports screenings, community carnivals, live music, artisan food markets, open air theatre and street performers.
Just turn up or for more information email helen.nicolaou@ageukbarnet.org.uk
Click here for the full timetable of events.
Nutrition talks - face to face.
We're pleased to announce a series of nutrition talks by Caroline Mcelhatton who has worked in the NHS as renal dietitican as well as working with stroke patients. Caroline will give a short talk followed by a Q&A session to give you a chance to tap into her expertise.
Diabetes: reducing your risk - Weds 7 July 3pm
Age UK Barnet Music Afternoon - 21 July 2021 2.30pm - 4pm

The popular Italian tenor Yuri Sabatini will be performing a selection of operatic areas, traditional songs and stage show tunes. Refreshments will be provided
This will be a socially distanced Covid compliant event.
Venue: St Margaret's United Reform Church, Victoria Avenue, Finchley N3 1BD
Contact Helen on 07384 446 840 or email helen.nicolaou@ageukbarnet.org.uk to reserve your place.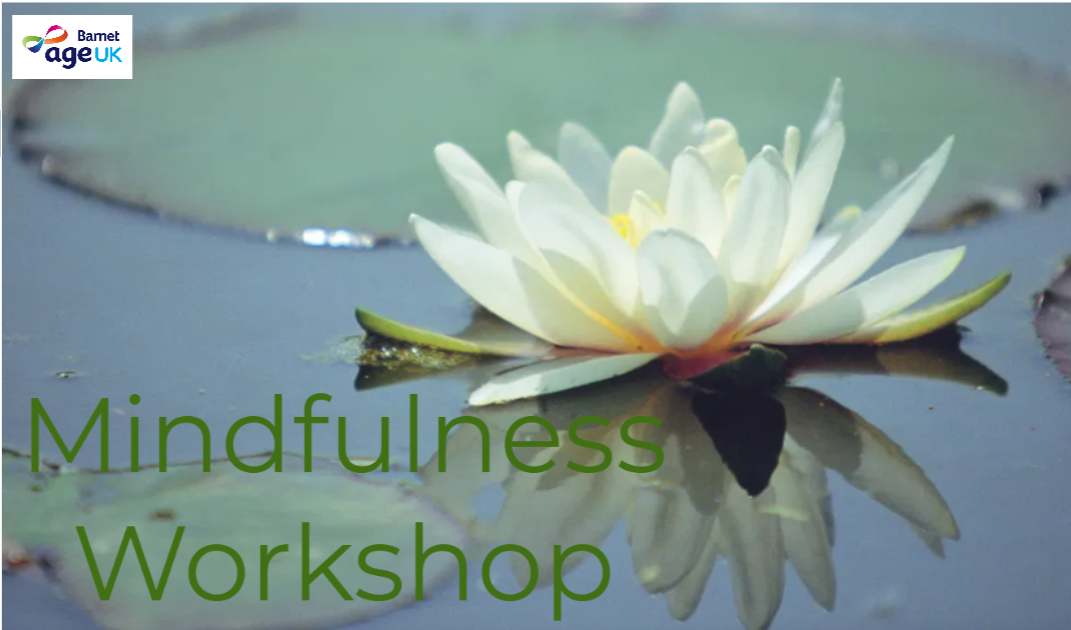 Mindfulness workshop - dealing with negative thoughts and emotions
We run regular mindfulness workshops throughout the year. For more information and to register an interest, please contact Fiona on fiona.cronin@ageukbarnet.org.uk or phone her on 07799 519314
Next session:
Monday 28 June 2021 - 2-3.30pm
PAST EVENTS
Talented young musician Joe Loveday performs some of your favourite Beatles tunes.
Wellbeing Q&A to mark Mental Health Awareness Week. Our trustee neuroscientist Catherine Loveday, Professor at University of Westminster, answers your questions on lockdown anxiety, sleep and why routine is so important in people with dementia.
A Musical Afternoon regular, Italian Tenor Yuri Sabatini's gives us a live performance, singing operatic arias, traditional songs and other popular tunes..