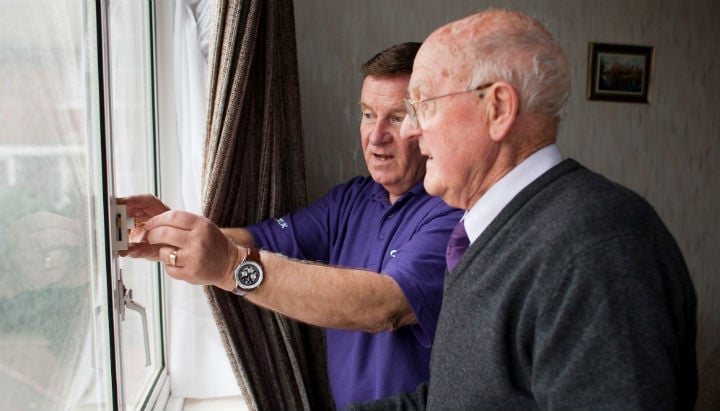 Our Handyperson Service provides practical help to over 55s so you can remain independent in your home.
The Handyperson Service is now running a normal service - we value the safety of all our clients and our handyperson team will be wearing PPE. We charge for all jobs, apart from replacing lightbulbs and changing batteries for smoke alarms.
What our Handyperson Service can help with:
replacing light bulbs
fitting security equipment such as door chains, locks and spyholes
installing smoke detectors and alarms
taking down and putting up curtains
installing key safes which have been purchased from Age UK
fitting grab rails
minor repairs to furniture and moving and assembling small items of furniture
unblocking sinks and replacing toilet seats
fitting draught proofing
We can't do jobs that require a qualified tradesman such as electrical, plumbing or central heating.
Please note that replacing light bulbs and changing batteries for smoke alarms will remain free.
Lightbulbs can be supplied and will be charged at cost price. All other materials must be supplied by the client.
We charge an hourly rate of £25 per hour and £15 per hour for those on the following means tested and disability benefits*.
Materials must be provided by the client and parking also needs to be available.
Payments can be made by cash, debit card or cheque and made payable to Age UK Barnet
Please contact us if you have any queries about the type of help we can provide.
Parking
Please ensure that the handyperson has a safe and secure place to park during his visit. If there are parking restrictions, then please provide the handyperson with a parking voucher.
For an appointment call 020 8150 0963. We are only taking calls between 10am and 1pm Monday to Friday. Please leave a message - and we will aim to get back to you the following day.
NB Barnet Homes clients can call 020 8080 6587 for repairs or emergency calls.
*Concessionary rate is charged for those in receipt of the following benefits:
Pension Credit Guaranteed
ESA Employment Support Allowance
Jobs seekers
Housing Benefit
Council Tax support
Universal Credit
If you are in receipt of the Higher Rate Attendance Allowance, Disability Living Allowance and Enhanced Personal Independence Payment and you have less than £5,000.00 you will also be eligible for the reduced charge.
Please note that we will need to see evidence of the benefit you are in receipt of. This can be shown to the handyperson during the visit or a copy posted in to The Handyperson Service, Age UK Barnet, Oak Lane, East Finchley N2 8LT or emailed to handyperson@ageukbarnet.org.uk
Do you need help around the home?
Call 020 8150 0963 or email handyperson@ageukbarnet.org.uk
Extended Handyperson Service
In order to encourage people outside Barnet to live safely and independently in their own homes we have extended the service to residents in some areas in Enfield and Haringey.
We will be charging £25 an hour for labour, but people can be reassured that all work will be carried out by a member of Age UK Barnet's trusted and vetted Handyperson Team.
Materials must be provided by the customer.
For an appointment please call 020 8150 0963 or email handyperson@ageukbarnet.org.uk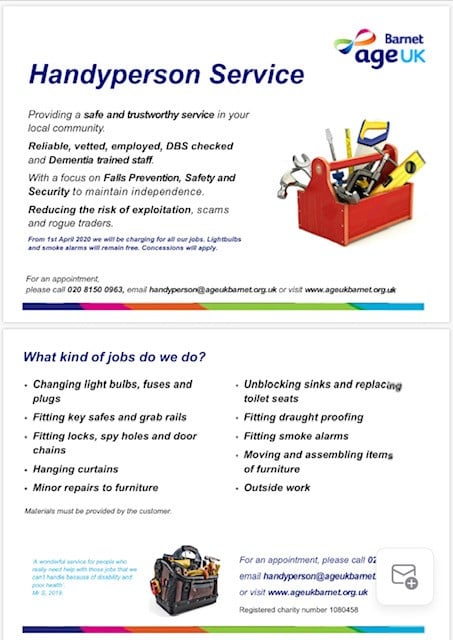 Further information
Related topics
Related links