TV chef Ainsley Harriott challenged our chefs to a cook-off
Published on 12 March 2018 10:30 AM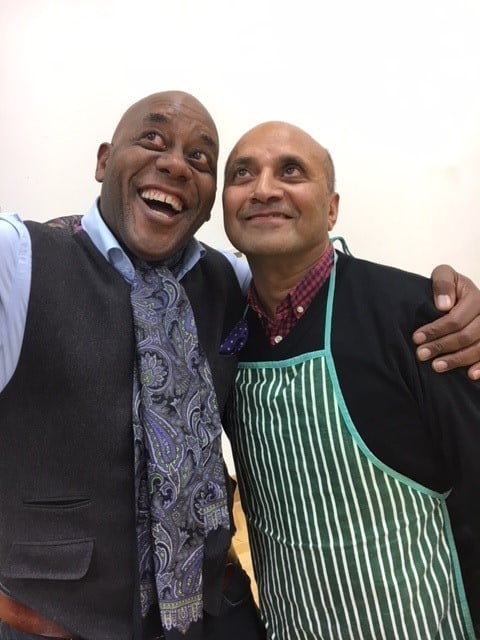 Six Age UK Barnet would-be chefs battled it out to be crowned Kitchen King or Kitchen Queen while Ainsley and our very own volunteer chef Graham judged their skills on BBC1's Holding Back the Years shown on Wednesday 14 March.
They took part in episode three of the series, which runs until Friday 23 March (9.15-10am).
Filming at Hartley Hall in Mill Hill earlier this year, Ainsley was keen to find out about our men's cookery and chatted to three participants from our men's cookery club – Eric Whittington, Kanti Mistry and Gino Mansi.
'It was a delight to meet these inspiring cooks and hear how some of them have grown from being nervous in the kitchen to confident cooks,' says Ainsley.
Ainsley challenged the three men to a Masterchef-style cooking contest with three women from Age UK Barnet's mixed cookery classes – Diane Fenton, Patricia Fairbrother and Helen Shore.
'Both teams picked ingredients from a table full of healthy produce bought by a nutritionist,' says Age UK Barnet's Karen Williamson. 'The idea was that they created a menu from their chosen ingredients, cooked them and then presented them to the three judges - Ainsley, the nutritionist and Age UK Barnet's volunteer chef Graham Clark.'
The women cooked a ratatouille starter, followed by chicken parcels with garlic and ginger and rice; the men cooked savoury pancakes with creamy mushrooms followed by meatballs and spaghetti.
So who won the battle - the Kings or the Queens. 'It got pretty competitive in the kitchen,' says Ainsley. 'I was so impressed by the standard of cooking all round. They were real pros, all of them.'
The six cooks thoroughly enjoyed the day filming with Ainsley.
'Ainsley has that ability to put you at ease and not talk down to you, even though he's pretty tall!!,' says Eric 'It also helped that he had a keen sense of humour. You quickly forgot about the cameras but learnt to keep a watchful eye on the sound boom.'
If you missed the programme, the episode will be available on BBC iplayer for a month.
Age UK Barnet runs cookery courses for over 55s around the borough. For more information, email Karen.williamson@ageukbarnet.org.uk or phone 020 8150 0967.
Holding back the years - BBC iplayer
The show is available on iplayer until 11 April 2018