Reaching out to the digitally excluded!
Published on 28 October 2020 01:45 PM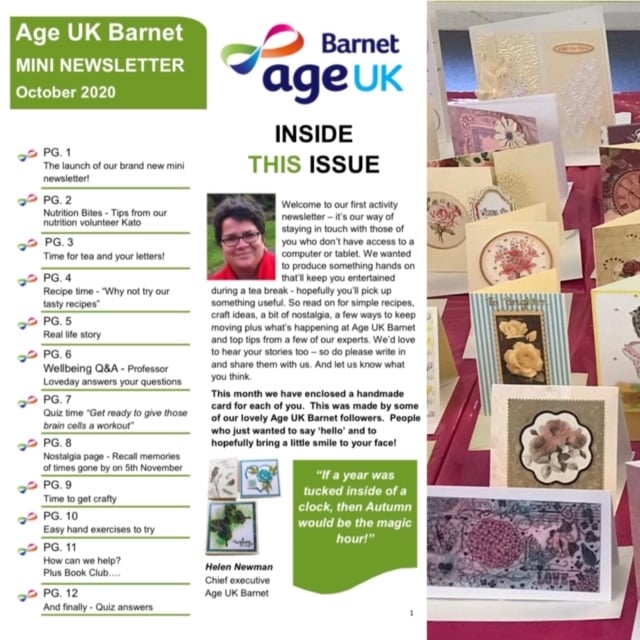 Our first mini magazine for older people who don't have access to a computer was a huge success and over 300 copies have been delivered to sheltered housing residents. The idea is to reach out to older people who are cut off from the online world and are particularly vulnerable to feeling lonely and isolated.
Now called Pigeon Post, the monthly mag will be full of craft ideas, nostalgia, real life stories, recipes and puzzles as well as useful local information and services and future issues will feature some of our readers' amazing stories. In this first issue, each recipient also received a fab handmade card (and sweet message) made by kind crafty individuals who wanted to reach out to our older friends.
'We've been so impressed by the number our clients who have mastered the technical challenges of Zoom and Skype, think nothing of taking an online course, searching for information online and staying connected to friends far and wide with regular virtual chats,' says our chief executive Helen Newman. 'But there's a large group of older people who don't have access to a computer or tablet, and keeping these people connected to what is out there is one of our main challenges for the year ahead.'
New project
Pigeon Post is an integral part of a new project funded by the London Community Response Fund which is about engagement with older people and local groups who are cut off from the online world. 'By forging links with small local groups, such as Covid Mutual Aid groups and faith groups, we aim to identify digitally excluded older people at most risk of increased isolation and lack of support,' says Helen. 'We hope to provide a central point of contact for small groups to raise concerns or information needs for those older people they are in contact with - and Pigeon Post will be one of the ways we aim to reach out and connect.'
We will also be distributing information guides and activity resource packs on everything from diet and exercise to falls prevention and benefits - everything people online can access easily - and we may also refer people to our other services such as befriending, our shopping service or handyperson service.
If you think an older person would like to receive our magazine and other resources or you're part of a community group that might like to get involved, please get in touch with Helen Nicolaou on 07384 466840 or helen.nicolaou@ageubarnet.org.uk