Jubilee Jamboree - Saturday 11 June (11am-4pm)
Published on 14 April 2022 09:51 AM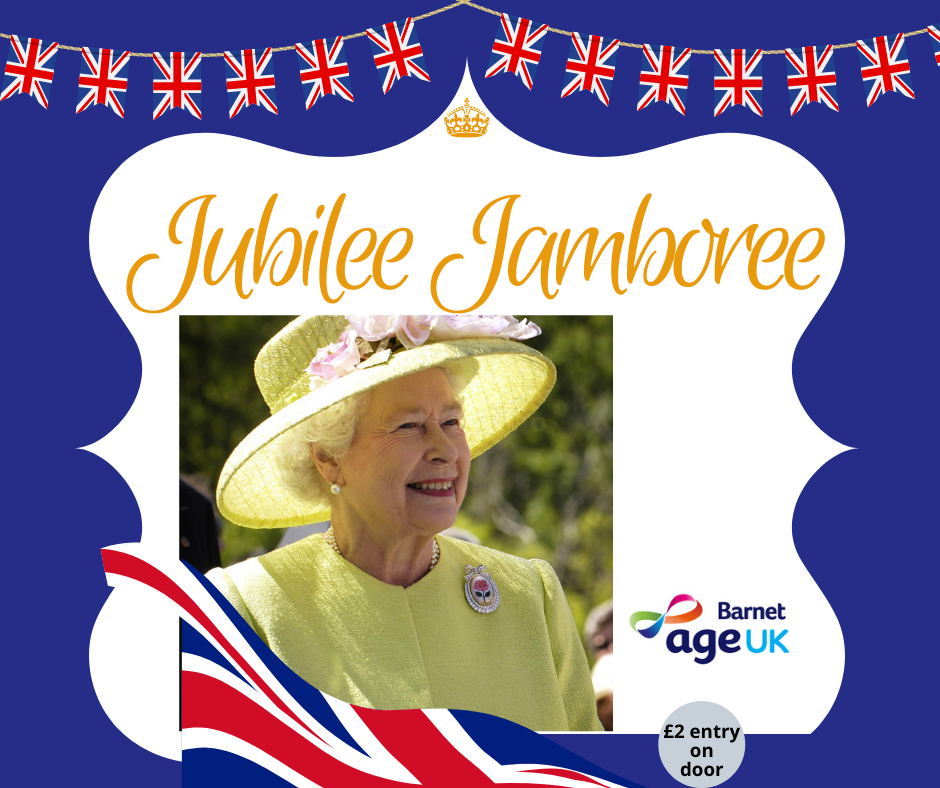 Join us for a Jubilee Jamboree on Saturday 11 June – a community event for young and old to celebrate the Queen's Platinum Jubilee.
There'll be live music all day plus activities, crafts, games and stalls as well as a lavish afternoon tea served served by volunteers and children from local schools.
'The Platinum Jubilee is an incredibly important event for our older friends, not only as it's part of our national history but because many have strong personal memories of the Coronation,' says Helen Newman, chief executive of Age UK Barnet. 'We hope this will be a fun filled intergenerational event for the whole community.'
Afternoon tea
If you or anyone you know would like to book a traditional afternoon tea, please contact Teresa on 020 8432 1421 or 07502 989403 or email teresa.gallagher@ageukbarnet.org.uk
Event details
Date: Saturday 11 June 2022 – 11am – 4pm
Venue: The Ann Owens Centre, Oak Lane, East Finchley N2 8LT
* Live music and entertainment
* Bar and food
*Afternoon tea
* Tombola and raffle
* Plant stall
* Craft activities and games for the whole family
* Make a crown competition
£2 entry (on the door).
Afternoon tea: £3 (prebook).
Mosaic unveiling by the new Mayor of Barnet - 1.30pm!!
We've been working hard over the last few months with local schools Martin and St John's to make two wonderful mosaics, which will not only commemorate the Queen's Platinum Jubilee, they will be a lasting symbol of a wonderful intergenerational partnership.
Raffle prizes!!
2 x 3 month memberships to The Muswell Hill Club (fitness and leisure) in Muswell Hill
1 x meal for 4 from our amazing chef who also runs Suppers by Sonali, which offers private catering
1 x meal for 2 at The Engine Rooms in East Finchley
1 x massage from Serene Wellness in East Finchley
1 x air fryer
1 x voucher for luxury candles or difusers from My Jack Harvey
1 x meal for 2 from Fees Feasts which offers home cooked fresh African Indian food
Sponsors
Thanks to our sponsors for donating funds and food to make this event possible!
John Lewis
Waitrose North Finchley
Waitrose Temple Fortune
Waitrose The Spires
Waitrose Whetstone
Home Instead