Dementia Action Week (17-23 May 2021)
Published on 20 April 2021 02:45 PM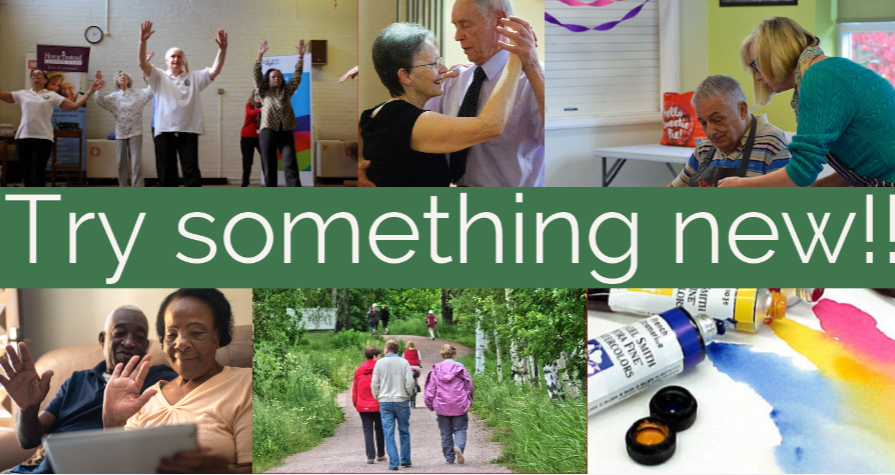 Research shows that 40% of dementia can be prevented and that once a diagnosis has been made, there's plenty we can do to hold back cognitive decline. As well as making some lifestyle changes, we are encouraging people to try something new this week. A
host of events and activities will be running throughout the week to give you a few ideas.
'Poor lifestyle habits in our mid-life can increase the risk of dementia, for example, lack of physical activity, smoking, poor eating habits,' says Barnet Council senior public health strategist Seher Kayikci. 'We also know that keeping your brain active and challenged throughout life may help reduce dementia risk.'
Challenging your brain and learning new things is an important way to protect yourself from cognitive decline, confirms Age UK Barnet trustee and neuroscientist Professor Catherine Loveday.
'Our brains are flexible and plastic which means that they have the ability to change and adapt as a result of experience,' says Catherine. 'So when we learn something new to us – how to paint or a language, for instance – it stimulates our brain by firing up different nerve cells and activating new pathways and circuits in the brain.'
So why not challenge your brain this week and do something you've never done before!
Virtual launch event - Monday 17 May 11am-12noon
Join us for a Q&A with neuroscientist Catherine Loveday on why it's never too late and never too early to protect yourself from dementia and memory loss.
Then you'll get a chance to sample a few of the fun activities for over 55s that'll be on offer throughout the week.
11am Welcome and Q&A with chief executive Helen Newman and Professor Catherine Loveday
11.15am Exercise with Wendy
11.25am Watercolour demo with Felix - grab a paintbrush and join in!
11.35am Cookery demo with Saj
11.45am Singalong with choirmaster Jenny La Touche
12 noon End of event - time to plan your week's activities!
Click here to book your free place for our online launch event.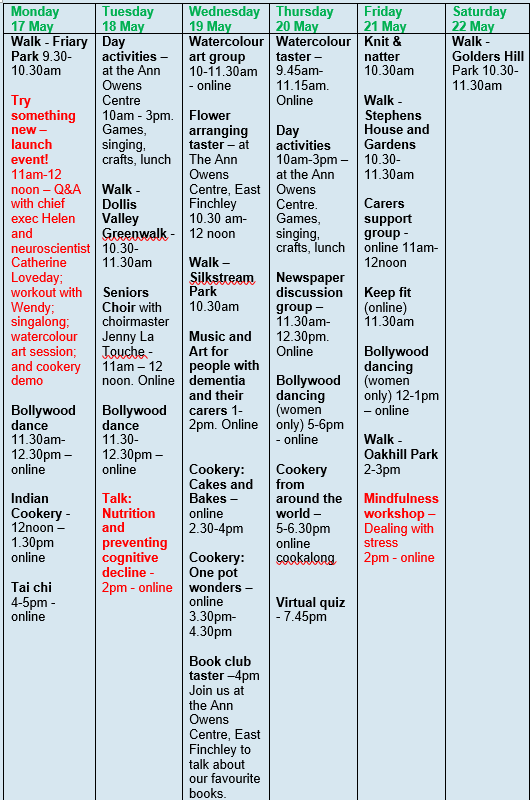 How to join in
For all walks and exercise classes, contact Wendy on wendy.nutman@ageukbarnet.org.uk
For art classes and knitting, contact Teresa on teresa.gallagher@ageukbarnet.org.uk
To sign up for our virtual quiz, contact Abbie on abbie.davies@ageukbarnet.org.uk
For everything else, including cookery, newspaper discussion and workshops, contact karen.williamson@ageukbarnet.org.uk
For activities run by Dementia Club UK, please click here.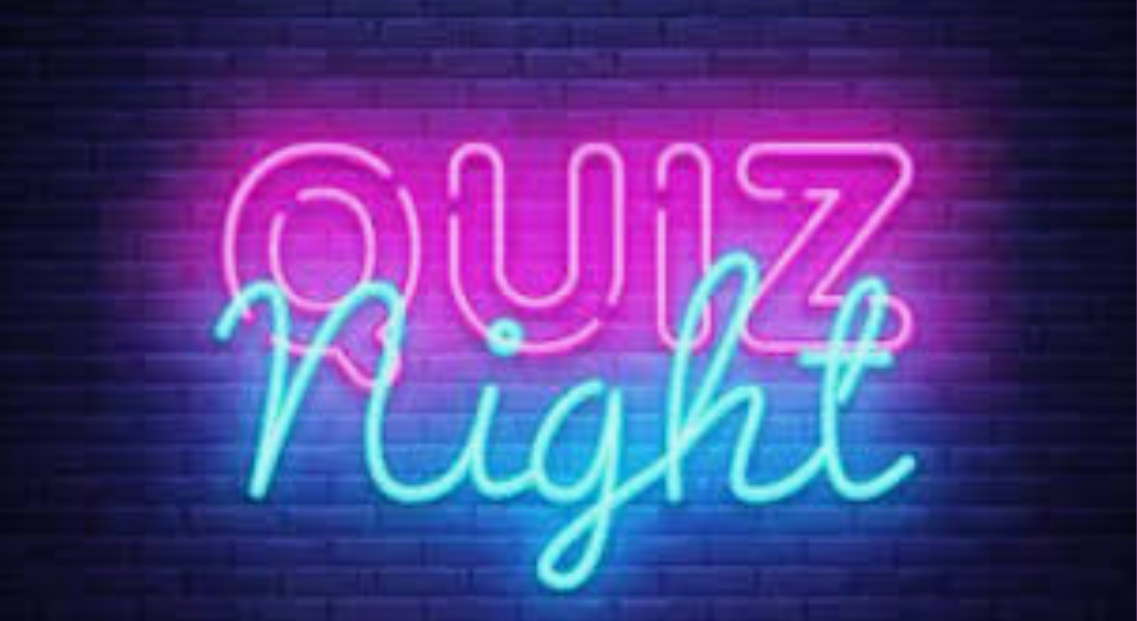 Join us for an evening of fun for our Dementia Awareness Week Virtual Quiz! This will be taking place on Thursday 20th May at 8pm via zoom.
Tickets are £5 per person and the money raised will help us to continue to support people in our local community.
To register individually or as a team (max 6 players per team) please
click here
.
We hope to see you there!
Memory Loss - Reducing Your Risk
Our guide offers science-backed lifestyle tips on keeping yourself cognitively healthy as well as information and resources for people over 55 in Barnet. Click on the cover below to see our guide electronically. For a physical copy, please email karen.williamson@ageukbarnet.org.uk