Play bridge to keep you sharp
Published on 11 July 2019 11:54 AM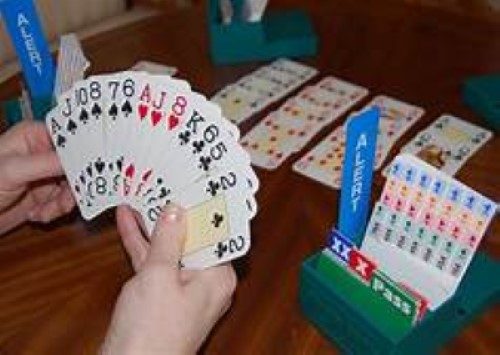 Whether you're already a bridge regular, or you're a bit rusty and want to pick it up again, there are so many reasons to play bridge.
'Playing bridge requires memory, visualising and sequencing so it's not surprising that countless studies have found that it can help us retain our mental sharpness as we get older,' says Ray who runs our Bridge clubs at the Ann Owens Centre and Wilmot Close.
'Scientists at University of Wisconsin-Madison found that playing games like bridge is linked with greater brain volume in areas associated with Alzheimer's disease,' says Ray. 'And those who played more frequently also scored higher on cognitive tests.'
University of California found that playing bridge can also stimulate the immune system and other researchers have found that people who play bridge are less likely to be depressed; hence they sleep better and tend to exercise more.
'If you need any more reasons to start playing bridge, it's sociable too and a great way to meet new people,' says Ray.
So why not pop along to one of our sessions.Come along to play bridge and have a cup of tea and biscuits with your fellow players.
For more details please call Ray Tiano on 07944 562 180 or email tianoraymond@gmail.com.
Bridge groups

Ann Owens Centre, Oak Lane, East Finchley N2 8LT

Cost: £3.00 Saturdays 1pm—4pm

Wilmot Close, Community Lounge, Tarling Road, East Finchley N2 8HP

Cost: £3.00 Thursdays 1pm—4pm