Crafty Fridays - exercise for the mind
Published on 23 July 2019 12:03 PM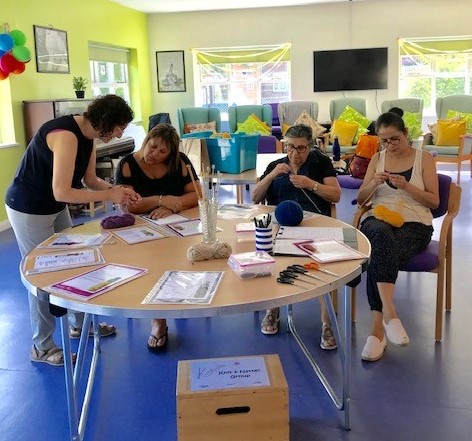 Want to unleash your creative side? You might want to check out our new over 55s craft sessions at our activity centre in East Finchley.
Whether you like painting and drawing, knitting or card making, there'll be something for you. And according to the latest research, it might even improve your memory and heart health.
'Fitness classes exercise the body but there's a lot of scientific evidence that crafting can exercise the mind,' says Teresa, who is running the sessions. 'According to the Mayo clinic, older people who engage in crafts are 30-50 per cent less likely to have a mild cognitive impairment.'
'Other studies have linked crafts such as knitting to lowered blood pressure, reduced risk of depression and improved wellbeing.'
'And a Harvard Medical School study found that knitting induces the relaxation response and lowers the heart rate by an average of 11 beats per minute.'
One thing is guaranteed – you'll have a lovely time making beautiful things with other crafty people.
'We've paints and pencils for the Art Class, craft materials for Card Making and wool for our Knit and Natter session,' says Teresa.
'Complete beginners are welcome and whether you want to make a birthday card or paint a still life, we can help you through your project. If you're a knitter, you can bring your own but maybe you could help us make little hats for the BigKnit?'
Crafty Fridays run every Friday from 10.30am – 12 noon at the Ann Owens Centre, Oak Lane N2 8LT. Sessions cost £1 and refreshments are included. Just turn up or contact Teresa.Gallagher@ageukbarnet.org.uk for more info.