Get scam aware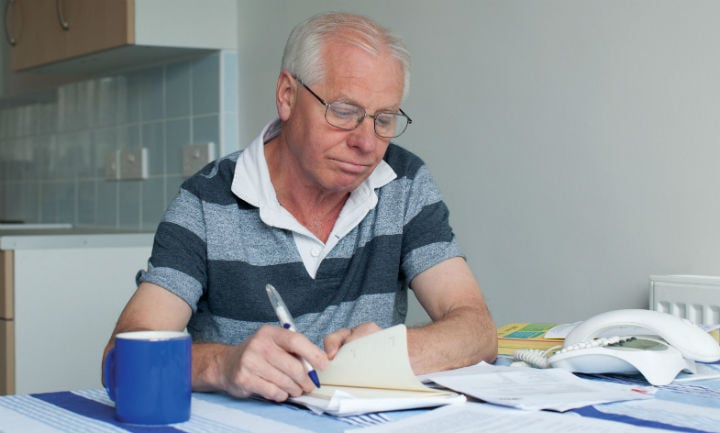 New service helps scam victims and keeps you informed of the latest scams
A new service has been launched by Age UK Barnet to tackle the rising problem of financial scams, which are most likely to target the over 55s. It is reported that financial abuse is the second most common form of abuse and it has been estimated that almost £10 billion is lost to personal fraud by over three million victims in the UK annually.
The new service offers support to individuals who are already a victim of a scam, or who may be at risk of being scammed. Once referred to Age UK Barnet's Scams Awareness Project Manager, we can offer support on a one to one basis. The service also raises awareness among relevant groups such as care home residents.
Scams are organised and run by criminals. Their aim is to try to trick victims into sending cash, transferring money or disclosing personal information. Their tactics are misleading, predatory, detrimental and fraudulent. Scammers are professional hoaxers, they are friendly, well spoken, know how to dazzle you and make you focus on prize. They refer you to what seems to be a legitimate website, offer false testimonial and give themselves important sounding titles. They use fictitious charities and distressing photographs in order to pull at your heartstrings.
This is organised crime.
Scammers operate by:
Looking at properties for signs of vulnerable people eg ramps, bars, property upkeep, disabled bays (all signs identifying vulnerability)
Targeting people with money worries, risk takers with get rich quick schemes, those affected by climate of austerity and/or changes in benefit entitlement, the chronically lonely.
Offering high value rewards.
Exploiting trust.
Pressurising with urgent and false timescales
Grooming by luring with enticing language
If you would like to make a referral or discuss any aspect of scams awareness, please contact Helen Nicolaou, scamsawareness@ageukbarnet.org.uk, telephone: 020 8432 1419
This project is funded by the City Bridge Trust, delivered by Age UK Barnet in partnership with Age UK and Action Fraud Economic Crime Victim Care Unit
How to reduce the risk of a scam
Dealing with scam calls
How do they get our number?
If you've ever bought anything from a catalogue, on line, in store or booked a holiday or bought/hired a car, then there is a footprint of data somewhere with your name on it. There are legal companies that harvest this information and others that buy it for legal marketing use - others for not so legal uses. You can go to 192.com and see if you are in there, but the fact is, it's easy for people to get hold of your details.
Can you trace a number that has called us?
The phones and numbers scammers use in an ongoing scam change constantly. They often use untraceable numbers from disposable mobile phones. Anything traceable such as a pop up office will generally find the user long gone. You can report your call to Action Fraud online www.actionfraud.com tel 0300 123 2010 - they collate and work to prevent scams.
Why does Barnet get so many scams?
There's a scam out there for every age and walk of life - from a young person buying their first car on line to the types of non automated call targetting older people who are put under pressure and more likely to come up with the money on the day. We also have a large pecentage of older people in Barnet. On a positive note, there is a good sense of community in the area so we talk and share these issues and are hopefully more aware.
We recommend the following steps to reduce the likelihood of you or a family member or neighbour falling victim to a financial scam.
Register with True Call, which blocks 98% of nuisance calls. www.truecall.co.uk, 08000 336 330.
Set up a password with utility companies, always use a door chain, genuine callers are always happy to rearrange.
Call 999 if you feel pressured/threatened at any time. If you think you may have been the victim of a scam, call 101.
Always choose reliable trade person via websites such as www.checkatrade.com, 03330146190 or Age UK London's Business Directory www.aubdlondon.co.uk 0800 334 5056.
To opt out from deliveries from other unaddressed mail distributors you may wish to register with the 'Your Choice' preference scheme run by the Direct Marketing Association. They can be contacted at: 'Your Choice' Preference Scheme, Direct Marketing Association (UK) Ltd, DMA House, 70 Margaret Street, London, W1W 8SS. Telephone: 0207 291 3300/Fax: 0207 323 4165/Email: yourchoice@dma.org.uk.
If you would like to stop any other unwanted communications please visit The Mailing Preference Service www.mpsonline.org.uk, which provides details on all other preference services, or call the Mailing Preference Service on 0845 703 4599.
The Fundraising Preference Service is a website-based service that can help members of the public control the communications they receive from charities. By registering your details with the Fundraising Preference Service you can choose to stop email, telephone calls, addressed post and/or text messages directed to you personally from a selected charity or charities. To find out more and register please visit www.public.fundraisingpreference.org.uk or call their helpline on 0300 3033 517.
Common scams
Lottery and prize draw. You are told you have won a large cash prize, but you need to send a fee to release it.
Clairvoyant scam. They go to a lot of trouble to wish you health, wealth and happiness. Form of blackmail, tell you bad luck will befall you.
Catalogue and brochure scams. Selling variety of products, beauty, vitamins etc. Promise a prize with orders, prize never appears. Products over priced, shoddy and you're often tied in to buying regularly.
Religious scams – prayers for you, ask for a fee, Lourdes-holy place
Fake bank/building society correspondence, mostly by email, asking for information and or cash
Debt recovery, claiming there is a debt against your name and court action imminent if you don't pay
Betting: selling information on sure winners.
Crisis collection (neighbour needs help, funeral costs)
Fake crowd funding
Blackmail/ransom (I know you've been doing so and so, will report you tell family etc)
Investments – wine,

shares.