TV can be a lifeline for older people.
When mobility issues mean you struggle to get out and about, TV helps you stay connected. When money is a constant worry, it's your way to escape. And when you spend your days alone, it gives you something to rely on, something to look forward to.
Right now, all that's under threat.
In 2015, the government quietly pushed the job of providing free TV licences to the BBC, with only limited public consultation and without the funding required to properly sustain the programme. Now, the BBC is considering removing the right to free TV licences for the over 75s.
Who loses out if free TV licences are scrapped?
"It's the most vulnerable people in our society who'll suffer," said Caroline Abrahams, Charity Director at Age UK. "Despite recent progress, there are still significant numbers of older people living on very low incomes who would genuinely struggle to pay the licence fee if required to do so."
New analysis shows that more than 50,000 UK pensioners could be pushed below the poverty line if the BBC goes ahead with proposals to scrap the free TV licence for the over 75s.[i]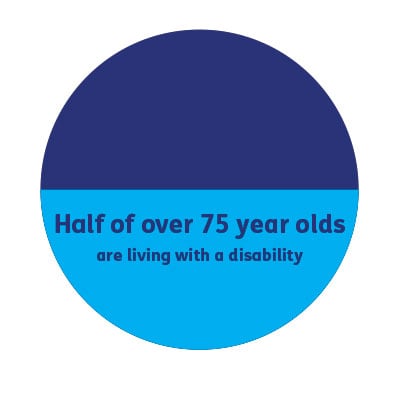 An additional bill of £150.50 – the current cost of an annual colour TV licence – will cause great worry and distress to hundreds of thousands of vulnerable pensioners who are already struggling to get by, potentially forcing them to cut back on other essentials such as heating and food in order to remain informed, entertained, stimulated and connected to the world beyond their doorstep.
Added to this, half of over 75s are living with a disability. Many of them rely on their TV for companionship and entertainment. And for those who don't have the internet – a considerable proportion of the oldest in our society – TV enables them stay up to date with what's happening in the world.
"Television is my saviour, especially on the days when my illnesses flares up and I have trouble walking or using my hands. To someone still able to work it may not seem like a lot but £150 is an enormous amount of what I get per year. I sighed with relief at 75 when I didn't have to pay for a TV licence anymore - this just feels like a real kick in the nether regions."
Sign the petition to save free TV
Together with organisations across the country, Age UK is petitioning the government to take back responsibility for providing free TV licences for over 75s. We need as many signatures as possible to make our case and show how important this issue is.
Worried about money or the impact losing your TV licence could have?
Call the Advice UK Advice Line free of charge on 0800 169 6565 or contact your local Age UK for advice.
[i] Age UK calculation based on data from the Family Resources Survey, January 2019 – the exact number is 51,041 adults aged 65 and older. This includes all people aged 65+ living in households with a person aged 75+ and which therefore currently qualify for a free TV licence.