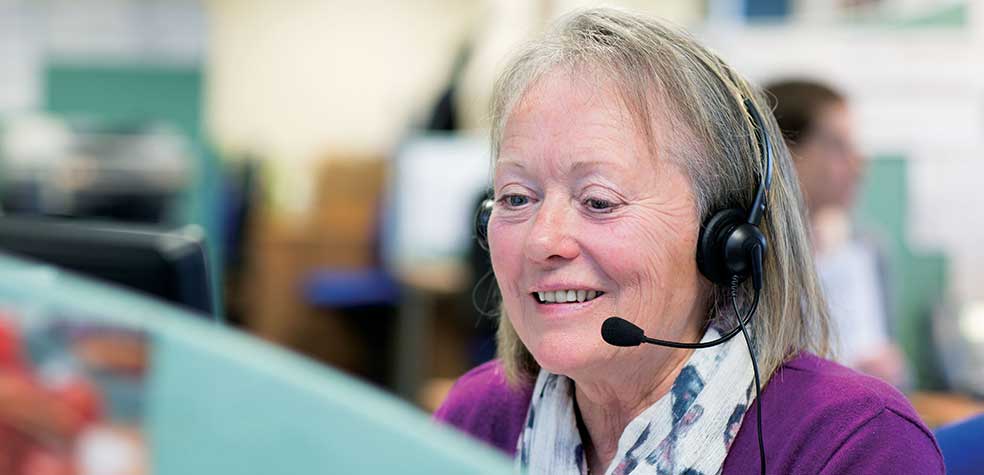 Age UK's Advice Line is a free, confidential national telephone service for older people, as well as their families, friends, carers and professionals. Our team will give you information that's reliable and up to date and help you access the advice you need.
Age UK Advice Line: 0800 678 1602
Lines are open 8am-7pm, 365 days a year.
Do you know what benefits to claim and how to claim them?
Worried that you can't afford to retire?
Anxious about a planned hospital stay and how to cope when you leave?
Need advice on choosing the right care home?
Free, independent advice 365 days a year
Lines are open 8am-7pm every day of the year, including all bank holidays, because we understand that it's important that we're here when people need us the most.
How the Advice Line helps
Listen to David giving an insight into his role.
How our advisers help older people
Our team are trained to identify the information that will best answer your questions. This might be by sending you our information guides or helping you to find local services run by Age UK in your area.
If we can't help, we'll direct you to the best place to go for further support and advice.
Our achievements (2021-22)
204,119

We answered 204,119 calls to the Age UK Advice Line
77%

We responded to 77% more written enquiries via post, email and webchat compared to last year.
Karen English, Age UK Contact Centre Advisor, talks about some of the ways her team support people in later life.
Home heating help
In winter, a lot of our calls are about broken boilers, people being cold, and people concerned about others being cold.
For example, a delivery driver called us the other day because the lady he was delivering to opened the door wearing a hat and coat. He said to her 'Sorry, I didn't realise you were going out.' But she said, 'No, I'm just cold, that's all'. He was very worried so he called the Age UK Advice Line, and we put him in touch with Age UK in the lady's local area, where she could get practical help.
We also get requests from Housing Associations, GPs, and individuals – a whole range of organisations. The most frequent call is 'my boiler's broken and I don't have money to fix it'. A lady this morning called to say that an energy company had quoted her £800 to fix a blockage in her radiators.
The company recommended she spoke to us and we referred her to her local Age UK, and sent out a factsheet on help with heating costs .
If you're feeling lonely
We do get calls from people who are lonely or tearful too. If you're feeling lonely or you need some practical help and support, we want you to know that you can call us. Although you might feel alone, you're not alone, and there are people out there who can help.
Haven't found what you're looking for?
Whatever time of day or night it is, if you're feeling lonely or need support, call The Silver Line Helpline on 0800 4 70 80 90. Lines are open 24 hours a day, 365 days a year.
Find out more about Age UK's Silver Line Helpline
If you're missing the joys of regular conversation and want a telephone friend, sign up to our Telephone Friendship Service.

We're here to help
We offer support through our free advice line on 0800 678 1602. Lines are open 8am-7pm, 365 days a year. We also have specialist advisers at over 120 local Age UKs.