Age UK needs your support, now more than ever
Now is a fantastic time to make a significant difference to the lives of people in later life who need us the most. If you can spare any time to volunteer in one of our retail shops, please get in touch!
Our shop volunteers are book collectors and fashion connoisseurs. They are listeners and friends.
They know that one person's unwanted clutter is another person's treasure.
As a volunteer, you'll serve customers, sort stock and make window displays. But the role is so much more than that.
Our shops are a local hub of activity. Older people visit to browse and chat when they have no one else to talk to at home.
And while all this is happening, you'll be helping Age UK raise vital funds to make the UK a better place to grow older.
Making friends
Learning new skills
Supporting a great cause at the heart of your community
Being part of a fantastic team
Agreed expenses
"It's important to reach out to those in the community that feel isolated"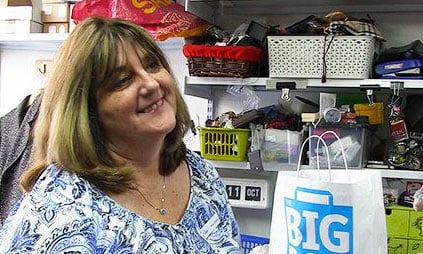 After moving back to the UK after many years living abroad, Cathy became an Age UK shop volunteer.
"Volunteering at my local Age UK shop was a fantastic way not only to find a social life for myself but also to give something back to the community."
She adds, "you're helping so many people. I find that we get a lot of people coming in who want that human contact they may not get at home."
"It's the people you meet out there on the shop floor that make it all worthwhile."