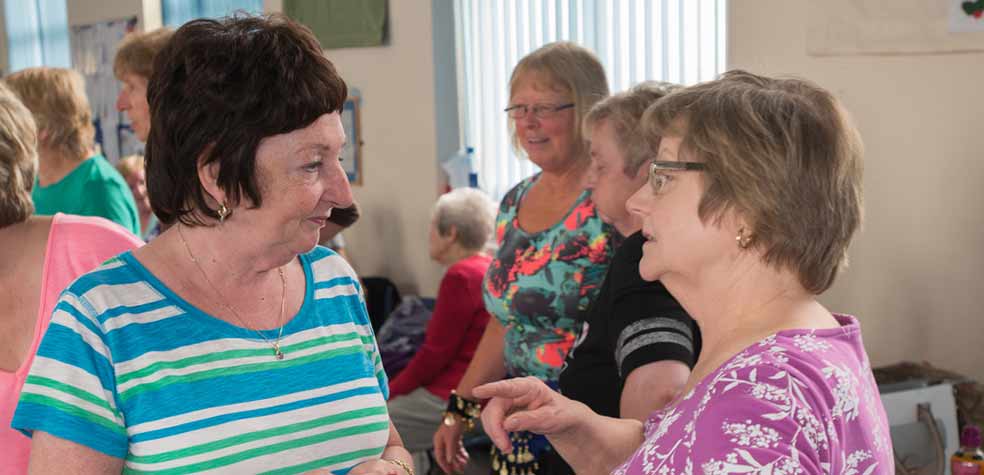 Our hugely popular day centres aim to improve the quality of life for older people by helping them to be independent and be with other people.
Some of these services may be impacted by the coronavirus. Contact your local Age UK for advice.
---
What can I expect from an Age UK day centre?
Age UK day centres provide older people with both practical assistance and a chance to socialise, with support from trained staff and volunteers. Our clients enjoy a wide variety of activities which include:
Singing and music
Quizzes
Gentle exercise
Arts and crafts
Day trips
Clients will also be served a hot lunch and refreshments throughout the day. Some of our day centres offer other services, such as mobile supermarkets, assisted bathing, hairdressing and foot care.
Please get in touch with your local day centre to find out about opening hours and prices.
---
How can older people join a day centre?
Older people can be referred to a day centre by a relative, their GP, or can self-refer. Those who are interested in attending the centre may be able to arrange a taster day.
Contact your nearest Age UK directly to make your application.
If you are successful, your assessment will help to determine your needs and a personalised plan for participating in activities.
Usually day centres will offer some assistance such as helping with medication, but mostly cater to those requiring a lower level of care.
They are unlikely to be able to support those with complex needs or who are in need of overnight care. Some Age UKs offer specialised dementia day care through our dementia services.
---
What does a typical day look like?
Every day at an Age UK day centre is different, but you can expect it to be like this:
A wheelchair-accessible minibus will come and pick you up from your house to take you to our day centre. Most Age UKs offer this optional transport service.
Settle into the centre over a cup of tea and a chat
Morning activities will begin
A freshly-prepared hot lunch will be served by our staff
More activities will be organised for after lunch
When the day is over, the minibus will drop you back at your house at an agreed time.
For more information call the Age UK Advice Line on 0800 678 1602.
We're open 8am to 7pm, every day of the year.