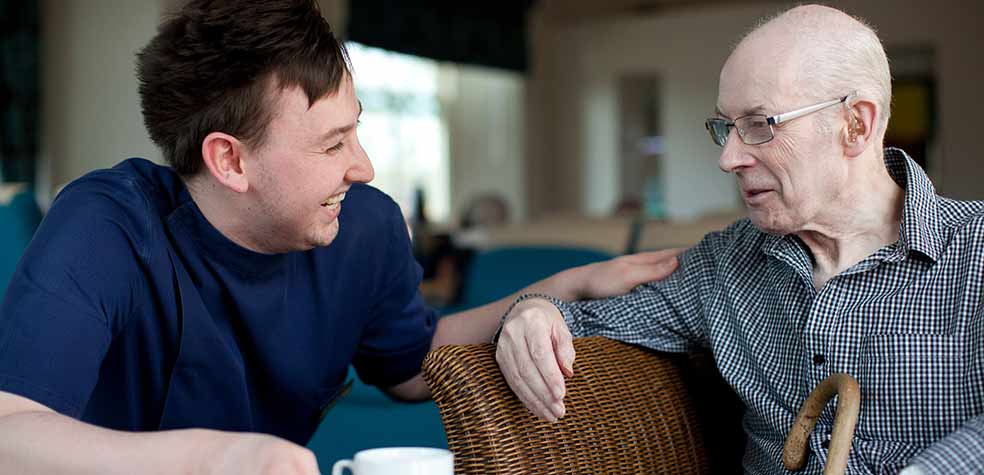 Over 850,000 people in the UK are living with dementia - that's one in six people over 80. We offer community-based support services for people living with dementia and their carers to improve their quality of life.
Some of these services may be impacted by the coronavirus. Contact your local Age UK for advice.
---
If you are living with dementia...
One-to-one support
Age UK can arrange visits to your home to help you to maintain your social contacts and pursue your hobbies and interests. In some areas, trained befrienders can provide regular friendly companionship for people with dementia.
Group support
We offer specialised day break services at our day centres for those with a diagnosis of dementia, which also gives carers an opportunity for respite.
Our staff are trained to make sure attendees are as safe and comfortable as possible and take into account individual needs and interests.
Activities at our dementia day centres are designed to be stimulating for the brain in a relaxed environment. There is usually an option to arrange transport to and from the venue.
Most of the other activities and classes run by local Age UKs are suitable for people with dementia, but if you are unsure it's best to speak to the class organiser before attending.
Some of our classes are specifically for people with dementia to help to improve their mood and memory, such as:
Singing for the brain
Dance for dementia
Art for dementia
Seated exercise
Memory cafes
Trips and outings
---
If you are a relative or carer of someone with dementia…
Our dementia advisors can support friends and family of those with dementia with information and advice about navigating local services and applying for benefits.
Call our advice line on 0800 678 1602 or speak to your local Age UK to organise an appointment.
For more information call the Age UK Advice Line on 0800 678 1602.
We're open 8am to 7pm, every day of the year.