Support your local Age UK
Volunteering - coronavirus outbreak
Our volunteering opportunities have altered as we look at the most effective ways to support older people. The best way to find a relevant volunteering opportunity for you is by completing our volunteering enquiry form.
---
What do local Age UK volunteers do?
More than 25,000 volunteers support over 130 local Age UKs to make every day a little brighter for older people.
From helping someone regain confidence after a fall to delivering meals for people with mobility issues, there are so many ways you can help in your local area.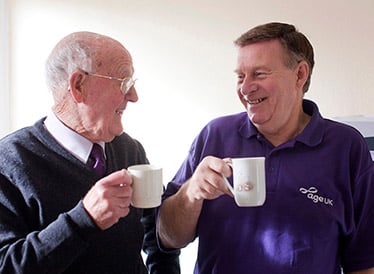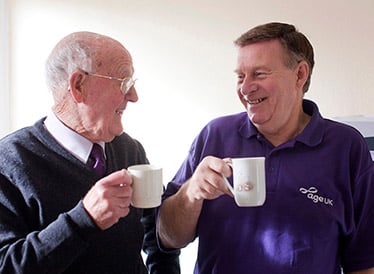 All of our local Age UKs need support with different services, but these are some of the ways you could help:
Befriend an older person.
Lead a fitness group.
Drive older people to the local activity they look forward to all week.
Cook lunch at an activity centre.
Support someone on their journey home from hospital.
Help an older person regain their confidence after a bereavement or fall.
Volunteering for older people
We also run programmes that encourage older and younger generations to spend time together as we know that intergenerational friendships are good for everyone.
This includes things like reading with primary school children and helping lead musical activities that help babies and toddlers learn.
If you're an older person looking to volunteer with one of these schemes, get in touch to see what might be in your area.
---
You could make a huge difference
Right now, more than 2.5 million older people have no one to turn to for help and support.
No one to ask for advice. No one to help in a crisis. No one to talk to when they're feeling desperately lonely.
By volunteering for your local Age UK, you'll be using your skills to make a difference to older people's lives in everything you do, from delivering hampers at Christmas to organising activities that bring generations together.
You'll learn new skills, meet new people, and forge amazing friendships.
Being a befriender
Deirdre decided to volunteer as a befriender with her local Age UK. Through this scheme, she met Martel.
"She is such a lovely lady with a wicked sense of humour" Deirdre says about Martel.
Find out what roles are available in your area
For more information call the Age UK Advice Line on 0800 169 65 65 (8am-7pm, 365 days a year).