The Alzheimer's Show took place at the Kensington Olympia on 7 and 8 June. Age UK was there to provide information and advice about later life and dementia, and find out what's happening in the world of Alzheimer's research and innovation.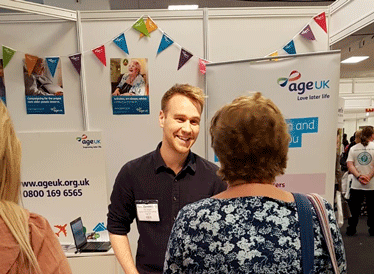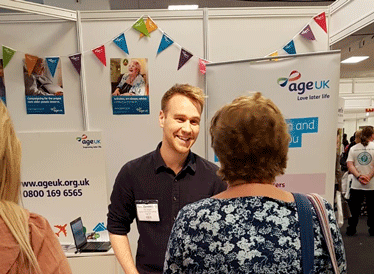 We spoke to a variety of people from lots of backgrounds, got a 4-minute taste of what it might be like to have dementia, and learnt some top tips for communicating with people with the condition.
Age UK at the Alzheimer's show
Tim Sheaff, our Senior Information Officer, was at the Age UK stall, along with an adviser from the Age UK Advice Line and a dementia specialist from Age UK Camden. Together they met more than 500 people across the 2 days who had a question or wanted to take an information guide to read at home.
"The guides are for people living with dementia, as well as their loved ones and carers," explains Tim. "They act as introductions to often complex topics, and people really benefit from having our specific dementia advice alongside our more general advice on things like benefits and legal matters."
He adds: "Our information and advice is important for those affected by dementia because it can be such a difficult time and people often don't know where to turn. We can point people in the right direction and help explain things without all the jargon.
"Our guides and advice line are not only there to help people, but to empower them to know their rights and know what help is out there if they need it."
Download our guides
Browse our list of information guides and download them to read at home.
Creativity and connection
A talk by the Alzheimer's Society showed that the part of the brain lost in dementia controls language, vocabulary, comprehension and formal speech production, whereas the parts of the brain that control rhythm and music are kept.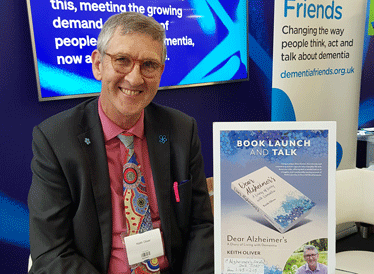 Keith Oliver was diagnosed with dementia at 55, and he told us that he felt Alzheimer's research should focus more on non-drug treatments, which includes therapeutic creative activities such as arts, singing and music.
"They give me a sense of purpose," he explains. "They help me engage with other people and deal with my frustration."
Art classes are another therapeutic activity for people with dementia, as they help people express themselves and connect with others. Artist Emma Christopherson and her grandmother, who has vascular dementia and Alzheimer's, regularly paint together.
"Painting with my Granny has definitely helped her self-esteem, which is sadly something that can be affected by dementia," says Emma. "Painting shows her in a very visual way that she is good at something."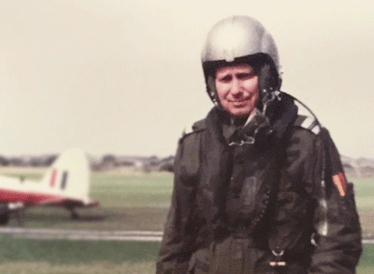 "Seeing her proud of what she is creating is the best feeling in the world."
Emma adds, "it's been amazing for our relationship too - we've created such lovely memories that I'll treasure forever. Painting together is always such a special and relaxing time for both of us."
We took part in a workshop that encouraged us to create anything that came into our heads, using a huge selection of pens, paper, glitter and stickers - it was a great way to unwind and focus on the task at hand.

Find activities like this at your local Age UK
Local Age UKs often run dementia day centres, singing groups and more.
Communicating with people with dementia
A talk called 'Top tips for communicating with people with dementia' offered these useful pointers:
It's important to give someone a choice, but too much choice may be overwhelming. So instead of asking "What do you want for dinner?" ask "Do you want sausages and mash or cottage pie for dinner?"
Don't let a misunderstanding or mistake end up being awkward for both of you - laugh it off together so the person understands it's not a big deal.
Try to think of some conversation starters that don't require recent memory. That could include past interests, or asking about photos and objects.
Body language is a huge part of how we communicate, so make sure you're considering yours. Make sure you're in the person's visual field and point at items you're talking about to make everything as clear as possible.
Experiencing what it might be like to have dementia
A virtual reality experience at the show demonstrated what it's like to have dementia, and highlighted how many symptoms of the condition aren't widely discussed.
These included:
visual impairments - we had to put on dark glasses smeared with petroleum jelly
hearing impairments - we had headphones on that amplified all background noise
pain - we had to put spiky inserts into our shoes that felt like constant pins and needles
lack of mobility - we had to put 2 pairs of gloves on our hands that made it hard to use our fine motor skills.
Overall, it was a complete sensory overload, and the experience highlighted just how important it is to give people with dementia time and space to make decisions and process what's going on around them.
"If you or a loved one has recently been diagnosed with dementia, or dementia has been a part of your life for some time, we're here to help," says Tim, our Senior Information Officer. "Give us a call on 0800 678 1602 - our friendly advisers are ready to listen, every day of the year. They're there to help when you need them most."
Do you have dementia or care for someone who does?
We've got lots of online advice and support to help you through this difficult time.