Lockdown has restricted where we can go and what we can do. This has been particularly difficult for those already living lonely lives or providing care for a partner or family member. Thankfully some services have been adapted to suit time at home, providing opportunities to learn and socialise for those choosing to stay indoors, despite lockdown easing.
These older writers in Manchester, for example, were quick to move their weekly meet ups online and share the results of their tasks with each other. But what of those who prefer the visual to the written word? How can older people stay engaged, whatever their level of ability, and converse while being creative?
Before lockdown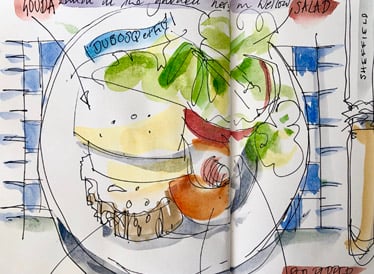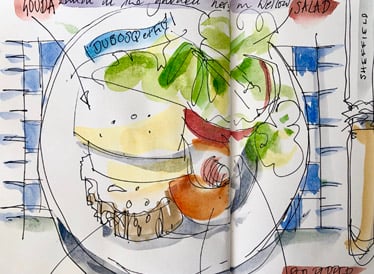 That's where Wellow Art Academy comes in. Situated near Yarmouth, in the west of the Isle of Wight, the academy is run by Julie Sajous, who has been teaching since 1991. About 6 years ago, a local lady approached Julie wanting to learn how to paint the sea. The lady and her friend ended up becoming Julie's first students here, but they certainly weren't the last. Earlier this year there were 30 people coming for regular lessons, in groups of 6-7, hosted in a renovated 1980s mobile home overlooking the garden. "After the death of her second husband, my mother learned a lot of woodwork so she did all the carpentry for the studio. She was up ladders and fixing windows, despite being 76 at the time."
"The classes had grown quickly and we were in a really nice place with it," says Julie of life before lockdown. "It was the chance for people to step out of their lives for a couple of hours. It's a shame we had to shut the doors, but necessary."
An important function
Despite being understandably disheartened about not being able to teach, Julie knew there was another, more important reason to find a new way to reach her students. "I was conscious that many people around me were very scared about what was going on," she explains. "Older people, in particular, felt they were going to be locked away, so I knew I had to find a way to bring what we'd been doing back into their lives as a normalising factor. It took me about 10 days to get in touch and tell them I'd be re-launching."
Teaching using technology
With some help from her son, Julie set up recorded art lessons that gave people the opportunity to work at their own pace, with a 95% take up from her original students – the majority of which are aged 55+. "It's a great way to do things because it allows people to speak to one another and feel like they're still part of a group."
Other, new people have got involved too, including Julie's mum, who is now 84. "It's been really interesting working with her because she's helped me to gauge older peoples' understanding of accessing software like Zoom, which the group uses for weekly catch ups, and how to get the most out of our website. There's a forum and a Facebook page for people to share their works after the classes. My son assists with any tech queries people have."
"The over-65s are the most likely to give up because they don't think they're good enough, which is a great pity. I therefore try to remind people that it's about enjoying the moment. That can be actually be a bigger education piece than putting the pen or paintbrush on the paper."
Hobbies and pastimes
Certain interests and activities have a special place in our hearts and bring us great enjoyment. Perhaps gardening is your thing? Maybe you enjoy cooking up a storm?
Keeping in touch using a video call
Video calls allow us to in touch with family, friends and other loved ones, which makes us feel connected and aids feelings of loneliness.
A positive outcome
"It wasn't so much about doing something glossy and producing wonderful art," says Julie of the overall aims of these online classes. "It was giving people something to do that's mindful, a distraction, and fun. I encouraged students to use small sketchbooks – something portable they could look back on. I drove over to see some of the people recently, ladies who are in their sixties, and all of them had these little black books with them, which they flicked through and were full of sketches."
Julie recently featured a special figure drawing lesson made especially for the project by painter and lecturer Sara Hayward and hopes this will mark the start of many more guest artist visits. "I realise we'd created what I set out to," concludes Julie. "A way to record positive memories of weird times. These classes keep us all together and keep us sane."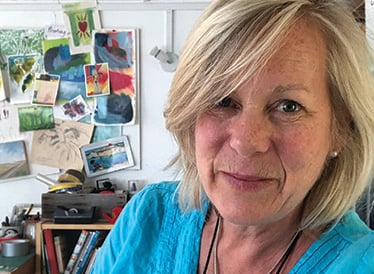 Wellow Art Academy
Julie is a practicing artist and teacher with 30 years experience. Her lessons are specially devised to cater to all levels of ability.