We received a call the other day from a lady who had just had her first friendship call, saying that she now felt so much more positive about the future.
You can't underestimate the difference the Telephone Friendship Service makes. The feeling it gives older people to know that somebody is there taking an interest, asking questions, and sharing laughs provides a source of comfort and confidence.
Volunteer as a telephone friend
Do you have 30 minutes each week to help a lonely older person? Volunteer with our Telephone Friendship Service and get to know a new friend.
The challenge we're facing
We used to be really oversubscribed with volunteers for the service, to the point that we'd only open our volunteer opportunities for set periods. We were absolutely overwhelmed in 2020 during the COVID-19 pandemic with people who wanted to volunteer, resulting in us having to close applications for most of last year to manage the backlog of volunteers. When we opened applications again this year, we expected the same, but it just hasn't happened.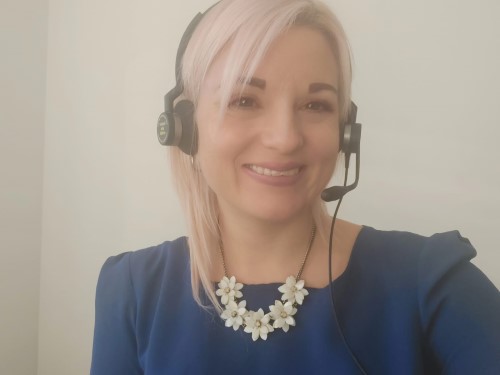 We used to get thousands of applications a month, now we're getting a couple of hundred. This includes a lot of people who sign up and don't see the process through to the end, so we need far more people to apply to ensure we have enough people translating into volunteers. We don't know exactly why the number of applicants is down so dramatically. Perhaps people have found other opportunities, or don't feel they have the capacity to help someone else because of their own mental health. Whatever the reason for this shortfall, it's resulted in there being more than 1,000 older people waiting for a friend now that we don't have volunteers to match with.
Currently, those older people waiting to be matched with a telephone friend are receiving short calls from Age UK staff, but we want them to have a permanent friend, and those calls take up resources that we could be using to try and get more older people onto the service. Most of the sign-up process is done online and is really quick and easy. If your application is completed promptly and efficiently, providing your two references as quickly after we request them as possible, you could be matched with a friend within a matter of weeks.
Remembering Roy
Ruth pays tribute to Roy, her telephone friend and a much-loved Age UK storyteller, whose honesty about the issues affecting older people captured the heart of the nation.
Who we're looking for
The key thing is that we're looking for people who are reliable, not just in completing the application, but in committing to 30-minute calls with an older person at the same time each week, for a minimum of a year. It's important, too, that if there's any reason a telephone friend is unable to do their call on a particular week, that they tell us as early as possible, because we know how much older people using the service can rely on that regular contact.
For that reason, we're looking for people who are friendly and chatty, and who can show kindness and empathy, because many of the older people using the service are very lonely, with some feeling they have nothing of value to add, so they've lost their confidence. Given how vulnerable some of these older people are, we also ask that volunteers are respectful of the rules we have in place, which includes not meeting in-person or exchanging personal details.
Rewarding for all involved
I know how rewarding being a befriender can be. For six-and-a-half years I enjoyed weekly calls with Roy, a much-loved Age UK storyteller. Sadly, Roy died earlier this year. He would enthusiastically talk about how his life had been transformed. That's what the service has done for so many older people, and will continue to do, but we need to ensure we have sufficient volunteers to be able to help as many older people as possible. Help us to make a difference.
Want to make a difference?
By volunteering with us, you will be giving companionship to an older person and helping make a real difference for Age UK.