Volunteer with Silver Connects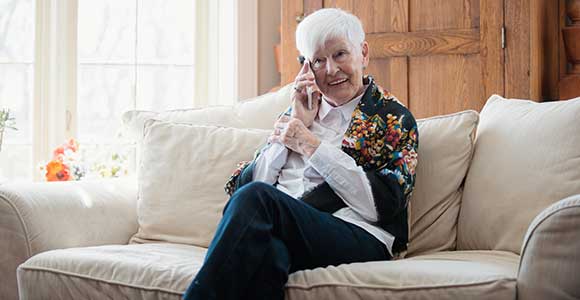 Can you empathise and listen to older people, be assertive and articulate talking to third parties on their behalf, and commit to at least 10 hours a month for at least a year? If so, you could play an important role as a volunteer with our Silver Connects service.
Silver Connects is a free national service, delivered by volunteers, which provides older people with support over the phone to help them gain access to the services and activities that could benefit them.
Older people are referred into the service by the Age UK Advice Line or The Silver Line Helpline, when they need support and encouragement to act on the advice they have been given, or to make local connections that can reduce loneliness and isolation.
---
What might I do as a volunteer?
As a Silver Connects volunteer, you might:
encourage an older person to meet other people and be less lonely, by finding out about social activities, making the connections, and checking with them that all has gone well
ensure an older person with mobility problems can benefit from a day centre or lunch club by organising transport for them
help an older person find a gardener or handyperson so they can maintain their home
research options for care at home for someone who is starting to need some extra help
make a call on an older person's behalf to sort out a problem, when they don't feel confident to do so themselves
link an older person to their local Age UK and the support that they and others offer.
---
What's great about becoming a Silver Connects volunteer?
You'll be using your skills to make a practical, and measurable, impact on older people's lives, improving their happiness and wellbeing.
You can help older people all over the country from your own home.
You'll be part of a friendly and supportive team.
You'll be fully trained, and get ongoing support from our Volunteer Coordinators.
You'll have a regular opportunity to share your experiences with our other volunteers, so you can learn from them and them from you.
You'll have the opportunity to enhance your skills, and learn new ones.
We protect the safety of all volunteers by using a virtual call centre, so that you don't need to use your personal telephone number.
You sign up and start your volunteer application online, explaining your skills and experience and why you want to be a Silver Connects volunteer.
To confirm that your skills and experience match what the service needs, we'll invite you to an interview (by phone, or by Zoom or Teams) and ask for references.
We'll help you with the process of doing an Enhanced DBS check (Disclosure and Barring Service), to meet our safeguarding requirements.
While that is happening, you'll start your training, so that when the checks are complete, you'll be ready to start helping your first older person.
Apply now
If you're interested in becoming a Silver Connects volunteer, please fill out our application form.
You'll be able to listen to older people with respect, patience, empathy and understanding, help them clarify what they want to achieve, and support them in achieving that. You'll need to be assertive in dealing with third parties, be tenacious in finding solutions, and be able to work within professional boundaries.
You'll have an understanding of the challenges faced by older people, and ideally you'll be aware of the types of services, activities and support that can help overcome these challenges. See the full role profile.
You may well have experience of working in, or supporting an older relative with, social services or health services.
You will be able to commit to volunteering for at least 10 hours a month, and for at least a year. Because the role involves making contact with other organisations, at least some of these hours should be during the normal working day.
You will need to be able to abide by our data protection, safeguarding and other policies (you will receive thorough training on these).
You will need to have a computer and an internet connection, as well as a telephone (mobile or landline), and have basic digital skills.
You'll be happy to agree to our volunteer terms and conditions.
---
Frequently asked questions
What training do I need?

You will provided with approximately nine hours of spread out training, both online and over the phone. You will also be given the chance to practise your skills, in your own time and until you are comfortable, before helping your first older person.
Why do I need an enhanced DBS check?

The enhanced check reflects how important we think our work is and the need to recruit volunteers whom we can trust with sensitive information.
What do I do if I am worried about the older person I am supporting?

This will be covered in your training, but there will always be someone you can pass on your concerns too.
How is my telephone number kept anonymous?

The charity uses a call handling service so that when you call an older person, the number they see is an 0800 number. If someone tried to call you back, their message would be taken by a central messaging point and never your own phone.
How long will it be before I am calling my first older person?

Once your training is complete and we receive your DBS certificate, we will need to set you up, to give you access to our recording and telephone systems. This is likely to take a month or more.
I want to find out more before applying – who can I contact?

Contact us at connects@ageuk.org.uk – we can answer questions by email, or arrange a phone call to talk through them with you.