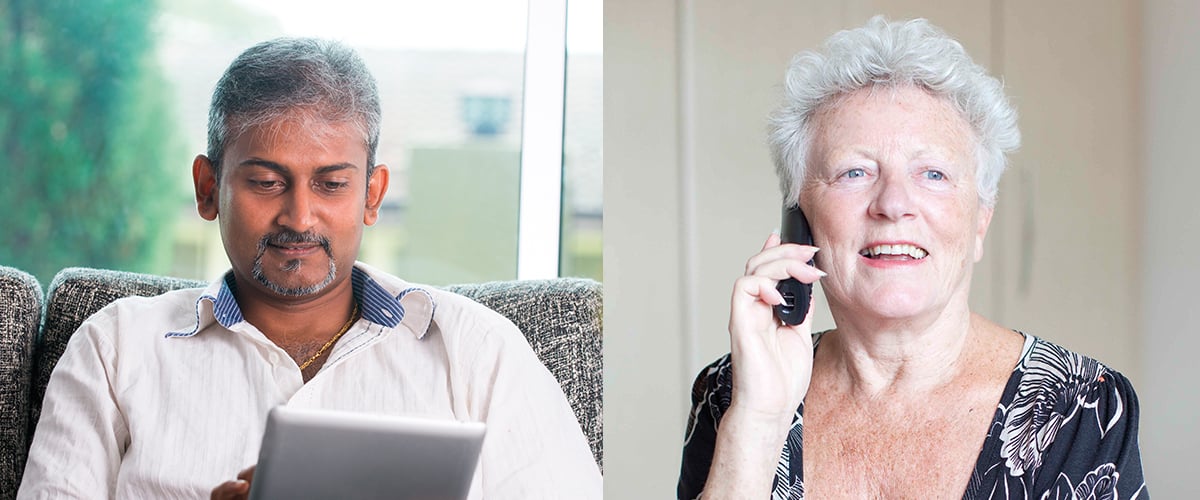 The Your Voice Engagement Panel is run by Age UK. It gives older people the opportunity to join in and make their views count.
We ask that you share your views with us via approximately four different surveys during a year. You can take part at home, online or via telephone or by post. We may use findings when, for example, influencing MPs or industry, or in reports as part of our publicity and campaigns.
We're not currently recruiting for members to join our Your Voice panel. Please check back again for future opportunities.
---
Frequently asked questions
Who can get involved?

Age UK wants to hear from diverse voices across England. We want to include people aged 50+ and for the panel to reflect:

a range of ages
a mixture of life experiences
different backgrounds
various communities
people in retirement and people who are working
varied interests.

Your views are important to Age UK and we invite you to join in.
Why should I get involved?

The Panel offers you the opportunity to:

put forward your individual view
be an 'agent for change' by participating
join in for free – it's not time-consuming
be heard and have your say on issues important to you
take part at home – there is no need to travel.
How long do surveys take?

Each survey should take no more than 20 minutes to complete.
Will it cost to take part?

If you choose to take part, there would be no cost to you and face-to-face meetings will not be required.

If your preference is to participate by telephone, we will call you. If by post, we will provide you with a freepost addressed envelope to return completed surveys.
How will you use the information I provide?

The purpose of the panel is to get your views and thoughts on a particular issue and you can have confidence that Age UK will not use the information you provide during the panel surveys to contact you about our other services and products.

The information that you share with us is used for research purposes and the findings may be used as part of the evidence we present when influencing MPs or industry, in reports and as part of our publicity and campaigns work. Any findings published will be anonymised and not used in a manner which could identify you. Age UK will respect your privacy at all times.

Age UK adheres to the Data Protection Act (2018) and The General Data Protection Regulation (GDPR) (2018); any information provided will be treated with respect, stored securely and used for the purposes of processing your responses to Your Voice surveys. To help Age UK run the panel and process panel data we will continue to use the services of our two trusted market research agencies, Prevision Research Limited and Kaleidoscope Research.
Are there other engagement opportunities I can join?

You will be offered the opportunity to find out more about or opt in to other national engagement opportunities with Age UK. These could include:

engagement one-day events
joining our Engagement Consultative Network
face-to-face focus groups
engagement workshops to design a new project
joining our sounding boards.
How can I leave the panel?

Any participant is free to leave the panel at any point - we just ask that you let us know. You can email yourvoice@ageuk.org.uk or call our main enquiry line on 0800 169 8787 (Monday to Friday, 8.30am to 5.30pm)
Why do you only cover England?

Age UK, is England's largest charity dedicated to helping everyone make the most of later life. Our vision is to make the UK a great place to grow older.

Our National Partners include Age NI, Age Cymru and Age Scotland. You can also find out more about Age International here.
---
How can I contact Your Voice?
If you have any further questions about Age UK's Your Voice Engagement Panel please email yourvoice@ageuk.org.uk or call our main enquiry line on 0800 169 8787 (Monday to Friday, 8.30am to 5.30pm).