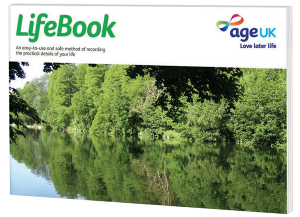 The LifeBook is a free booklet where you write important and useful information about your life, from who insures your car to where you put the TV licence.
Sometimes it's easy to mislay important documents and information, so we developed the LifeBook to help you find exactly what you need without searching.
---
Why should I complete it?
The LifeBook will not only help you to be more organised, but could also be invaluable to a family member or a friend if they need to find important information about you in an emergency.
Follow the step-by-step instructions to fill in the various sections with your details, contacts and locations of important documents. You don't have to do it all at once - just complete it at your own pace.
The LifeBook is available in a booklet or we can email you a copy to complete and store on your computer.
---
How do I order a copy of LifeBook?
There are 3 ways to get hold of a Lifebook
Call 0345 685 1061, quoting ALL 721
For more information call Age UK on 0800 169 8787.
We're open Monday to Friday, 9am to 5pm.
Age UK is a registered trademark. The use of the name and logo Age UK is done so under licence agreement between Age UK and Age UK Enterprises Limited.
Age UK Enterprises Limited is registered in England and Wales number 3156159. Age UK Enterprises Limited registered address: Tavis House 1-6 Tavistock Square, London WC1H 9NA.
LB1235V6OCT15