Meet Nic from the Age UK Advice Line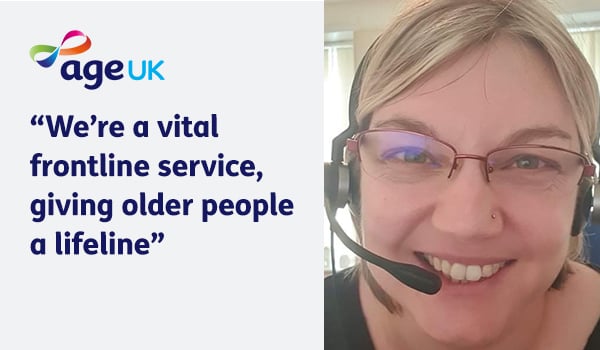 Nic works on the Age UK Advice Line, answering calls from older people, their families and friends, and working to support them.
Here, she tells us what it's like being on the frontline of Age UK's services.
What made you want to join the Advice Line?
"I've got a background working in home care with older people. So when I saw the advert 3 years ago, I thought I would really relish helping advise and guide people, and being that little lifeline to so many of our most vulnerable need."
Tell us about the kinds of people who call the Advice Line.
"We're often the first port of call for people. Some of our callers have never been in touch with us previously, so our job is to be calm and helpful to see where we can help."
Why do you think it's important that people support the Advice Line?
"We're a vital frontline service, giving older people a lifeline to get the support they need, either from local services or our specialist advice team. Throughout the pandemic, people have turned to us for help where a lot of other helplines struggled." 
What does being part of Age UK mean to you?
"Age UK means supporting older people and their families to find the right kind of help and support through tough times. It means understanding the needs of older people and giving them a voice. It's hearing the appreciation and joy from older people when you can help. It's giving people hope. It's making a difference."