We support the Age UK network

We help the network to offer vital community support by providing unrestricted income, helping it raise money, and working together to improve quality.
About the Age UK network
The Age UK network includes Age UK, together with our national (Age Scotland, Age Cymru and Age NI), and local partners (local Age UKs). Our partnership delivers over 2,000 services to millions of older people each year - from day care to fitness classes. Our partners do this with a collective total income that far exceeds Age UK's at around £200 million. They are best placed to understand and respond to the needs of older people, and give a voice to older people, by advocating and campaigning on local issues.
How we spend our money
We spent £21.5 million in 2016/17
We help the Age UK network to raise money and improve the effectiveness and quality of their organisations and the services they provide. Other support includes help with mergers and collaborations, governance, marketing, fundraising, digital and human resources. We also give unrestricted funding to our partners to support their organisations and meet local needs.
Local Age UK income
In 2016/17, local Age UKs in England received £19.8 million from Age UK, £11.3 million of which was earned by them through the sale of Age UK Trading CIC's products and services. Our national partners received £1.6 million. These totals include grant funding for service delivery and development.
Helping to sustain the Age UK network
We've worked to ensure that the Age UK network remains sustainable in a difficult funding environment, supporting our partners to increase income and reduce costs. We've also focused on ensuring all our partners are effective and delivering high quality services.
Supporting income generation
Increasingly, our work to help local Age UKs to generate income and diversify their income sources is through help with tenders, often involving multiple organisations. For example, in Kent we have been working with 14 local Age UKs to help them prepare a tender worth over £4 million that will transform older people's wellbeing services in the county.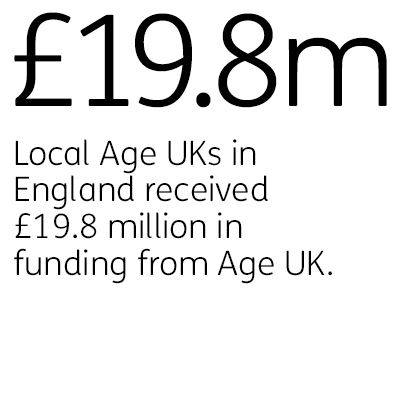 Improving quality and effectiveness
During 2016/17, we have prioritised supporting our partners' governance, particularly financial management. We've introduced new communication channels to share best practice and guidance with local Age UK trustees; delivered financial governance training; and introduced an annual financial management conference.
In June 2016, we launched a programme to support Age UKs whose services are registered with the Care Quality Commission (CQC). It supports our local partners to meet the CQC's regulations and to ensure that services are delivered to a high standard.
Annual report
For more information about our work, download Age UK's Report of Trustees and Annual Accounts for 2016/17.