We deliver and transform health and care

We put people in control of the care they receive, while sharing best practice to improve services.
How we spend our money
We spent £5.8 million in 2016/17
We work with local Age UKs, NHS Trusts, Clinical Commissioning Groups, local authorities and voluntary organisations to test innovative new services. We focus on the seamless integration between health and care in a person-centred way. We fund some local Age UKs through restricted grants. We also deliver Experts by Experience for the Care Quality Commission, helping to bring the insights of people who use services to inspections.
Expanding Person-Centred Integrated Care
We designed our Person-Centred Integrated Care programme to support older people with multiple long-term conditions to live healthier, happier lives. We are continuing to expand the programme to generate evidence of the benefits of an integrated approach to health and social care. The more evidence of the model working in practice, the better able we are to influence our stakeholders.
This year, we entered the third phase of the programme and spread the model across the country. We set up five new sites, which will reach over 2,500 older people. This will build on the learning from the phase two sites, all of which have been recommissioned by local health commissioners – an indicator of the programme's success.
Read more about Person-Centred Integrated Care
Evaluating Person-Centred Integrated Care
Our phase two sites have seen the average wellbeing score of participants increase. Average wellbeing scores have increased significantly from the point of the initial conversation, to two months after benefiting from the programme.
We know that the programme makes a difference to peoples' lives. We are working hard to collect the data we need to assess and understand the impact of the programme properly.
Testing new pilots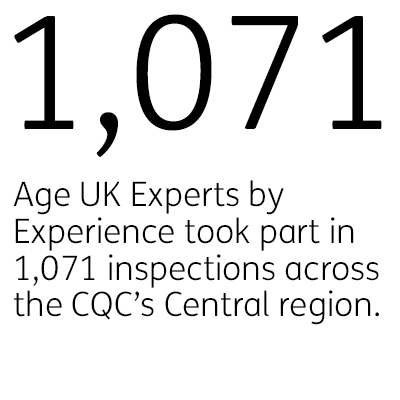 This year we have developed small pathfinder pilots to test new person-centred services to find out what works in practice. In December 2016, we started to deliver a person-centred hospital discharge service in Cornwall which is supporting older people following a hospital stay, with the aim of reducing the likelihood of re-admittance to hospital. We also developed similar pilots focusing on end of life care and one aimed at older people with mild to moderate depression.
Using new technology
In 2016/17, we piloted an iPad app called STEPs to help local Age UK front-line staff with their conversations with Person-Centred Integrated Care Programme participants. The app is focused on creating personal 'actions' for each older person, such as taking their dog for a walk. We piloted the tool with five local Age UKs and 78% of participating older people found their action plan valuable.
Annual report
For more information about our work, download Age UK's Report of Trustees and Annual Accounts for 2016/17.